Posted on
Thu, Nov 19, 2009 : 6 a.m.
Michigan football team entered 1969 Ohio State game full of confidence
By Jeff Arnold
The chant began with a single voice and momentum built quickly. Four words repeated over and over, for four minutes, then five. Five minutes became 10.
"Bring on the Buckeyes!" the Michigan football players screamed while crammed inside of a tiny visitor's locker room in Iowa City. "Bring on the Buckeyes! Bring on the Buckeyes!"
Confidence that grew for weeks that fall was in full bloom after a 51-6 victory over Iowa on Nov. 15, 1969, Michigan's fourth consecutive blowout victory.
As the volume of the chant grew around him, Bo Schembechler listened as self-assurance seeped to the surface like never before.
But deep down, Schembechler knew his boys had been ready for its most daunting challenge for weeks.
The surge of self-assurance began in Minnesota on Oct. 25 with a 35-9 victory and was reinforced when Michigan beat Wisconsin (35-7), Illinois (57-0) and then Iowa.
Next was No. 1-ranked Ohio State.
Now, 40 years after a 24-12 upset of what many believed was the greatest college football team ever assembled, the legacy of Schembechler's 1969 team has made the team one of the university's greatest.
"We were on a mission, there's no doubt about that," said Tom Curtis, a safety on the 1969 team and who now owns Dolphin/Curtis Publishing in Miramar, Fla. "It didn't matter what Ohio State was going to bring to us."
Schembechler - a former Woody Hayes assistant, understood the magnitude of the heated rivalry. Schembechler, an Ohio native, also knew that a win over the Buckeyes not only put him on solid footing in Ann Arbor, but also represented a measure of redemption for the seniors that had stuck it out with the new coach.
"He wanted to beat the old man for his own reasons," said Curtis, who intercepted 25 passes during his 3-year Michigan career. "But he knew what it would mean to us."
Times were tough in the beginning for Schembechler, who, upon his arrival from Miami (Ohio), introduced a grueling off-season training regimen. He created a new environment, demanding perfection in every facet of his team's preparation. He had his own rules: Those who didn't practice well during the week wouldn't play on Saturday.
Some players didn't like Schembechler's tough style and quit. At times, even those who stayed began to wonder about Schembechler's methods and whether he was the right man for the job. He asked so much and often referred to his players as sons of bitches.
"They were wondering who is the heck is this old guy and what's he trying to prove," said Gary Moeller, Schembechler's defensive ends coach in 1969 and who eventually replaced Schembechler as head coach in 1990. "We were very tough and very physical on them.
"But the kids adapted to what we were trying to do, and I'm sure they had questions, but Bo steered that team, and I think that's the success of Michigan football is the ability to teach your kids how to be leaders."
After beginning the season with wins over Vanderbilt and Washington, the Wolverines dropped two of their next three games, losing to Missouri and Michigan State. Michigan was 4-2, and Schembechler's players wondered which direction the season would go from there.
The turning point came at Minnesota.
The Wolverines made the trip to Minneapolis thin on numbers after sustaining a few key injuries the week before in a loss to Michigan State. Trailing at the half, Michigan exploded for 28 second-half points.
On the plane ride home, Curtis, who had played the worst game of his career the week before against Michigan State, sensed the tide turning.
All of a sudden, Schembechler's taskmaster tendencies made sense.
"We saw he was right - he was 100 percent right," offensive guard Dick Caldarazzo said in a phone interview this week. "And we just kept getting better as the season went on."
The Wolverines followed up the Minnesota win with a homecoming victory over Wisconsin. Over the next two weeks, Michigan outscored Illinois and Iowa 108-6, clinching a Rose Bowl berth thanks to a rule that wouldn't allow the same team to represent the Big Ten in Pasadena two years in a row.
That wasn't enough for Schembechler's players.
"We wanted to go to the Rose Bowl because we were Big Ten champions," Curtis said. "Not as Ohio State's replacement."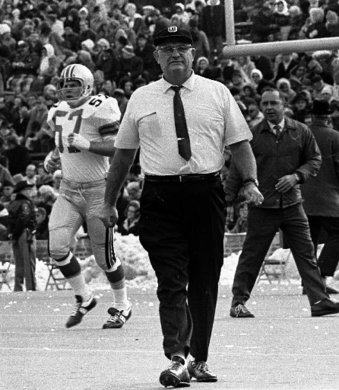 To do so, Michigan needed to stun the Buckeyes, who, according to Purdue coach Jack Mollenkopf, were too good for anybody but the Minnesota Vikings.
"We knew we were good," said Jim Brandstatter, an offensive lineman on the 1969 team and now a broadcaster. "We knew we could play with anybody and after we took on Iowa, we wanted Ohio State. Most teams that played Ohio State because of their reputation and they hadn't been beaten in two years, they were kind of worried about playing Ohio State and were saying, 'God, we hope we can make it close'.
"We didn't worry about making it close. We wanted to beat 'em."
In Columbus, Ohio State was rolling. The Buckeyes arrived in Ann Arbor on a 22-game win streak, having won every game that season by at least 27 points. Led by quarterback Rex Kern, powerful running back All-American running back Jim Otis and hard-nosed defenders Jack Tatum and Jim Stillwagon, Ohio State was favored by 17 points against Michigan.
Hayes' distain for Michigan was well known. He refused to refer to the school by name, calling it, "That school up North." Otis said that given what was happening in both programs at that time, the Buckeyes believed the Wolverines represented a 23rd straight victory.
"We didn't think we were going to get beat," Otis said in a phone interview this week. "You look at our schedule that year, and we weren't having too much trouble with anybody.
"We respected Michigan, but we just didn't think we were going to have any problems beating them that Saturday."
As much talent as Ohio State boasted, the Wolverines had established a name for themselves. The Wolverines - who had All-Americans in Curtis and captain Jim Mandich, had standouts in their own right in Dan Dierdorf, Glenn Doughty, Guy Murdock and Garvie Craw.
A day after chanting, "Bring on the Buckeyes" in Iowa City, the Wolverines were still on an emotional high. At a 4 p.m. film session, Moeller turned to Schembechler.
"Bo, these guys are too high too soon," Moeller told the head coach. "We're going to get (to the game) and it's going to drop off."
Schembechler looked at his defensive ends coach and smiled.
"Mo, you've got to let 'em go," Schembechler said. "You've just got to let them go."
While other teams attempted to use new formations to try and scheme around Ohio State's defense, Schembechler stood his ground. The Wolverines would run right at the Buckeyes, undeterred by the mystique that surrounded Hayes' team.
That week, Schembechler plastered the No. 50 on everything he could. Scout team players wore scarlet No. 50s on their jerseys. The number was on players' helmets and on the walls leading to the showers.
Fifty, of course, referred to the points Ohio State scored on Michigan in 1968. Michigan's players had done their best to move on from the 36-point loss. But for Schembechler, it wasn't anything to forget.
"It wasn't redundant, it wasn't overkill," said Caldarazzo, now an attorney in Chicago and who hasn't returned to Columbus since the Michigan loss 41 years ago. "A lot of us wanted us to forget that day in Columbus and (with Schembechler to put the No. 50 everywhere) was motivation, and it kept it in our heads."
By Friday night after a week that included having to work around a snowstorm that dumped several inches of snow on Ann Arbor, Schembechler had his team ready to play. At the Ann Arbor Inn, a power outage knocked the heat and the lights out, creating another minor distraction.
"There wasn't anything that was going to stop this group," Moeller said.
On Saturday, Michigan got two touchdowns from Craw before Barry Pierson's dramatic punt return to the Ohio State 3-yard line set up Don Moorhead's quarterback sneak. The Wolverines intercepted four passes in the second half, securing the 12-point victory and setting off a decade-long battle between Hayes and Schembechler.
For Michigan's upperclassmen, the win represented redemption a year after being embarrassed at Ohio State. Curtis said that had Michigan not beaten the Buckeyes during his stint in Ann Arbor, the losing streak would have left a dent in his playing career.
Ohio State's Otis, who went on to an All-Pro career in the NFL, still refers to the loss as the toughest he endured, admitting that he never had expected Michigan to play like they did that Saturday.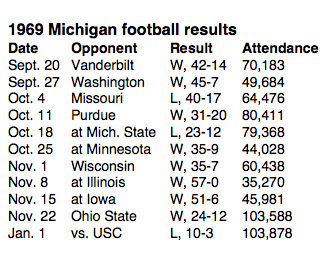 Four decades later, it remains the game that defines the rivalry that continues Saturday at Michigan Stadium. Michigan coaches past and present talk about it.
"It's just such a neat story of a group of men coming together against big odds," Michigan coach Rich Rodriguez said this week. "There were a lot of doubts early and a lot of guys didn't hang with them and the guys that stayed got rewarded at the end."
Moeller, who was head coach at Michigan from 1990-1994 and also coached in the NFL, has fond memories of Nov. 22, 1969. He'll have a chance to relive them this weekend as 54 players from the '69 squad are expected to gather for a Friday night dinner and a pregame tailgate.
"I've been around a lot of big games, but it's one of those games that unless you experienced it, you really don't quite understand the whole thing," Moeller said. "And those players have a great memory in their minds of what life should be like and what can happen."
Jeff Arnold covers sports for AnnArbor.com. He can be reached at jeffarnold@annarbor.com or 734-623-2554.