Posted on
Thu, Dec 31, 2009 : 5:12 p.m.
Foul trouble took Michigan guard Manny Harris out of his rhythm
By Michael Rothstein
AP photo
BLOOMINGTON, Ind. - Manny Harris landed on the bench an awful lot Thursday against Indiana.
It wasn't his play that earned him a seat. For the first time all season, Michigan's talented junior guard was in significant foul trouble throughout the game.
It hurt him.
"A little bit," Harris said. "When you're used to playing in a certain rhythm, it kind of throws you off a little bit."
Harris played a season-low 30 minutes, grabbed a season-low one rebound and was below his scoring average and assists average. He finished with 13 points and making three assists.
He also didn't record a steal for the third time this season.
John Beilein praises officials
Usually, college coaches get in trouble when they discuss officiating, especially when their team is flagged for 23 fouls like the Michigan basketball team was Thursday.
Wolverines coach John Beilein instead praised the officials, blaming his team for committing silly fouls. Michigan fouled Indiana in its own backcourt. It hit jump shooters when they were taking 18-footers.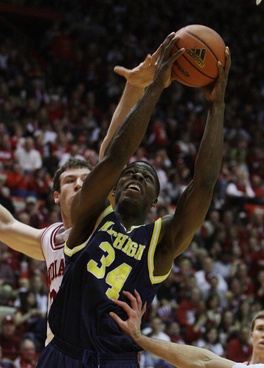 AP photo
The fouls put DeShawn Sims and Harris in foul trouble for the entire game. Sophomore guard Zack Novak and Sims eventually fouled out.
More than anything, Beilein was bothered with the type of fouls Michigan committed, including six in less than three minutes early in the second half that led to Indiana being in the bonus from the 15:07 mark of the second half.
"I want the game to be officiated like it is. Hands on, we fouled three jump shooters and we've spoken to them about that," Beilein said. "To lose this game will teach us very valuable lessons about the little things, that this is Big Ten basketball, this is going to be the way it's going to be every night whether you're at home or on the road."
Darius Morris still learning
Three games have passed since freshman guard Darius Morris went from the starting lineup to coming off the bench.
The switch has worked well for Michigan. Stu Douglass has played better since being reinserted into the lineup. It also has sat well for Morris, the Los Angeles native who is still learning as he goes during his rookie year.
"I feel like I'm just learning a lot right now. I know this team needs me to play not like a freshman and to do things out on the court when I'm on there," Morris said. "I'm going to play minutes, sometimes I'm going to play a lot. I just have to be ready for whatever happens.
"I'm really expecting to grow in this Big Ten, so we'll see where it goes."
This and that

Redshirt freshman center Ben Cronin, whose season and career are likely over after lingering effects of a hip injury, still traveled with the team to Bloomington. … Michigan used a 2-3 zone more than a 1-3-1 in the second half due to foul trouble. … Indiana had giant posterboard heads to wave at opposing team's free-throw shooters during the game, including pictures of Rainn Wilson, Mario from Super Mario Brothers and John Krasinski. They're an idea Indiana coach Tom Crean brought with him from Marquette. … Pam Morgan, the mother of injured Indiana guard Maurice Creek, gave the pregame talk to the Hoosiers.