Posted on
Wed, Feb 6, 2013 : 5:28 p.m.
Four-star quarterback Brogan Roback highlights 21-player Eastern Michigan recruiting class
By Kyle Austin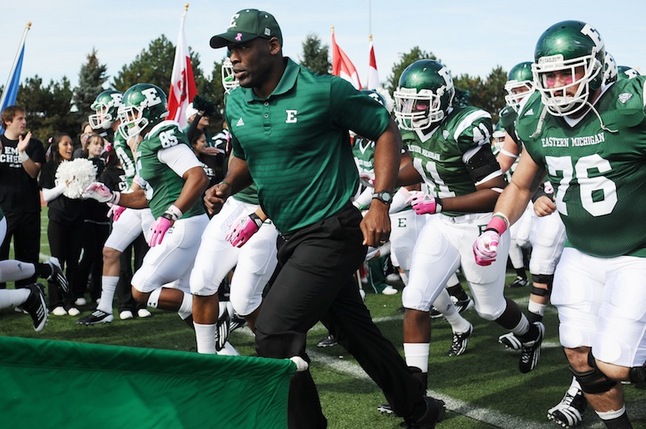 AnnArbor.com file
An 18-month process to bring in the highest-rated recruit in program history ended Wednesday, when Brogan Roback faxed his National Letter of Intent to Eastern Michigan.
Roback, a quarterback from Toledo St. Johns, is rated a four-star recruit by both Rivals and Scout. He's the first four-star recruit to commit to the Eagles since online databases began in 2002.
The Eagles signed 21 players in their 2013 signing day class, but none is more important than the quarterback coach coach Ron English began recruiting more than a year-and-a-half ago.
"We offered Brog a long time ago, and really knew that we needed to get him in here, and we're really just very happy that we did," English said Wednesday.
The Eagles had no quarterbacks in their 2012 signing day class, as they geared up to "really recruit" a player for this year's class, as English said last year. Roback committed in June, and didn't waver from his commitment.
Roback was originally thought to be the heir to Alex Gillett, who began his fourth year as a starter in 2012. But Gillett was benched in favor of sophomore Tyler Benz in the Eagles third game of the season. Benz, who will be a junior next year, completed 53 percent of his passes for 1,511 yards and 14 touchdowns.
Having a player of Roback's stature commit to EMU raises the program's stature, English said.
"I think it's always helpful in terms of your perception," English said. "I think we're getting better, to be honest. Every year the recruiting is getting better."
Roback is the jewel in what English calls a talented class, one that he's hoping can help his team improve on a 2-10 mark from last year.
He's also hoping the class can help fill in the ranks for a program that's thin in its oldest class. The Eagles' 2009 recruiting class, signed just over a month after he was hired, was thin, and EMU felt it on the field last year.
"Last year we had freshmen, sophomores and some seniors but no juniors," English said. "So we ended up playing a lot of first-year guys who had never played and second-year guys who didn't play very much."
This year's class includes three junior college transfers and 18 high school recruits. Three of those recruits come from the state of Michigan: DB Jaleel Canty (Lansing Everett), CB Daquan Pace (Detroit Cass Tech) and LB Derric Williams (Lake Orion).
Canty is a former Cincinnati commit, but found his scholarship offer pulled a month ago when Tommy Tuberville became the Bearcats' new head coach. A three-star athlete according to scouting services, Canty brings plenty of speed to the defensive back position.
"He's explosive," English said. "He'll be one of the favorites to win the sprint championships this year in Michigan."
Canty is one of several EMU signees who had interest from larger programs, according to English, including linebacker Nathan Adams, who had interest from Iowa, and Mario Swann, who had interest from Indiana.
"A class that I'm really excited about," English said. "Obviously they're young and have to grow into being college players, but a talented class and a class that I like every man in."
Kyle Austin covers sports for AnnArbor.com. He can be reached at kyleaustin@annarbor.com or 734-623-2535. Follow him on Twitter @KAustin_AA.