Posted on
Sun, Feb 19, 2012 : 1:48 a.m.
Freshman Trey Burke proving to be final piece to Michigan basketball team's title hopes
By Kyle Meinke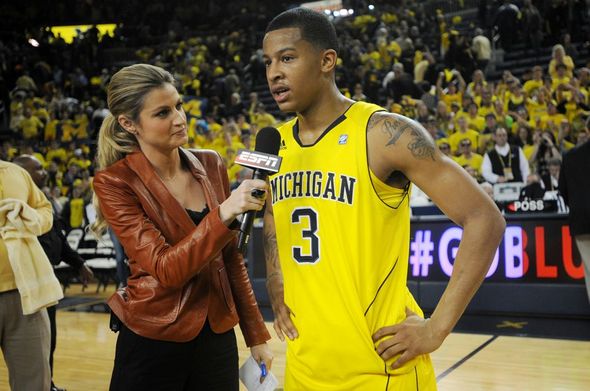 Melanie Maxwell | AnnArbor.com
Zack Novak expected to be here.
Here, of course, being in the thick of a Big Ten title race with four games to go. The Michigan basketball team's momentous 56-51 win Saturday night against Ohio State moved it into a second-place tie with the Buckeyes, each trailing league leader Michigan State by half a game.
The Spartans play Sunday at Purdue.
Some would say the 17th-ranked Wolverines (20-7, 10-4) are now the leader for the regular-season crown. They play a softer schedule than the Spartans (20-5, 10-3) and Buckeyes (22-5, 10-4), although three of their final four are on the road.
The first one is Tuesday at Northwestern, where Michigan has lost its past two. That could be a trap game for the Wolverines, after their exhilarating win against Ohio State.
Novak isn't worried about how his team will respond to the title chase, though. This was the plan all along.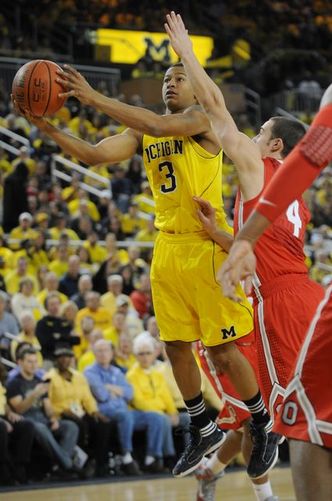 Melanie Maxwell I AnnArbor.com
But for a program that's been stuck somewhere between awful and middling for the better part of two decades, even that expectation represents change.
"Every year, we had just focused on getting into the tournament," Novak said. "That's where Michigan needs to be.
"This year, we changed it up. We said Big Ten championship. We said we need to win the Big Ten, and we expected to be here."
Now, here they are.
And here they are, because their freshman point guard continues to shine. Trey Burke -- introduced before the start of the game as "The Pride of Columbus, Ohio" -- got off to a slow start before settling into a groove.
The Columbus native finished with 17 points, including two key layups down the stretch. His final shot, a tough, leaning runner in the lane, gave the Wolverines an insurmountable five-point lead with 11 seconds left.
It was the difference between "what if" and "what next" for Michigan and its quest for its first regular-season title since 1985-86.
"You lose this one, and you're probably not winning the Big Ten," Novak said. "We knew that. We knew we had to have this."
And they got it, thanks to Burke.
Michigan coach John Belien knew coming into the season his team would have a chance to compete for that elusive league title, but also recognized the biggest wild card in those hopes would be the point guard position.
He was losing Darius Morris to the NBA, and gaining a freshman.
Now, that freshman has flourished into one of the country's finest point guards.
"We talked about (winning a league title) every day, but I knew point guard was going to be an important position," Beilein said, when asked if he though Michigan would be in contention with four games left.
"Now, that certainly has (gone from) a point of doubt -- 'Well, he's a freshman, what is he going to do?' -- to really a strength right now."
For all Novak and fellow senior Stu Douglass have done in their careers, they've never been in a Big Ten title hunt this late in a season. A win against Ohio State changed that.
They also had lost six consecutive times to the Buckeyes, with their last win coming when they were freshmen. A lot has happened since.
There were upsets of Duke and UCLA that helped Michigan get into the NCAA Tournament four years ago. There were two tournament wins. All big moments for a rising program.
And, yet, Novak said this was the biggest win of his career, because not only did it end the losing streak against the Buckeyes, it breathed legitimacy into their Big Ten title chances.
The program's come a long way since he got here, strides that first were made because of him. But he needed a final piece to make the final step, and its arrived in the form of a freshman.
"It's all for the seniors," Burke said. "They prepare us for these types of moments. Every single day, they got on us when we're not focused -- even at halftime today, Zack got into us.
"They've never been in this position, to finish first in the Big Ten, and it's just a great feeling. ... But we still have a lot of work to do. We have a great Northwestern team coming up on the road, and this win doesn't mean nothing if we can't go in there and get that win."
Kyle Meinke covers Michigan football for AnnArbor.com. He can be reached at 734-623-2588, by email at kylemeinke@annarbor.com and followed on Twitter @kmeinke.