Posted on
Sun, Jul 29, 2012 : 12:22 p.m.
From Ann Arbor to London and back: 'Best in the world' Betsey Armstrong will coach at U-M after Olympics
By Matt Durr
Betsey Armstrong moved to Long Beach, Calif., to train to be one of the best water polo players in the world. She's traveled the globe to compete against the rest.
The latest stop is London, where the Huron High School and University of Michigan graduate will attempt to lead the United States to its first Olympic gold medal in women's water polo. She's one of only two non-Californians on the U.S. team, which has medaled in every Olympics since the sport was added in 2000, but has never won it all.
After the Games, Armstrong - arguably the best goalkeeper in the world - is coming home.
Team USA
The 29-year-old has agreed to become an assistant to Michigan coach
Matt Anderson
this fall. For Armstrong, the chance to come back to Ann Arbor was a no-brainer.
"It's just home," she said before leaving for London. "It always has been."
Armstrong played for the Wolverines from 2002-05 and has been on a whirlwind tour of international competition since, including a silver medal in the 2008 Olympics in Beijing.
Naturally, Anderson is excited to have a player of Armstrong's caliber join his staff, but he isn't surprised that she is coming home.
"The first thing I think of when I think about Betsey is: She's all about Michigan," Anderson said.
The path to becoming a world-class player started in Ann Arbor, where Armstrong formed an intense work ethic based around constantly looking to improve.
During her time at Huron, Armstrong demanded that she be pushed, even when she wasn't at her natural position of goalkeeper. That same intensity accompanied her to Michigan, where she became one the best goalies in the country.
"Because of how good she was, she needed someone to challenge her to be better. When you have an athlete that is that talented, you need to be able to coach her," Anderson said. "She was very coachable. She did it like the other 25 players on the team. No complaints about working as hard or going through the mundane stuff."
During his time as Armstrong's coach, Anderson saw just how driven his goaltender was to improve.
"She obviously wouldn't be where she is today if she wasn't a competitive person," Anderson said, referring to Armstrong as the "best goaltender in the world."
"She was competitive, but not to the point that it would affect her relationship with her teammates," he said. "If she got scored upon in practice, you could tell she was mad. Not at anybody else, just mad she got scored on. She brought that same intensity to the games."
As Armstrong's career developed at Michigan, she and Anderson began to discuss her move toward playing for the national team. While she was interested in playing for the team, Armstrong wanted to make sure she was the best goalie she could be for the Wolverines.
"When I was in college I just wanted to stay focused on college," Armstrong said.
According to Anderson, his star goaltender was nervous about the expectations that were to come with playing for the national team.
LOCAL OLYMPIANS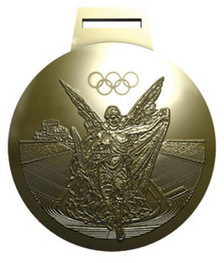 Visit the AnnArbor.com
Olympics page
for stories on Olympians with Ann Arbor-area ties. Follow along with Michigan athletes at
MLive.com/Olympics
.
"She had to mature in order to handle the pressure of being called the best in the world," Anderson said. "She always said that it was hard to have the expectations that she was supposed to be great every time she went to block a shot. We had many talks about that."
After taking a year off from the sport after college, Armstrong jumped back into the polo at an open tryout in Long Beach in 2006. She made the team and eventually was named to the U.S. team that competed in Beijing during the 2008 Olympics.
"I had made a world championship team before, it felt like things were falling into place. It all happened so fast, I had only been on the team for a year and a half," Armstrong said.
The team reached the gold medal game, but lost 9-8 to The Netherlands.
While the loss was painful, it comes as no surprise that Armstrong used it as a tool to get better. This time around she is better prepared for what lies ahead.
Armstrong and her teammates begin play Monday against Hungary in the first of three preliminary matches. The quarterfinals begin Aug. 5 as a single elimination tournament with the championship match on Aug. 9.
The U.S. is the favorite to win the gold, but is expected to be challenged by Australia, the bronze medal winner in 2008. Russia and Hungary have placed in major tournaments over the past year and will challenge the American team.
"You expect to be all over the place. It's so different than any other tournament. You have super big highs and you can lose a game early that causes some lows," she said. "You have a little bit more of an ability to control your emotions. It's a lot to take in when you're unfamiliar."
Being unfamiliar with a situation has never been a problem. In fact, Armstrong spent her senior year of high school at a position she never played before.
Former Huron coach Chris Keenan only spent one year working with Armstrong, her senior season of 2001. Keenan knew of Armstrong's ability at goalie, but decided before the season to move her to center.
"She was clearly the best athlete, but she just kind of fit in at first. She was not one of the best field players," Keenan said. "She had to learn the game; she had to work extremely hard. She had to develop her skills."
While Armstrong was developing her skills, the team was struggling as a whole. Keenan recalls a practice about halfway through the season when Armstrong finally challenged her coach to be tougher on the team.
"She told me that I wasn't holding anyone accountable for their mistakes," Keenan said. "She said to me 'You need to let me have it when I make a mistake. You can't let me get away with stuff.'"
From that day forward, Keenan said the team was a completely different squad and it eventually won a state championship. In the final game, Armstrong scored two of her team's nine goals while finishing the game as the goalie.
"She just had that affect on the team; she just gave them so much confidence," Keenan said. "It spread to the rest of the team."
Keenan said that by making Armstrong play in field during the season, she said it helped her better understand the game and how to watch the play develop.
"I didn't teach her anything about goalie. She was better as a goalie because she played the game," Keenan said.
While she didn't get to play the position of her choice that season, Armstrong has fond memories of her time as a River Rat.
"I had a lot of fun playing with my friends," she said. "It made high school a really great experience for me. It was great going to weekend tournaments."