Posted on
Fri, Dec 30, 2011 : 11:59 a.m.
GLI final an opportunity for Michigan hockey team to maintain momentum
By Pete Cunningham
DETROIT — A win and a tie against Michigan State helped give the Michigan hockey team some confidence heading into the holiday break. Now a win against the Spartans in the Great Lakes Invitational final could give the Wolverines another boost.
The rivals will play for the third time in as many weeks tonight in the GLI championship game at Joe Louis Arena at 7:36 p.m. It is the 12th time the teams have met in the GLI final and fourth time in eight years.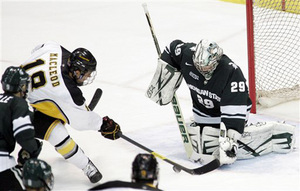 Associated Press
Michigan is likely to see senior
Drew Palmisano
in net. Palmisano — an Ann Arbor native — helped the Spartans advance Thursday to the final with a 45-save performance in a
3-1 win against Michigan Tech
. The only goal he surrendered came on a 5-on-3.
Though Palmisano and sophomore Will Yanakeff have split time in net for the Spartans with 10 and nine starts, respectively — Michigan State coach Tom Anastos indicated Palmisano would get the nod.
"(Palmisano) made a pretty strong case tonight," Anastos said.
Though conventional wisdom might suggest a 45-save night would be an ideal game to give Palmisano rest after — especially with a capable No. 2 option — the last time he was called on for consecutive starts the second came after a 40-save game against Minnesota on Nov. 26.
"(Palmisano) has had a real noticeable focus from the night of the 26th when we came back (from break)," Anastos said. "He's gotta get lots of rest, but we'll see."
Palmisano was in net when the teams last played to a 3-3 tie on Dec. 10, with Michigan State winning a shootout to gain an extra point in the CCHA standings. Yanakeff started in Michigan's 4-3 win the night before.
The tie was a game Berenson thought his team played well enough to win, but came away with a sour feeling after losing a lead late in the third period.
"You feel like you had a poor game. Like 'geez, we had lost the game.' Well we lost the point, but we played a good game," Berenson said after the teams' last meeting. "We could have easily won the game, even in overtime."
Before Michigan's 4-2 win over No. 3 ranked Boston College on Thursday night, Anastos said he didn't care who emerged the victor, but acknowledged the challenge of facing a team three times in a few weeks.
The same scenario played out in 2008 with Michigan winning both games of a home-and-home and the GLI final over the Spartans.
"(Friday's opponent) doesn't really matter," said Spartans defenseman Torey Krug. "It's going to be a lot of fun to play, especially here at Joe Louis, we'll have a lot of fun."
"We won this tournament here last year, that doesn't give you anything, but our upperclassmen have had a lot of success here, and I think that helps our team," Berenson said.
Mel Pearson pulling for Wolverines
Former Michigan associate head coach and first-year Michigan Tech coach Mel Pearson hoped to play his former team in the final.
"I'd rather see Michigan win," Pearson said before the Michigan's win over Boston College. "I hope they win tonight, and I hope they win the tournament, I really do."
Pearson said he only wanted to play Michigan because it would have meant both teams had advanced to the championship game. Even if his team had advanced to the final, Pearson — who coached under Berenson for 23 years — said the matchup with the Wolverines wasn't something he was looking forward to.
"I have a lot of mixed feelings about that. ... I put a lot of years in there, recruited pretty well every kid on that team. There are a lot of special friendships there," Pearson said. "It's going to happen sooner or later, but I'd rather it happen later than sooner."
Pete Cunningham covers sports for AnnArbor.com. He can be reached at petercunningham@annarbor.com or by phone at 734-623-2561. Follow him on Twitter @petcunningham.