Posted on
Tue, Dec 29, 2009 : 11:13 p.m.
Goalie play, penalty kill falls apart in Michigan's 4-3 loss to Rensselaer
By Jeff Arnold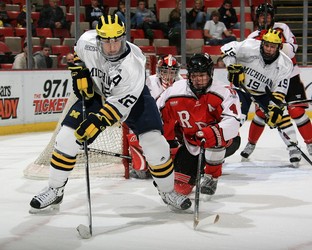 DETROIT --
Bryan Hogan
hurried past a group of reporters Tuesday night, keeping his head down, his eyes locked onto the
Joe Louis Arena
floor.
The Michigan goalie spent the final 20 minutes of the Wolverines' disappointing 4-3 Great Lakes Invitational loss to Rensselaer Polytechnic on the bench, pulled after allowing 3 goals in 2 periods of work.
But as unstable as Hogan's play was, there was plenty of blame to be shared. Michigan's penalty kill unit -- normally one of the Wolverines' strengths -- proved unreliable while the Wolverines were just 1-of-8 on power play chances.
And despite a lopsided shot advantage, the little miscues that have plagued Michigan all season added up to a loss that will keep the Wolverines from a shot at its third straight GLI title.
Instead, Michigan (9-10) will face Michigan Tech in Wednesday's 4 p.m. consolation game. Tech (3-15) dropped a 10-1 decision to Michigan State in Tuesday's other semifinal.
"To lose this game tonight is not good -- we came here to get into the championship game number one, and try to get our name up on that banner again," Michigan coach Red Berenson said. "That's why everyone comes here. But we had something to prove and we didn't quite prove it tonight."
Michigan fell in an early hole as Rensselaer (10-9-1) scored on 2 first-period power play chances. The Engineers managed only 3 shots in the opening 20 minutes -- 2 of which got past Hogan.
The Wolverines got to within 2-1 on David Wohlberg's goal, but just when it appeared Michigan would enter the third period within striking range, Rensselaer's Paul Kerins fired a shot that brushed off of Hogan's glove and hit the back of the net.
With that, Hogan's night was over.
"You're trying to spark your team a little bit and you just can't keep going if your goalie is having a bad night or if he's just not in sync," Berenson said of his decision to pull Hogan. "Hogie will probably play tomorrow -- he's our starting goalie, but it's one of those things when you do what you think is best for the team."
With Shawn Hunwick playing for the first time since 2008, Michigan clawed back. Carl Hagelin scored with Michigan on a 5-on-3 advantage before Kevin Lynch tied the score at 3 with 7:46 to play.
But the Engineers answered back, needing only 46 seconds to regain the lead. Marty O'Grady squeezed a shot between Hunwick's shoulder and the post, slamming the window of opportunity the Wolverines had after Lynch's goal.
"We did a good job in the third period without winning," Hagelin said.
The Wolverines never recovered, and despite outshooting Rensselaer 21-4 in the third period alone, couldn't pick up the equalizer. Engineers' goalie Allen York finished the game with 43 saves.
Now with a chance at a GLI championship gone, Michigan will play in the third-place game hoping to salvage a 2-day event kick-starts the Wolverines into the second half of the season.
"That's the way hockey goes sometimes and you have to roll with the punches," captain Chris Summers said. "It's kind of been the story of the season for us this year, but you know what -- this is the start of the second half of our season and we're looking forward to tomorrow."
Jeff Arnold covers Michigan hockey for AnnArbor.com. He can be reached at jeffarnold@annarbor.com or 734-623-2554. Follow him at Twitter @jeffreyparnold.