Small field challenging three-time defending champion at Ann Arbor women's amateur golf championship
Posted on Fri, Jun 22, 2012 : 7:32 p.m.
Bigger isn't always better. At least that's what officials with the City of Ann Arbor women's amateur championship hope to prove this weekend.
The annual tournament begins Saturday morning at Leslie Park Golf Course in Ann Arbor.
"The field will be pretty competitive. It's a very good, young field. It will be close I know that," said Doug Kelly, the Director of Golf for the City of Ann Arbor.
Unlike years past, when upwards of 40 golfers entered the tournament, this year's field includes just 21 players competing in two flights. Kelly attributed the decline to two other women's tournaments taking place in Michigan this weekend.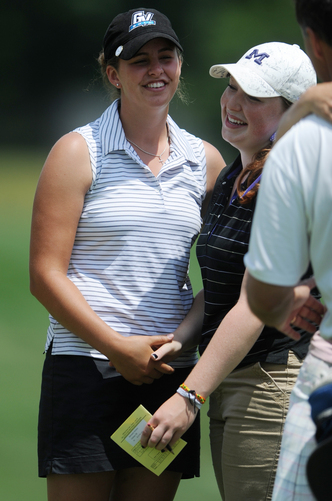 Melanie Maxwell | AnnArbor.com
Three-time defending champion Sarah Hoffman of Saline will be back to defend her title. She is a three-time NCAA Division II All-American at Grand Valley State and had the second-lowest scoring average in the nation this past season (74.76).
Brittany Keller of Dexter and Shellie Morton of Detroit are among the most likely to challenge Hoffman, but it won't just be other players that present a challenge.
Thanks to an unseasonably warm spring, the groundskeepers have been able to create a more difficult course for players. Kelly said the warm weather has allowed them to get the course up to the standards that are usually only available by the men's tournament in July.
"The course and greens are immaculate. They're rolling fast, it's going to be some tough putting for sure," Kelly said. "The course will be more of a challenge. "
The women's tournament is the first of four city championships. The men's tournament is scheduled for July 20-22, a junior tournament will be played Aug. 6-8 and a senior tournament on Aug. 18-19.
The women's tournament begins Saturday morning with the first golfers teeing off at 7 a.m. The public is welcome to attend the tournament and walk along with the golfers.
Sunday's championship round will also begin at 7 a.m.
Leslie Park Golf Course is located at 2120 Tarver Road in Ann Arbor. For more information call 734-794-6245.