Posted on
Wed, Jul 21, 2010 : 6 p.m.
Lion Kim's invitation to the Masters huge opportunity for him and the Michigan golf program
By Andrew Reid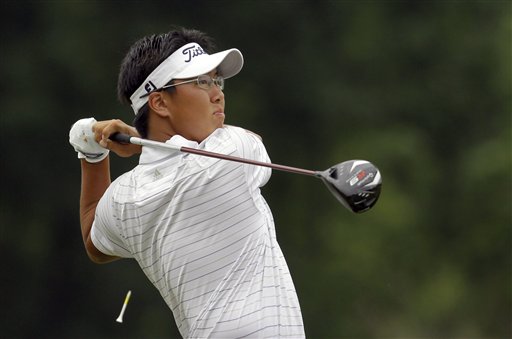 Associated Press
With just two holes between Lion Kim and a championship at the U.S. Amateur Public Links Championship — a victory that includes an invitation to next year's Masters - the sun set in Greensboro, N.C.
"It was pitch black," said Kim, who will be a senior on the Michigan golf team next season. "At night, you just have to commit to your golf shot. You just have to judge by how you hit it, and most of my shots on the last couple holes, I had a good feeling."
The round started at 7 a.m., but the lead pack had to sit and wait for seven hours due to weather delay. By the end, Kim and his competition, David McDaniel, just wanted to get it over with.
Associated Press
Even in this most unlikely of scenarios, Kim was prepared. A few years ago, he and some buddies hit the links in the middle of the night, just to see what it was like.
"It was just for fun out there," he said. "So I had a little bit of experience, just playing by feel."
Kim, a down-to-earth golfer who's never let his success go to his head, even when he was heavily recruited out of high school, had tried to think about the Masters as little as possible going into the final day of the tournament.
"I really wanted to just focus on playing," he said. "A lot of those thoughts start to creep into your head: 'You're only one hole from getting to the Masters.' I just tried to take in hole by hole."
Michigan golf coach Andrew Sapp refreshed the scores online all day, even through the long delay, eagerly waiting to see if Kim would be the first player he coached to play in a major tournament.
When Kim's final putt sunk, he was ecstatic.
"It's a really a breakthrough win for him," Sapp said. "He's had so many opportunities to win and wasn't able to do it on that level, would come in second or third and just miss. For him to win on this stage was a tremendous, and it should be a huge boost for him."
From the minute Sapp first saw Kim, a top-10 golfer in his graduating class, play in high school, he knew Kim had this kind of potential — and his work ethic and drive have helped him move closer to his goal of playing on the PGA Tour.
"If you had ten guys like Lion on your team, you wouldn't have to do much as a coach," Sapp said. "He's probably the hardest worker I've ever had. He leads by example. He's out there as soon as he's done with class. He even putts in between classes."
When the win finally came, it seemed almost surreal. Kim was bombarded with interview requests, phone calls from golfing journalists from around the country and didn't get to bed until well after 1 a.m., 18 hours after he had teed off.
At 4:30 that morning, when he woke up to go to the bathroom, the staggering truth finally hit him: green jackets, Augusta National Golf Course, Jack Nicklaus and his six titles; "The Super Bowl of Golf," as Kim referred to it.
"I was just like, 'Wow, you're going to get to play in the Masters,' " he said. "It was an amazing feeling, but also very humbling. You know, there are so few golfers that get the kind of opportunity that I'm going to have. I just feel so humble."
When he woke that morning, the first call he made was to his parents, Yong and Hyun Kim, and other family members. His dad, who's been one of the most influential people in Kim's golf career, was unable to make it to the tournament because of work, but was ecstatic about the news.
His next call was to Sapp, who has made Kim feel at home in Ann Arbor, even if the weather isn't quite as nice as it is back home, in Lake Mary, Fla. Before the tournament, Sapp told Kim, "You'd better win this - I want to go to the Masters."
And he "absolutely" will be in attendance when Kim tees off in the Masters, scheduled for April 4-10, 2011. But Sapp knows that Kim's presence at the biggest stage in golf has major positives, other than getting to see it for the first time in person.
"To have the opportunity to have the Michigan golf bag down at Augusta on CBS is just huge for this program," Sapp said. "He could potentially be the only college player down there … and it's really a feather in our cap."
And in Kim's four years on campus, the Michigan team has made leaps, placing third in the nation two seasons ago, and this year the Wolverines return all five starters. Kim, who wants to end his collegiate career on a high note, thinks the team has a shot at a national title this season.
"It's just a matter of hitting the right shots at the right time," he said. "I have some high expectations. It's my last year; I'm having a good summer. Heading into the college season, I expect to compete for the title in every tournament I play in. … I've had some really special memories at Michigan, but I believe the best is yet to come. I want to make my senior year he the best yet."
Andy Reid covers sports for AnnArbor.com. He can be reached at andrewreid@annarbor.com