Posted on
Sat, Nov 7, 2009 : 5:05 p.m.
Grades: Michigan football offense passes, defense does not
By Dave Birkett
Offense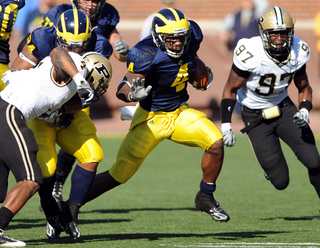 Brandon Minor
(154 yards rushing, 3 TDs) and
Roy Roundtree
(10 catches, 26 yards) had huge days that normally would be good enough for a Michigan win.
Tate Forcier
did lose a momentum-changing fumble in the third quarter and Mark Huyge drew a costly holding penalty that overturned a Minor TD, but it's hard to complain about six scoring drives and two more that resulted in a missed field goal and a turnover on downs inside the Purdue 20.
Grade:
B
Defense
Michigan had its first two takeaways since the first quarter of the Iowa game on tipped passes, but Purdue still rolled up 494 yards of offense and 38 points. Boilermakers quarterback Joey Elliott torched the Wolverines' abysmal secondary for a career-high 367 yards (a week after he passed for 59 against Wisconsin), and Michigan once again got slammed by the big play. Grade: D-minus
Special teams
Darryl Stonum had two big kick returns, Zoltan Mesko boomed a 63-yard punt and Jason Olesnavage made a career-long 51-yard field goal. But those positives were lost in a slew of mistakes. Olesnavage missed a key extra point (and a 48-yard field goal), and Purdue recovered an onside kick when Mike Jones left his spot early on the far side number. Michigan also failed to recover an on-side kick that Purdue tried to fumble away
Grade:
D
Coaching
There's not much talent on defense, but there's no defending the coaching on that side of the ball either. Michigan shouldn't be this bad.
Rich Rodriguez's
decision to go for it on fourth-and-10 at the Purdue 20 was debatable. Olesnavage had the wind at his back and, it turned out, a field goal would have won the game. Can't argue with his reasoning though - he didn't trust his defense.
Grade:
C
Dave Birkett covers University of Michigan football for AnnArbor.com. He can be reached by phone at 734-623-2552 or by e-mail at davidbirkett@annarbor.com. Follow him on Twitter @davebirkett.