Posted on
Thu, May 23, 2013 : 5:43 p.m.
Green Bay Packers sign ex-Eastern Michigan quarterback Alex Gillett
By Pete Cunningham
Move over Aaron Rodgers, there's a new quarterback in town...sort of.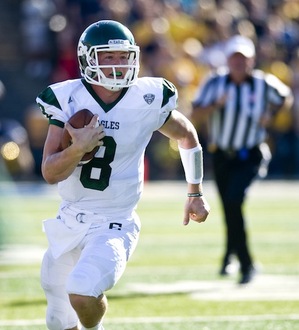 Annarbor.com file photo
Former Eastern Michigan University quarterback
Alex Gillett
has signed with the Green Bay Packers
the team announced on Wednesday.
Rodgers, a former NFL MVP and Super Bowl champion need not worry about his job security, though (as if he ever had to) as the Packers signed Gillett as a wide receiver.
Gillett -- listed as 6-foot-1, 214 pounds -- spent most of his college career at Eastern Michigan as the starting quarterback, but lost his spot to sophomore Tyler Benz after the Eagles started the season 0-3 last year. He made three starts at wide receiver in 2012, catching 14 passes for 132 yards and a touchdown. All of his catches came in the final four games of the season.
"I'm here until they tell me I'm not," Gillett told The News-Messenger. "I'm happy for this opportunity."
Gillett threw for 4,448 yards and 35 touchdowns in his career at Eastern Michigan and rushed for 2,433 yards and 14 touchdowns. Gillett joins former Eagles teammates Andy Mulumba, Mike Zupancic and Garrett Hoskins as undrafted free agents to sing with NFL teams, Hoskins with the Cleveland Browns, Zupancic with the New England Patriots and Mulumba with the Packers.
Former Eastern Michigan player T.J. Lang plays for the Packers as well and appears happy to have some of his brethren in Green Bay.
"Good to have a another Eagle on the packers! That makes three of us now!" Lang Tweeted on Thursday.
Pete Cunningham covers sports for AnnArbor.com. He can be reached at petercunningham@annarbor.com. Follow him on Twitter @petcunningham.