Posted on
Wed, Nov 25, 2009 : 9:47 p.m.
Greenhills' Peter Jacobson is Washtenaw County boys soccer Player of the Year
By Pete Cunningham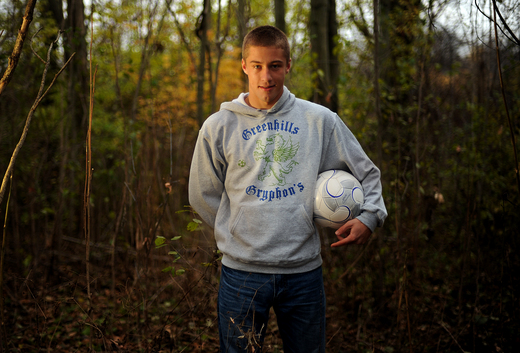 Division 4 high school soccer players usually don't get the same amount of credit as their counterparts at larger schools.
Look no further than the Michigan High School Soccer Coaches Association's annual Dream Team for evidence. Only once over the past five years has a Division 4 player been selected for that honor.
Greenhills School senior Peter Jacobson became the second this season after scoring 58 goals, the seventh most in MHSAA history, and being named first team Division 4 All-State for the second consecutive season. The selection validated what anyone who has ever seen him play already knows: He's not just a quality Division 4 player; he's a quality player, period.
"I've seen him a number of years at the club level, and he's quality," says Pioneer coach Lumumba Shabazz. "You can say Division 4, softness of schedule, all you want. But he'd be scoring regardless of opponent."
"He was a leader in every aspect of the game," says first-year Greenhills coach Reese Richardson. "Best player I've ever coached. He makes my job easy. Makes me look good."
For years, Jacobson has played elite-level club soccer during the high school offseason, and has been captain of both Michigan and Region 2's Olympic Development Program teams. In other words: High school soccer is not the highest level of soccer he plays. For most of his teammates, however, it is; something Jacobson says he's cognizant of, perhaps making his 19 assists more telling to how he approached the game.
"It's not usually the best soccer I play, but it's usually the most fun times I have," says Jacobson. "Some (teammates) haven't played as much soccer as I have and some don't play soccer outside of school. This season means a lot to them because it's the only soccer they'll play, so their passion and intensity carries over to me.
"So I'd always try and play as hard as I can because I wanted to do whatever I can to make the season as fun as possible for them, because they're not going to be playing soccer other than during the fall."
Greenhills finished the season 24-2, falling one win shy of a state championship after losing 4-3 to Hudsonville Freedom Baptist in overtime in the state finals. Though the loss was heartbreaking, Jacobson prides himself on what the team was able to accomplish.
"At the beginning of the season it's a bunch of players who really haven't played together and you can see throughout the season that we bought into our coach, and the system, and kids really became role players and started liking their roles," says Jacobson. "We started really playing as a team and for each other."
Jacobson's success in the classroom (he has an unweighted 3.94 GPA and scored a 32 on the ACT) coupled with that on the pitch pretty much gave him carte blanche when it came to choosing where he would continue his playing and educational career. Out of all the schools he visited, there was no place like home … sort of.
"It became clear that Peter's view of a school was Ann Arbor and the University of Michigan, and nothing compared except Yale." says Peter's father, Steve. "He is an absolute, true blue Michigan fan and to be able to put on the Michigan jersey and play in Ann Arbor was extraordinarily seductive."
Ultimately the allure of leaving the comfortable confines of home for the Ivy League led to Jacobson choosing Yale.
"As a mother, it's really hard to let him go that far, but for his own growth I think it was the right decision," says Peter's mother, Edit. "It would have been so much fun for us to just go and watch him play at Michigan … but I thought if Pete has the option to go to Yale, I think he should take it and face up to the challenge."
"I really think it's the best of the best of both worlds. Competitive Division I soccer and its excellence in academics," Peter says. "The coach really encourages individual growth not only as an athlete, but as a citizen, as a person and as a student."
Pete Cunningham covers sports for annarbor.com. He can reached by e-mail at petercunningham@annarbor.com, or by phone at 734-623-2561. Follow him on Twitter @petcunningham.