Posted on
Thu, Jul 11, 2013 : 5:31 a.m.
Grieving youth softball team wins unprecedented district title months after coach's death
By Kyle Austin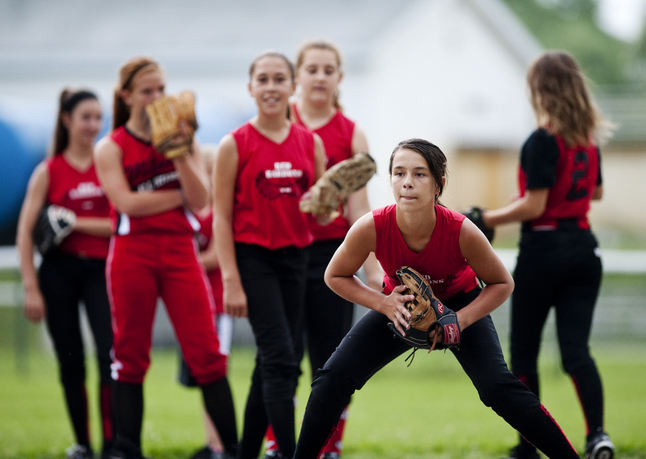 Daniel Brenner | AnnArbor.com
Their former coach's name seldom comes up when the red-clad players practice hitting, fielding or base running. But the memory of Todd Barron is everywhere for the 12-and-under Milan Youth League softball team.
On their way to the practice fields, they pass a rock and tree dedicated to him. When they put on their uniforms, his initials are on their chests.
And when they take the field, onlookers swear that Barron, who died suddenly four months ago at the age of 49, must be looking over them.
How else to explain a team with little history of success suddenly going 20-1 and winning the only little league softball district title anyone in Milan can remember?
"It's Milan's version of 'Angels in the Outfield,'" said Jeff Scott, who took over coaching the team after Barron's death. "Things have happened where we've had Todd's angel with us."
Red Barrons
Sirens are an uncommon occurrence in the quiet Milan neighborhood where Barron lived with his family. When an ambulance blared through on Feb. 23, neighbors took notice.
As word of what happened began to spread, friends and family gathered at Mike Smith's house across the street. There, they began to process the news that Barron, a 49-year-old healthy husband and father of three, had suffered a heart attack on his treadmill.
"It was very shocking to everybody," Smith said. "If you were to ask anyone in the neighborhood, if you were to say 'Somebody passed away today,' he was probably the furthest from anyone's mind."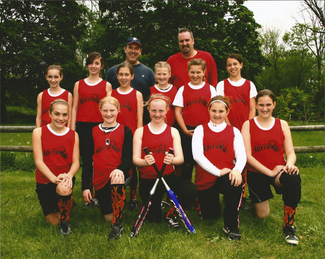 Courtesy of Debbie D's Photography
Over the years, Barron had become well-known in Milan, particularly through his involvement in the Milan Youth League. Six years ago, he had volunteered to coach an 8-and-under softball team his daughter, Grace, played on, and stayed at the helm ever since.
While most little league teams see players come and go, moving from team to team, Barron's stayed largely intact through the years as the girls grew older and moved up divisions.
"It's always worked out to where they were Todd's girls, and they kept Todd's girls together all these years," Scott said. "They're still Todd's girls."
Players looked up to Barron, Smith said, and not just because of his 6-foot-4, 260-pound muscular frame. The players kept coming back to the coach who was always smiling, never yelling, and always emphasizing fun.
He was the type of coach who would make his players run laps, but somehow manage to make them enjoy it -- running with them and keeping them laughing.
If a parent wanted to be involved, Barron would ask them to coach third base for the day. And if they didn't have a team shirt, he was known to take off his own and coach that day's game in an undershirt.
"He didn't care that he was the coach, didn't really care," Smith said. "He just wanted to make sure the kids had fun."
When the Milan Youth League held its annual preseason meeting, the group decided to forego the typical local business sponsorships to have two league teams dedicated to Barron: the 12-and-under team and an 8-and-under team he had helped Smith coach.
The players designed a red uniform that features a softball with wings, and "TB" written in the middle. In the league's opening day parade, the teams marched in front, behind a banner with his name on it.
The Red Barrons were born.
A Grace-ful start
As the season got underway, foremost in coaches and players' minds was Barron's daughter, Grace. She had been a member of the team from the start, playing under her dad, but left the team's first practice of the new season unsure if she still wanted to play.
Scott left her name on the roster, and told her to take her time. Anytime she wanted to play she was welcome.
As the Red Barrons warmed up for their opening game, Scott spotted Grace in the stands.
"Get your butt in this dugout," he told her. "You're part of this team."
Grace came to the dugout ready to watch. But as the game drew on, Scott could see she was anxious to play. So he put her in at second base late in the game, where she promptly made a putout.
Daniel Brenner | AnnArbor.com
When she got up to bat, Scott thought about telling her to get a hit for her dad, but opted against it.
She did it anyway, lining a base hit over the shortstop's head as the Red Barrons won.
"To me, it was for dad," Scott said.
Grace was awarded the game ball, signed by all her teammates. She has been playing ever since.
"She said 'Dad would have wanted me to play, and I'm going to play,'" Smith said.
State tournament-bound
The numbers for the Milan Youth League have been dwindling in recent years, as the expansion of travel softball has drawn more and more players away from the local fields. Years ago, Milan teams joined up with teams from Dexter, Lincoln and Ypsilanti to form a league. That's left them as perennial second fiddles, particularly to the stronger Dexter and Lincoln squads.
With largely the same players facing each other year after year, there was little reason to think this year would be different for the Red Barrons.
Daniel Brenner I AnnArbor.com
But after that special win on opening day, the victories kept coming. The Red Barrons finished the league season 13-1, in first place. They also swept three games and won the inaugural Todd Barron Memorial Tournament in early June.
Nobody can quite explain the reason behind it.
"Something just clicked," said Scott, who took over coaching with the help of Chad Chrysler, Aaron Frame and Jerry Springmeyer.
After opening district play last week in Jackson with a 16-3 win over Jackson West, the Red Barrons drew a Jackson Northwest team they had heard was a powerhouse.
They fell behind 4-2 heading into the sixth and final inning of the double elimination tournament. But a five-run sixth inning vaulted the team to a 7-4 win, and a win over Lincoln in the championship game gave the team the title.
"It's been a blast for everyone," Scott said.
The team will now open the state tournament Thursday in Essexville, near Bay City. The tournament continues through Tuesday, with the winner advancing the regional tournament, one stop shy of the Little League Softball World Series.
The town has taken notice of its unlikely success story. Fundraising state tournament trip was a breeze, Smith said, with hundreds of dollars quickly coming in after the team qualified.
"I think that's pretty remarkable how as a community Milan's really rallied behind these 12-year-old girls," said Smith, who coaches the younger Red Barrons and is the league's vice president of softball.
On a rainy Tuesday afternoon, the Red Barrons worked on their base running and fielding as Scott hit grounders and offered pointers. A day before making the trip up north, if any of the girls were nervous about the week ahead, they did a great job of hiding it.
To Scott, the team's main objective had already been accomplished.
"We can go up to Essexville this week and just get it handed to us, but that's OK," Scott said. "Because this is more than softball to us, it's a grieving process, it's therapy, it's camaraderie. To have this timing, when something tragic happened, to have something like this fall into place, to me it was meant to be."
Kyle Austin covers sports for AnnArbor.com. He can be reached at kyleaustin@annarbor.com or 734-623-2535. Follow him on Twitter @KAustin_AA.