Posted on
Tue, Oct 23, 2012 : 9:50 p.m.
Dexter, Skyline advance to regional finals, plus other soccer and field hockey results
By Kyle Austin
This page will be updated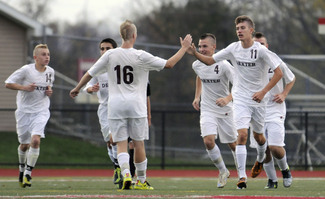 Matt Gade | MLive.com
Washtenaw County Scoreboard
Boys Soccer Regional Semifinals
Skyline 3, Plymouth 1
Story | Boxscore
Alec Lasinski scored less than two minutes into the game to give Skyline an early 1-0 lead. Plymouth answered five minutes later with a goal from Theodore Phillips at 33:33.
Lasinski added a second goal with 13:06 left in the first half. The sophomore's second goal seemed to settle the Eagles down.
Nick Russo added an insurance goal with 10:05 left in the game to send the Eagles to the regional finals.
Dexter 2, Marshall 0
Story | Boxscore
Bobby Toth's goal just before halftime not only put the Dreadnaughts (18-5-3) on the scoreboard first, it killed any kind of momentum that Marshall had gained by keeping the game scoreless.
With just under 15 minutes left in the second half, Cory Poirier's shot deflected off Richey and David Innis knocked in the rebound to seal the win.
"Marshall had a good strategy to prevent us from playing a lit bit of our attacking style," Dexter coach Scott Forrester said. "I think we should've possessed a little bit more at the midfield, but I think in the end we did create a lot of opportunities. They (Marshall) had their chances in the first half where it could've been 1-1 at the half, but we have a bend but don't break defense that did well to minimize the shooting opportunities that they had."
Hamtramck Frontier International 2, Greenhills 0
Story | Boxscore
Greenhills coach Lucian Popescu said Frontier International controlled most of the game, although the Gryphons had at least six scoring chances - one that ricocheted off the crossbar and another that hit the goalpost.
"Frontier deserved to win," Popescu said. "They controlled the game well and we had plenty of opportunities to score."
Andrew Khouri had seven saves for Greenhills, as the team finished its season 14-8-1.
Field Hockey State Quarterfinals
Pioneer 2, Farmington Hills Mercy 0
Story | Boxscore
Ann Arbor Pioneer advances to the semifinals of the state tournament after defeating Farmington Hills Mercy. Pioneer will play against Bloomfield Hills Marian Thursday at 7 p.m. at Saline High School. The state final will be Saturday at 2 p.m. at Saline.
Huron 2, Livonia Ladywood 1
Story | Boxscore
Casie Ammerman scored in the first half for Huron as they picked up a shootout victory over Livonia Ladywood to advance to the semifinals of the state tournament. Mariel Ward assisted on Ammerman's goal.
The two teams were tied 1-1 at halftime and the score remained that way thru a 10-minute overtime period. Ann Arbor Huron was victorious in the shootout, winning 3-0. Scoring for Huron in the shootout were Ammerman, Devin O'Donnell, and Keeley Erhardt. Ann Arbor Huron goalkeeper Tulin Babbitt finished with six saves.
Bloomfield Hills Marian 5, Dexter 1
Story | Boxscore
Dexter's Neena Pio scored that team's only goal off a corner 3:04 into the game.
The loss ends Dexter's season at 11-6-1.
"It was a good season. We moved up (Division 3) and had a very successful year," coach Craig Flocken said of the Dreadnaughts' third-year program. "We'll bring it next year and see what happens then. We have a good program and a good future."
For Tuesday's regular-season prep results, visit the Ann Arbor region page on Mlive's High School Sports Network