Posted on
Wed, Dec 7, 2011 : 7:30 p.m.
A quick look at recent boys and girls basketball top performances
By Pete Cunningham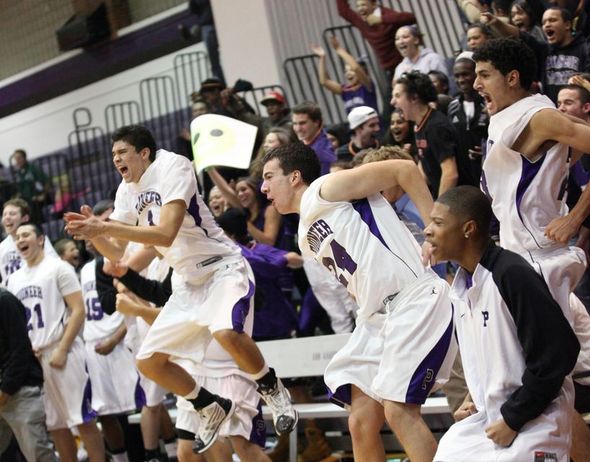 Jeff Sainlar | AnnArbor.com
Welcome to 'Run and Gun,' a quick roundup of recent Washtenaw County boys and girls high school basketball games. Follow the links for complete reports and boxscores from the games mentioned.
Speaking of 'run and gun,' the area was reintroduced to the coaching stylings of Dave Arnold on Monday when Clinton beat Manchester, 92-81. The first-year Flying Dutchmen coach is known for employing the Grinell College system, in which the team runs the court and throws up immediate 3-pointers, employs a full-court press on defense and subs the entire lineup every 45 seconds.
TOP SCORERS DEC. 3-6
GIRLS
27 - McKenna Erkfritz (Manchester) vs. Onsted
26 - Keya Lawson (Willow Run) vs. Oak Park
23 - Megan Hall (Chelsea) vs. Warren Fitzgerald
BOYS
32 - Josh Finley (Manchester) vs. Clinton
27 - Andrew Khouri (Greenhills) vs. Ottawa Lake Whiteford
24 - Omar Hassan (Central Academy) vs. Plymouth Christian
Unfortunately for Manchester, the biggest beneficiary to this offense was Clinton's
Grant Clark
, who scored a school-record 59 points. Clark pretty much just camped out in the low block and scored easy layups when Clinton broke Manchester's press.
That leaves Manchester looking for its first win under Arnold, something the Arbor Prep girls team is no longer looking for after a 47-18 win over Holt Lutheran on Saturday. The Gators -- my new favorite local mascot -- were led in scoring by freshman Zakiya Wells (13 points), daughter of coach Rod Wells.
Recognize that name? Wells coached Skyline during its 0-21 season last year. The Eagles won their first varsity game in program history last Friday, but couldn't make it a streak, falling 59-31 on Monday to South Lyon East despite 13 points from Janae Sims.
Pioneer guard Jimmy Holman one-upped Sims with 14 points in a season-opening win over Gabriel Richard on Tuesday night. It wasn't Holman who got the fans on their feet, though. That task was left to Tevis Robinson, a reserve player who made his case for more minutes by scoring two of his five points on the night with a crowd-pleasing slam.
While the dunk was one of the more exciting most aspects of Tuesday's games, Lincoln's 71-54 win over Milan was easily the most mind-numbing. The teams combined to shoot 91 free throws.
The only thing more boring than a game full of free throws: a game full of missed free throws. The Big Reds and Railsplitters collectively shot 37.3 percent from the line. That's 57 missed shots. Yikes.
A highlight from that game was Lincoln guard Arielle Cargor's 22 points, the same amount Whitmore Lake guard Nick Nied scored in the Trojans 60-57 season opening win over Grass Lake. So after one game, Whitmore Lake already has achieved as many wins as it did all of last year, but in much more efficient fashion.
Nearly as efficient was Chelsea's Mackenzie Cole who on Tuesday put up 19 points on 7 of 9 shooting including a perfect 3-for-3 performance from 3-point range and -- listen up Milan and Lincoln -- a perfect 2-of-2 from the charity stripe.
-- Matt Durr and Jason Idalski contributed to this article
Pete Cunningham covers sports for AnnArbor.com. He can be reached at petercunningham@annarbor.com or by phone at 734-623-2561. Follow him on Twitter @petcunningham.