High School Football Preview:

A team-by-team glance at the SEC Red Division

Posted on Thu, Aug 26, 2010 : 7:04 a.m.
Temperance Bedford won the 2009 Southeastern Conference Red Division title, but second-place Pioneer got the last laugh by eliminating the Kicking Mules from the MHSAA playoffs.
Which of the four Washtenaw County teams in the SEC Red has the best chance of winning a title this year? We break them all down here.
HURON RIVER RATS
Coach: Cory Gildersleeve (2nd year)
Last season: 5-4 overall, 3-3 SEC Red
Key returners: Kyle Baker (sr., OLB), D.J. Edwards (sr., CB/WR), Jacob Glinke (sr., OL), Chris Granlee (sr., DL), Matt Hastings (sr., WR/DB), Zak Hilfinger (sr., OL), Mitch Ward (sr., LB), Kevin White (sr., C), Dallas Williams (sr., DL), Brian Ziemba (sr., FS/WR).
Key newcomers: Brent King (jr., slot), Charles Boyd (sr., slot), Luke Benson (jr. , RB), Parish Jacobs (jr., RB), Anthony Hugan (jr., WR), Alex Hassan (jr., QB).
Strength: Speed, both offensively and defensively. Gildersleeve particularly likes that his linebackers are fast, which will help them match up well with the numerous spread teams they'll face.
Weakness: Lack of physicality. The team's lines needs to be more physical on both sides of the ball, Gildersleeve said.
Outlook: The River Rats had their first winning season since 2002 under first-year coach Cory Gildersleeve and his veer option attack. The bad news? No skill position starters from that veer option attack returns in 2010. The good news? That team had barely gotten through the first chapter of the offense's playbook.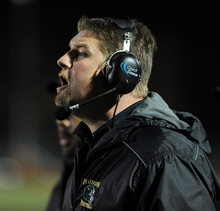 Junior quarterback Alex Hassan ran the offense for a season at the junior varsity level, and the running backs - dive backs and slot backs in Gildersleeve's vocabulary - have a full year of under their belts, too. While they all lack varsity playing experience, they do have a better grasp of the offense.
"Last year we were option-based, but when you broke us down on film, we didn't run a lot of option," Gildersleeve said. "In the first year, kids are grasping at it. This year we should be able to run a lot more option, and when you make people honor your true triple option, that's where it gets deadly.
"You can teach a kid the steps, you can teach the reads, but until they get time under their belts, it takes time to run it in a live situation. It takes into the second year until kids really get it and can make the read."
And if the River Rats get into the open, Gildersleeve says they're capable of big plays. Running backs Charles Boyd and Parish Jacobs are in the 4.5-second range in the 40-yard dash, and Brent King isn't far behind. Matt Hastings, a starting cornerback last year, should become Hassan's go-to receiver.
Huron should feature plenty of speed in the back of its defense, too, but Gildersleeve says the young lines on both sides of the ball is a key point of development that could determine if the River Rats are able to continue their upward trend.
"We're farther ahead this year than we were last year at this time," Gildersleeve said. "Last year we felt pretty good about a winning season, but the flip side of that is the competitor in you says you were six plays away from being 7-2. We need to turn the corner on the little things that make great programs have great teams year in and year out."
PIONEER PIONEERS
Coach: Jeremy Gold (4th year)
Last season: 8-3 overall, 5-1 SEC Red. Beat Red Division champion Temperance Bedford in pre-district game before losing to Canton in a district final.
Key returners: Reilly Quigley (sr., slot/DB), Drake Johnson (jr., RB/LB), Terrell Moran (sr., RB/LB), Jeron Clayton (sr., slot), Kyle Foster (sr., WR/LB), Matt Bolgos (sr., S), Greg Goss (sr., CB).
Key newcomer: Andy Creal (jr., QB).
Strength: A plethora of returning skill position players, many of them highly talented.
Weakness: A lack of returning linemen. There's size up front, but little varsity experience.
Outlook: A Pioneer football team that averaged more than 34 points per game last season features a stable of talented running backs looking to put up similar numbers. But coach Jeremy Gold is cautious about boasting a powerful offense just because All-County and All-SEC Red backs Drake Johnson and Terrell Moran are among the Pioneers' returning players.
First, he says, somebody needs to block for them. Every member of the Pioneers' starting offensive and defensive lines in 2009 graduated.
"We do have some size and some kids that are more than capable of getting the job done. And the line had a good fall camp," said Gold, the 2009 AnnArbor.com Coach of the Year. "We have bodies that are more than capable of getting the job done, but until that first game is under your belt, you really don't know what you have."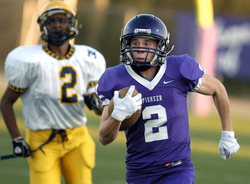 Of course the threat of the pass also opens up running lanes, and Pioneer must also replace the Miles Sorise to Ricardo Miller (Michigan) and Brandis Yarrington (Yale) combinations. Sorise's teammate on Pioneer's Division 1 state champion baseball team, junior Andy Creal, takes over at quarterback and Gold expects big things from senior wide receiver Kyle Foster.
Pioneer also spread out a previous logjam at tailback by moving seniors Reilly Quigley and Jeron Clayton to the slot back positions of its spread offense.
Quigley, also a dangerous return man, is back alongside returners Greg Goss and Matt Bolgos in what should be a solid Pioneer defensive backfield. But, like on offense, the defensive line is unproven.
"We're a pretty young team. We have experience in some key spots, but not in the spots that make a difference in the game when you talk about line play," Gold said. "Our defense is not a strength right now, so we're going to have to hang onto the ball. I think our backs are more than capable of that and Andy has proven he can manage a game."
SALINE HORNETS
Coach: Mike Glennie (9th year)
Last season: 3-6 overall, 2-4 SEC Red
Key returners: Garrett Gordon (sr., RB/LB), Trey Heren (sr., QB/DB), David Schuler (sr. OL/DL), Mitch Osadchuk (sr., RB/DB).
Key newcomers: Austin McVee (sr., RB/DB), Will Goeman (sr., TE/LB).
Strength: Team chemistry, which Glennie says is a welcome - if not surprising - trait coming after last year's 3-6 season.
Weakness: "All the little things," Glennie said. "Across the board, we could be really good at a lot of things, but have to work on all the little things."
Outlook: For the first 20 years of his coaching career, Mike Glennie was strictly a Wing-T guy. And he rode the offense to plenty of success at Capac, Swartz Creek and Saline high schools.
Two years ago - "when we had lots of little guys who could run around and catch the ball," Glennie says - the coach started experimenting with the spread offense at Saline. This year, with as many as eight running backs "that we feel comfortable with running the ball," the wing-T is back.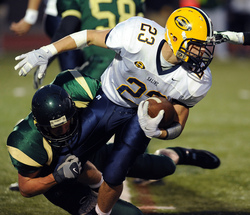 That run-oriented offense will be led by senior tailback Garrett Gordon, the county's leading returning rusher with 802 yards and 10 touchdowns in 2009. Senior quarterback Trey Heren was a spot starter last year and brings a definite passing threat to the wing-T attack.
While the Hornets have a limited number of returning starters on both sides of the ball, many players got valuable experience as the team battled through a string of injuries a year ago.
"Some of these kids that are starters for us now weren't last year, but played a role here and there," Glennie says. "There were a lot of kids that ultimately got playing time. "
Glennie says he and his team have tempered any talk about goals or expectations for 2010. Understandable for a squad that was mentioned among the state's top 10 in preseason polls.
The Hornets were 2-0 heading into a showdown with Pioneer, but went into that game with one healthy starting offensive lineman and Gordon wearing a cast on a broken hand. They'd win one of their last seven games.
"We kind of took a different approach. We haven't said we want to win the SEC, haven't said we want to get into the playoffs," Glennie said. "We just want to play the best we can play. Maybe that's for me, after what we went through last year. But we're playing week-by-week."
SKYLINE EAGLES
Coach: Randy Hutchison (1st year)
Last season: 7-2 as a junior varsity squad
Key returners: Andrew Copp (jr., QB), Jordan Woods (jr., WR), Theron Wilson (jr., CB), Sam Rose (jr., C), Jarius Mann (jr., DE). Key newcomers: Drew Diedrich (so., DE/TE), Jack Clark (so., FS).
Strength: Team speed and passing game.
Weakness: Running game and lack of experience.
Outlook: You can call Randy Hutchison crazy if you want. He doesn't mind. He still thinks his first-year varsity program at Skyline can make the playoffs in 2010.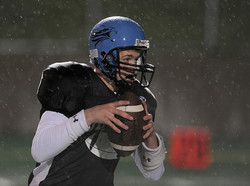 Sure, it was at the junior varsity level, but Skyline averaged more than 50 points per game last year out of its spread offense. Junior quarterback Andrew Copp threw 30 touchdown passes to a group of five receivers that average 6-foot-3 and a 4.6-second time in the 40-yard dash.
And this year's defense is much improved, Hutchison said. That unit proved it by allowing just four touchdowns in a four-team scrimmage last week.
"Most people will think we're crazy, but we have a chance to be a pretty solid team," Hutchison said.
It might not be so crazy, considering the benefit Hutchison is realizing by being able to coach his core unit for three straight years. Nearby Plymouth High School built its school and football program the same way Skyline has, and the Wildcats were in the state playoffs when its first class was seniors.
"We have more continuity because we can coach these kids for more than one or two years," Hutchison said. "Our kids are comfortable with each other, comfortable with the scheme … that's encouraging from a coaching standpoint."
One thing the Eagles are not is big. Hutchison figurers his team will give up approximately 25 pounds per man across the line when they play other SEC Red teams.