Posted on
Sun, Aug 25, 2013 : 5:30 a.m.
A team-by-team glance at Washtenaw County's SEC Red football teams in 2013
By Pete Cunningham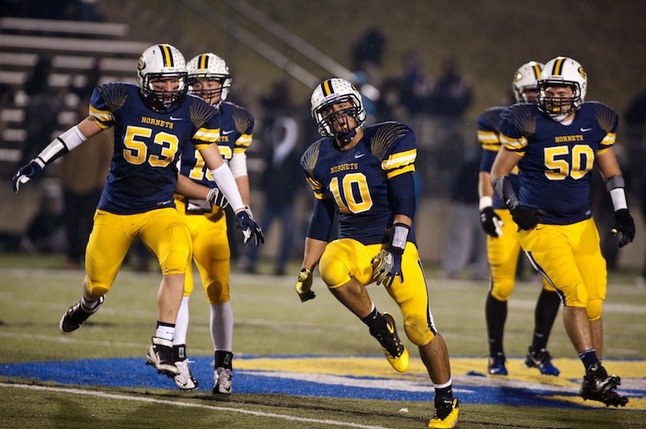 Joseph Tobianski | AnnArbor.com
Related:
Saline head coach Joe Palka and Ann Arbor Skyline head coach Lee Arthur were the new kids on the block in the Southeastern Conference Red Division last year. Now they are already the most tenured of the four Washtenaw County coaches in the league.
The resignations of Pioneer's Paul Test and Huron's Cory Gildersleeve in the aftermath of the fight that broke out between the teams after their Week 8 contest means there will be a lot of fresh new faces on the sidelines in 2013.
ANNARBOR.COM SEC RED PREDICTIONS
1. Saline
2. Temperance Bedford
3. Monroe
4. Pioneer
5. Skyline
6. Huron

That bodes well for the non-Washtenaw County teams in the league, Monroe and Bedford, whose programs continue to roll along and are looking to make return trips to the postseason.
The class of the league, however, should be the team that eliminated two of the league's four playoff teams in 2013: Saline. Palka's All-State quarterback son, Tyler, may not be under center anymore, but the success the father-son combo had together in their one year together in Saline may pay dividends for the program long into the future.
"I think we kind of got ahead of ourselves with our success last year, but what it has done is set the bar high in terms of expectations within the program," Palka said.
SOUTHEASTERN CONFERENCE RED DIVISION
SALINE HORNETS AT A GLANCE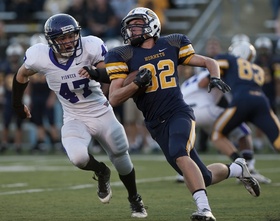 2012 Record:
10-2
Coach: Joe Palka (2nd year, 10-2)

Key Players: OL Travis Alexis, QB Travis Brown, TE Jimmy Craig, OL Dominic DiMelis, DL Ben Elliott, RB Kevin Gross, OL Max Recknagel, OL Nic Sawyer, DL John Smutny, QB Trent Theisen, RB Griffin Wooley.

2012 Review: The Hornets only lost a single regular-season game in coach Joe Palka's inaugural season and avenged that loss by eliminating Pioneer from the second round of the playoffs. Saline reached 10 wins for the first time in program history and advanced as far as any team in the playoff-era.

2013 Outlook: Saline graduated All-State quarterback Tyler Palka and most of the skill position players that fueled Saline's high-powered offense in 2012. The Hornets' offensive and defensive lines, however, are, according to Joe Palka, bigger and better than last year. Returning starting running backs Kevin Gross and Griffin Wooley combined for 1,488 yards of total offense last year and 22 touchdowns.

Schedule
Aug. 30: London A.B. Lucas (CN), 7 p.m.
Sept. 6: Ypsilanti, 7 p.m.
Sept. 13: at Chelsea, 7 p.m.
Sept. 20: at Ann Arbor Pioneer, 7 p.m.
Sept. 27: Temperance Bedford, 7 p.m.
Oct. 4: Monroe, 7 p.m.
Oct. 11: at Ann Arbor Huron, 7 p.m.
Oct. 18: Ann Arbor Skyline, 7 p.m.
Oct. 25: at Novi, 7 p.m.
SALINE HORNETS
Quarterback was the position where Saline coach Joe Palka felt most comfortable last year as his son, Tyler Palka, was the only player on Saline who had ever played under him.
This year it's not the signal caller who Palka is most confident in, but the guys charged with protecting him and, defensively, the guys attacking the opponent's "Offensively and defensively, the strength of this team is definitely in the line play," said Palka whose starting guards and offensive tackles who on average stand 6-3 and weigh 248 pounds with no one under 6-2, 230.
That should make life easier on whoever wins the quarterback battle between Travis Brown and Trent Theisen, which Palka said may not be determined until a few games into the season.
Having a quarterback battle last that long isn't ideal, but Palka said neither of the juniors look like the wrong choice.
"Both are so good that I want to make sure I utilize them both until we figure out who's the top guy," Palka said. "If someone asserts themselves sooner will go with that guy, but we could use them in a rotation those first couple games."
Ten wins and deep playoff run was more than Palka expected out of his first year and is thrilled with the message it has sent program-wide.
"We practice well and the bar has been set high in terms of expectations," Palka said. "That's the positive by product of having that early success."
PIONEER PIONEERS AT A GLANCE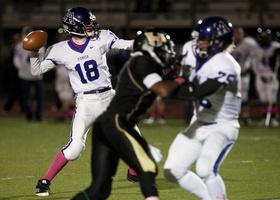 2012 Record:
7-4
Coach: Jari Brown (1st year)

Key Players: QB Brandon Bertoia, RB/WR Va'Shaun Davis, DB Malik Fuller, LB Brad Koenig, LB Ryan McKeown, DL Thad Stalmack, LB Larry Vitale.

2012 Review: Pioneer won a share of the SEC Red title, made the playoffs for the fifth straight year and won its opening round game. The Pioneers' success on the field, however, was overshadowed by the brawl that broke out after its game versus Huron, which led to suspensions and criminal charges to several players. Assistant coach Vince Wortmann was fired in the aftermath and head coach Paul Test eventually resigned.

2013 Outlook: Pioneer is smaller in terms of numbers and the size of its players than teams in recent years, with 36 players out for the team on the first day of practice. Pioneer has next to no familiar faces on offense, but returns the core of its defensive line and linebackers from the SEC's best defense a year ago. Pioneer's outstanding secondary was depleted by graduation and Tyrone Miller transferring to Saline, but will get a jumpstart from North Farmington transfer Malik Fuller.

Schedule
Aug. 29: at Birmingham Seaholm, 7 p.m.
Sept. 6: at Dearborn Edsel Ford, 7 p.m.
Sept. 13: Tecumseh, 7 p.m.
Sept. 20: Saline, 7 p.m.
Sept. 27: at Ann Arbor Skyline, 7 p.m.
Oct. 4: at Temperance Bedford, 7 p.m.
Oct. 11: at Monroe, 7 p.m.
Oct. 18: Ann Arbor Huron, 7 p.m.
Oct. 25: at Canton, 7 p.m.
ANN ARBOR PIONEER PIONEERS
From the outside looking in, it's easy to say the Pioneers are simply trying to put the ugliness of the end of last season behind them. After the brawl following the game against Huron there were coach firings, resignations and court cases for three Pioneer players.
Players want to put it behind them, but they're not necessarily dwelling on it.
"All the offseason stuff has been about what happened last year, so I think everyone's excited about getting it going this year and Pioneer football, and what we're going to do this year, not what happened last year" said quarterback Brandon Bertoia.
First-year head coach Jari Brown, who has spent the last four years as an assistant at Chelsea, is much more concerned with the future than the past.
"We need to understand what the concept of team is and we're getting there," Brown said. "I think there's a different energy and excitement to the program."
What the program doesn't have is the luxury of high participation numbers that it has enjoyed in the past. A lot of that has to do with the fact that, because Skyline, the student population at Pioneer is a fraction of what it used to be. Lower numbers will mean more iron-man football for some Pioneer players instead of the platooning they've enjoyed in the past.
"We can't rely on our talent, we gotta rely more on working hard and becoming a team," Brown said. "Until we understand that we'll be good, but we want to be great."
SKYLINE EAGLES AT A GLANCE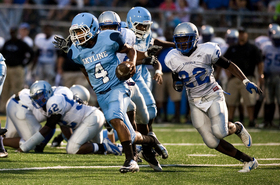 2012 Record:
2-7
Coach: Lee Arthur (2nd year, 2-7)

Key Players: OL/DL Tony Biggs, TE Willie Clark, QB Askaree Crawford, RB/LB Michael Kyle, DB Alex Lozon, WR Tristan Wilson.

2012 Review: The Eagles played under their third coach in as many years, and struggled mightily on the defensive end, giving up on average more than 42 points per game. Sophomore quarterback Askaree Crawford won the starting job and looks to have a bright future.

2013 Outlook: Crawford will be even more dangerous running and throwing the ball after a year of varsity experience and becoming acclimated to his teammates. It won't matter what Crawford and his teammates do on offense, however, if the defense can't keep points off the board, as has been the case every year of the school's existence.

Schedule
Aug. 29: Hartland, 7 p.m.
Sept. 6: at Dexter, 7 p.m.
Sept. 12: at Adrian, 7 p.m.
Sept. 20: Monroe, 7 p.m.
Sept. 27: Ann Arbor Pioneer, 7 p.m.
Oct. 4: at Ann Arbor Huron, 7 p.m.
Oct. 11: Temperance Bedford, 7 p.m.
Oct. 18: at Saline, 7 p.m.
Oct. 25: at Dearborn, 7 p.m.
ANN ARBOR SKYLINE EAGLES
It helps that for the first time in the brief existence of the Skyline High School football team, the Eagles will have a varsity coach returning for his second year. Lee Arthur is back to coach the Eagles which can do nothing but help.
Arthur compared having a new coach every year of the school's existence the equivalent of a child having a new father figure every year. A bit hyperbolic, but in a sport where teams are just as often referred to as families, the comparison works.
Skyline returns with dynamic dual threat quarterback Askaree Crawford who hit the ground running, and throwing, as a sophomore. An out-of-state transfer, Crawford won the starting job and threw for 1,513 yards and 12 touchdowns while rushing for 283 yards and five scores.
He also hit the ground, literally, too much. The team's motto this year "Ain't no Sky without the line," needs to hold true not just for Crawford's sake, but for everyone in the backfield.
Just as important will be Skyline's defense, which gave up more than 42 points per game in 2012. Just as much as a high-flying offense has been the calling card of Skyline in its three years as a program so too has its lack of defense and that needs to change for the Eagles to make positive strides.
HURON RIVER RATS AT A GLANCE
2012 Record:
0-9
Coach: Craig Jobe (1st year)

Key Players: LB Trey Allen, RB Emre Babbitt, OL/LB Adam Barber, RB Duane Boyd, LB Nick Darlington, QB Josh Jackson, WR/DB Arkel King, LB Jaavaid Love, LB Tre Rorie, OL/DL Dennis Shedrick, QB Quavon Smith, DB Jason Strange, RB/LB Kevin Yang.

2012 Review: Huron didn't win a single game for the first time since the school's first year of existence in 1967. The season went from bad to worse when the River Rats' Week 8 blowout loss against Pioneer ended with a brawl precipitated by a confrontation involving head coach Cory Gildersleeve. Gildersleeve eventually resigned ending his tenure at Huron with just nine total wins in four years.

2013 Outlook: There is nowhere to go but up for the River Rats under first-year head coach Craig Jobe. Jobe said the team is deep at linebacker and wide receiver. He expects the competition to make those positions of strength, but also anticipates some switches. Sophomore quarterback Josh Jackson proved last year he's good enough for the big stage, but Huron needs to keep him upright for it to matter.

Schedule
Aug. 29: Windsor Massey (CN), 7 p.m.
Sept. 6: at Ypsilanti Lincoln, 7 p.m.
Sept. 12: Ypsilanti, 7 p.m.
Sept. 20: at Temperance Bedford, 7 p.m.
Sept. 27: at Monroe, 7 p.m.
Oct. 4: Ann Arbor Skyline, 7 p.m.
Oct. 11: Saline, 7 p.m.
Oct. 18: at Ann Arbor Pioneer, 7 p.m.
Oct. 25: Westland John Glenn, 7 p.m.
ANN ARBOR HURON RIVER RATS
It's hard to imagine the season could have gone any worse for Huron last year as an 0-9 season was followed by an on-field brawl and the resignation of coach Cory Gildersleeve.
First-year coach Craig Jobe said he doesn't concern himself with what he can't change.
"That isn't even something we really talk about, we have a brand new staff, we're working hard, try to instill what we think is right and what is wrong and it isn't anything we bring up," Jobe said.
While Jobe said his team is deep at lineback and wide receiver, there are some holes elsewhere that some of those players will end up filling.
"We might have to move some kids around, but our goal is to get our best 11 on the field," Jobe said.
Wherever some of those players end up, though, isn't Jobe's top concern. How they play in whatever position they end up is.
"If we want to compete and we want to win games, we have to be physical. Get 11 hats to the ball," Jobe said.
While having sophomore Josh Jackson back at quarterback and the depth at wide receiver suggests a pass-first attack, Jobe said he wants to establish a running game first and foremost.
"Our goal is to be a physical football team that can run it," Jobe said. "At the end of the day, we want to be able to run it, get downhill and be a physical football team."
Pete Cunningham covers sports for AnnArbor.com. He can be reached at petercunningham@annarbor.com. Follow him on Twitter @petcunningham.