Posted on
Sun, Aug 25, 2013 : 5:29 a.m.
A team-by-team glance at Washtenaw County's SEC White football teams in 2013
By Pete Cunningham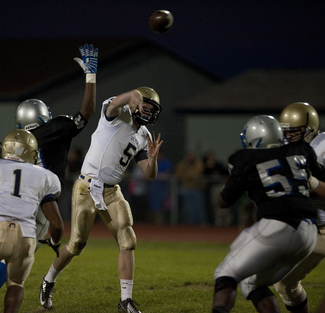 Related:
Perennial league power Chelsea swept its SEC White competition during the regular season last year, only to be eliminated from the playoffs by league foe Tecumseh. Even with the stars of those respective teams are gone - Chelsea running back Berkley Edwards to the University of Minnesota and Tecumseh quarterback Ben Dreslinski to Northwood University - the Indians and Bulldogs look like teams heading for another collision course atop the league standings and in the playoffs.
ANNARBOR.COM SEC WHITE PREDICTIONS
1. Chelsea
2. Tecumseh
3. Lincoln
4. Adrian
5. Ypsilanti Community
6. Dexter

That would make 15 straight years of postseason football for the Bulldogs under coach Brad Bush and the start of the first playoff streak in Tecumseh since the Indians made it three years in a row from 2000-02.
Both squads should have strong defenses led by senior middle linebackers, Shon Kuhn in Chelsea and Preston Pelham in Tecumseh, who was All-State as a junior.
The SEC White has had two playoff teams six of the eight years of its existence, but only once had three, in 2011 when Lincoln made the postseason for the first time in program history.
The Railsplitters were a turnover-plagued, one-point loss to Adrian away from making it three again last year. While they have the talent on both sides of the ball to give the league three postseason teams again, neither Dexter, Ypsilanti Community nor Adrian appear equipped to make similar pushes.
SOUTHEASTERN CONFERENCE WHITE DIVISION
CHELSEA BULLDOGS AT A GLANCE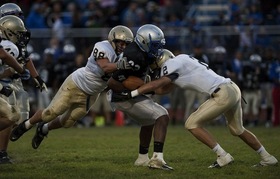 2012 Record:
6-4
Coach: Brad Bush (17th year, 126-45)

Key Players: QB Scott Crews, OL Tyler Eckler, WR Zach Fosdick, LB Shon Kuhn, WR Tim Mantel, WR Alex McDougal, RB Ty Nelson, RB Ethan Whitaker.
2012 Review: Extended the longest playoff streak in Washtenaw County to 14 years despite starting the season 0-3. Went on a 6-0 run to end the regular season and finished first in the SEC White. Lost to league foe Tecumseh in the opening round of the postseason.

2013 Outlook: The Bulldogs lost two high-profile stars in Michael Steinhauer and Berkley Edwards, but coach Brad Bush believes the team can be just as successful, but with unsung heros leading the way. Led by senior linebacker Shon Kuhn, Bush believes the defense can live up to the program's lofty standards.

Schedule Aug. 30: Lansing Sexton, 7 p.m.
Sept. 6: at Belleville, 7 p.m.
Sept. 13: Saline, 7 p.m.
Sept. 20: at Ypsilanti, 7 p.m.
Sept. 27: Adrian, 7 p.m.
Oct. 4: Ypsilanti Lincoln, 7 p.m.
Oct. 11: at Tecumseh, 7 p.m.
Oct. 18: at Dexter, 7 p.m.
Oct. 25: at Haslett, 7 p.m.
CHELSEA BULLDOGS
Long-time coach Brad Bush said that in the absence of individual stars like Berkley Edwards or Nick Hill before him, this will be "more of your typical Chelsea team," with "guys you haven't heard of before that are going to have to step up."
One of those guys will be senior quarterback Scott Crews. Crews has patiently waited his turn and will now be in charge of a more balanced attack, rather than the run-heavy offense with Edwards or Hill.
"(Crews) waited his turn," Bush said. "He played a lot of scout team, played a lot of times when it didn't count, but he's been a guy that we've thought of can be very good since the time he was in seventh grade."
Coaches said Crews has taken command of the team and the leadership early on, something that can't necessarily be taught, is the final piece of the puzzle to make it his team.
Protecting Crews and leading the way for the running game will be left tackle Tyler Eckler, a 6-3, 245 pound senior with Division I potential, and a nice luxury will be 6-4 wide receiver Tim Mantel.
"Crews could be a really good quarterback and he's going to have to put more on his shoulders than we have lately (at the position)," Bush said. "We've been such a run dominated team, we're going to be more balanced."
LINCOLN RAILSPLITTERS AT A GLANCE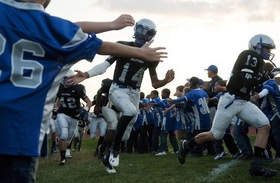 2012 Record:
5-4
Coach: Chris Westfall (7th year, 14-41)

Key Players: DB Cedric Addie, LB L.T. Bolden, OL Devin McCallister, DB K.J. Osborn, DB/WR Dalauren Roberson, LB E.J. Shaah, QB Eugene Smith.

2012 Review: Lincoln fell one win shy of an unprecedented second straight playoff appearance, but with five wins still had what coach Chris Westfall considered a successful year. Finished fourth in the SEC White Division behind Chelsea, Tecumseh and Adrian.

2013 Outlook: The Railsplitters return six starters on offense and seven on defense to a team that came within a point of reaching the postseason last year. A new quarterback and a plethora of talented receivers make Lincoln's offense dangerous but led by seniors E.J. Shaah and J.T. Bolden, the Railsplitters' linebackers and defense will be the strength of the team, as it has been during the program's revival.

Schedule
Aug. 30: Belleville, 7 p.m.
Sept. 6: Ann Arbor Huron, 7 p.m.
Sept. 13: Temperance Bedford, 7 p.m.
Sept. 20: at Tecumseh, 7 p.m.
Sept. 27: Dexter, 7 p.m.
Oct. 4: at Chelsea, 7 p.m.
Oct. 11: Adrian, 7 p.m.
Oct. 18: at Ypsilanti, 7 p.m.
Oct. 25: at Milan, 7 p.m.
LINCOLN RAILSPLITTERS
Two years ago Lincoln made the playoffs for the first time in program history. Last year the Railsplitters came within one win of doing it again.
This Lincoln team may be better than both of those squads. Coach Chris Westfall certainly thinks so.
"This is far and away the deepest team, talent-wise we've ever had," Westfall said.
And with 53 players, it's the deepest team the program's had, period, during Westfall's tenure. That can be attributed to the emphasis on offseason training.
"After the season we've all been in the weight room, all been running. We haven't stopped football honestly," said senior wide receiver Delauren Roberson. "We've just been running, grinding every day."
Even among all the returners -- six on offense, seven on defense -- possibly the most valuable breakout player for the Railsplitters will be junior quarterback, Eugene Smith, a first-year starter. Smith is every bit of 6-3, 215 with the type of arm that can utilize Lincoln's plethora of talented receivers and with the speedy Roberson, Lincoln's passing game will be dangerous.
But defense is where Westfall believes the Railsplitters are strongest.
"We have expectations as a defense and especially as linebackers," said senior linebacker L.T. Bolden. "It's our job to live up to those expectations."
YPSILANTI COMMUNITY GRIZZLIES AT A GLANCE
2012 Record:
2-7 (Willow Run), 1-8 (Ypsilanti)
Coach: Rufus Pipkins (1st/9th year, 30-42 in eight years at Willow Run)

Key Players: QB Mike Caldwell, Martez Freeman, OL Jhamiel Hill, QB Marquis Smith, LB/RB Daouda Sylla, LB Patrick Ullrich.

2012 Review: Ypsilanti High School won just a single game against one-win Dexter. Willow Run won only two games playing in the Michigan Metro Athletic Conference, which is much weaker than the Southeastern Conference.

2013 Outlook: The Ypsilanti Community High School Grizzlies football team, like the school it represents, is trying to be a whole greater than the sum of its individual parts. Both Willow Run and Ypsilanti football teams struggled with numbers, on-field performance and discipline, and in the case of Ypsilanti, coach retention.

Schedule Aug. 30: Milan, 7 p.m.
Sept. 6: at Saline, 7 p.m.
Sept. 12: at Ann Arbor Huron, 7 p.m.
Sept. 20: Chelsea, 7 p.m.
Sept. 27: at Tecumseh, 7 p.m.
Oct. 4: at Adrian, 7 p.m.
Oct. 11: Dexter, 7 p.m.
Oct. 18: Ypsilanti Lincoln, 7 p.m.
Oct. 25: at Auburn Hills Avondale, 7 p.m.
YPSILANTI COMMUNITY GRIZZLIES
Ypsilanti Community High School wasn't even technically a place until July, so the team that has come out of the merger between the Ypsilanti and Willow Run districts is, understandably, playing catch up.
"Ever since we started we feel like we've been playing catch up. Through all the transitions and everything that we have to go through and getting a late start," said coach Rufus Pipkins. "Plus we've always looked at ourselves as behind the eight ball because these kids have a new staff."
Pipkins noted that for the former Ypsilanti High School players, which comprise roughly 75 percent of the roster, he is their third coach in an as many years.
Pipkins said he and his staff have been spreading themselves thin and utilizing both Willow Run and Ypsilanti campuses to try to make up for lost time.
"We've tried to take advantage of everything we can do under the laws of Michigan high school rules," Pipkins said. "Just taking advantage of every minute."
A lot of teams will likely be able to beat the Grizzlies, but Pipkins wants to make sure the Grizzlies don't beat themselves.
"Just looking at game films, the amount of mistakes - penalties, turnovers, unnecessary penalties - those stick out. So we're working on continuity, eliminating mistakes, big and small," Pipkins said.
DEXTER DREADNAUGHTS AT A GLANCE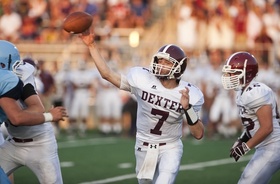 2012 Record:
1-8
Coach: Ken Koenig (1st year)

Key Players: LB Chris Bryson, LB Tyler Kinzel, QB/DB Kyle Koenig, FB Eric Leon, QB/DB Matt Mitchell, DL Cole Rize.
2012 Review: Dexter started the season 0-8, but was able to avoid its first winless season since 2000 with a win against Jackson Northwest in the season finale. Four different people have been the head coach of the program since the beginning of 2012.

2013 Outlook: Dexter will run a Wing-T offense and a 4-3 defense. With all the turmoil surrounding the coaching situation over the past three years, Koenig was more worried about players' faith in the program than Xs and Os, and is encouraged by the 95-player program-wide turnout - 45 varsity, 25 JV and 25 freshman.

Schedule
Aug. 29: at Fowlerville, 7 p.m.
Sept. 6: Ann Arbor Skyline, 7 p.m.
Sept. 13: at Monroe, 7 p.m.
Sept. 20: Adrian, 7 p.m.
Sept. 27: at Ypsilanti Lincoln, 7 p.m.
Oct. 4: Tecumseh, 7 p.m.
Oct. 11: at Ypsilanti, 7 p.m.
Oct. 18: Chelsea, 7 p.m.
Oct. 25: at Jackson Northwest, 7 p.m.
DEXTER DREADNAUGHTS
To say the past year has been tumultuous for the Dexter High School football team qualifies as the understatement of the year. Here's a recap: former head coach Brian Baird resigned after a Week 3 blowout loss to Pioneer and was replaced by Ryan Fisher on an interim basis. Mike Glennie was hired in the offseason only to resign after one month on the job, and longtime assistant Ken Koenig was hired in May.
And this of course is just three years removed from Tom Barbieri's firing, giving Dexter four coaches since 2012 and five since 2010. Pretty sure that's a record.
The good news? The turnout has been high compared to previous years.
"Given the circumstances that the program has gone through in the last 9-10 months, with the coaches switching, it's good to see," Koenig said.
Koenig said Dexter's will operate out of the Wing-T on offense with the occasional shotgun formation. Who will be running that offense was still a mystery a week into practice with Kyle Koenig (Ken's son) and Matt Mitchell battling every step of the way.
Koenig believes linebacker could be a position of strength for the Dreadnaughts behind Tyler Kinzel and Chris Bryson.
Pete Cunningham covers sports for AnnArbor.com. He can be reached at petercunningham@annarbor.com. Follow him on Twitter @petcunningham.