Posted on
Fri, Feb 1, 2013 : 5:59 a.m.
Pioneer continues SEC gauntlet with Friday Game of the Week against Saline
By Kyle Austin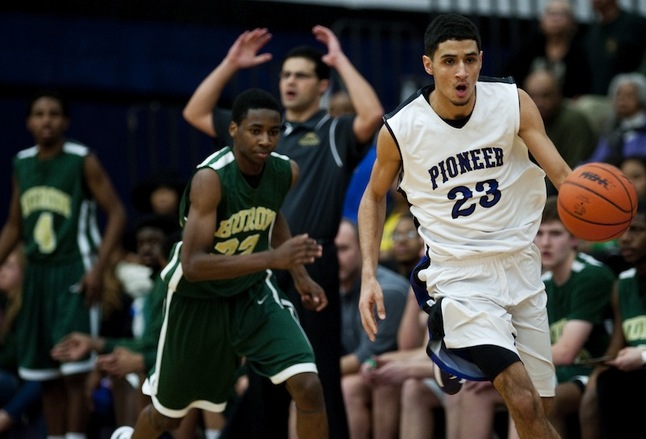 Daniel Brenner | AnnArbor.com
Pioneer has played two of its most exciting games of the season in the last week.
And the next week figures to be just as good.
The Pioneers host Saline Friday night in our AnnArbor.com Game of the Week, as both teams try to navigate their way through what's been a tightly contested SEC Red slate.
Both of Pioneer's last two games have come down to the final seconds. Last Friday at Temperance Bedford, the Pioneers had a would-be game winner fall off the mark, as it saw its eight-game winning streak snapped by the first-place Kicking Mules.
Four days later, the Pioneers came back from 14 down with four minutes left to top Skyline on a Jibreel Hussein 3-pointer with 12 seconds left Tuesday.
"Pretty crazy," Pioneer coach Rex Stanczak said.
After facing Saline, the Pioneers move on to face Ypsilanti, the first-place team in the SEC White, on the road on Tuesday, before traveling to face rival Huron on the road next Friday.
Those games will go a long way toward determining the league title -- Pioneer is currently tied with Huron, a game behind Bedford.
"We'll find out what we're made of, that's for sure," Stanczak said.
Saline has a winning record on the year, at 7-5, but has struggled in league play, with a 1-4 mark. But the Hornets have shown they can hang with the best teams in the league: they took Ypsilanti to overtime and fell to Skyline by six.
And opposing coaches like Stanczak know that if the Saline shooters, particularly Reece Dils and Michael Henderickson, get hot, they can be trouble.
"You've got to guard the three-point line," Stanczak said. "Dils and Hendrickson particularly can really shoot it, and they can really shoot it from and they can shoot it from further out than you would normally guard."
Complicating matters for Pioneer is the uncertain status of Hussein, who leads Pioneer with 16.5 points per game. The senior forward suffered an ankle injury early in the Skyline game. He was able to finish the game, but was "extremely sore" in the days following the game, Stanczak said.
"We'll just take it day-by-day," Stanczak said. "It wouldn't surprise me that he was not able to play Friday, he really hobbled through the rest of the game. But knowing his history, he will probably find a way to play.
Friday Night Basketball Schedule
Boys Basketball
Adrian at Dexter, 7 p.m.
Chelsea at Ypsilanti, 7 p.m.
Central Academy at Washtenaw Christian, 7 p.m.
Dearborn Divine Child at Father Gabriel Richard, 7:30 p.m.
Greenhills at Newport Lutheran South, 7:30 p.m.
Hillsdale Will Carleton Academy at Rudolf Steiner, 8 p.m.
Huron at Temperance Bedford, 7 p.m.
Lincoln at Tecumseh, 7 p.m.
Manchester at East Jackson, 7 p.m.
Milan at Carleton Airport, 7 p.m.
Saline at Pioneer, 7 p.m.
Skyline at Monroe, 7 p.m.
Westland Huron Valley Lutheran at Calvary Christian Academy, 7:30 p.m.
Whitmore Lake at Clinton, 7 p.m.
Willow Run at Arbor Preparatory, 7 p.m.

Girls Basketball
Central Academy at Washtenaw Christian, 5:30 p.m.
Greenhills at Newport Lutheran South, 6 p.m.
Pioneer at Saline, 7 p.m.
Dexter at Adrian, 7 p.m.
Hillsdale Will Carleton Academy at Rudolf Steiner, 6 p.m.
Monroe at Skyline, 7 p.m.
Tecumseh at Lincoln, 7 p.m.
Temperance Bedford at Huron, 7 p.m.
Whitmore Lake at Clinton, 5:30 p.m.
Ypsilanti at Chelsea, 7 p.m.
Willow Run at Detroit University Prep, 4:30 p.m.

Game of the Week
The girls are getting it done so far in this week's Game of the Week poll, with Dexter's game against Huron Tuesday garnering more than 40 percent of our vote. The poll stays open until noon Saturday.
Kyle Austin covers sports for AnnArbor.com. He can be reached at kyleaustin@annarbor.com or 734-623-2535. Follow him on Twitter @KAustin_AA.