Posted on
Sat, Nov 3, 2012 : 6:35 p.m.
Against stiff competition, Saline takes third at girls cross country state finals
By Kyle Austin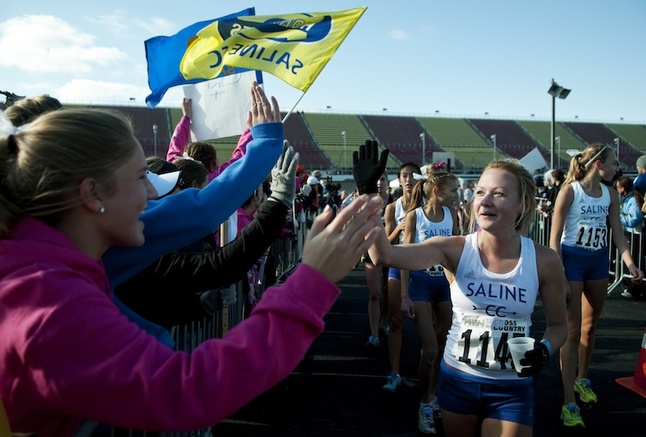 Daniel Brenner | AnnArbor.com
BROOKLYN -- Saline fielded the best girls cross country team in school history this year.
It just picked the wrong year to do it.
The Hornets finished third in the MHSAA Division 1 state finals Saturday at Michigan International Speedway.
Saline coach Mike Smith called Saturday the best state meet his team has ever run, time-wise. That includes when it won the 2009 state championship and finished in second last year.
But this year, it ran into a pair of juggernaut teams.
In the most recent National High School Coaches Association rankings, Grosse Pointe South was ranked No. 1 nationally, Birmingham Seaholm was ranked No. 7, and Saline was ranked No. 12.
In Saturday's race, Seaholm took top honors with 69 points, followed by Grosse Pointe South with 88 points and Saline with 101.
"Probably eight years out of ten if you took the performances we had today, we'd probably win the state championship," Smith said. "But you've got to do it at the right time obviously."
The Hornets placed three runners on the all-state podium. Junior Elianna Shwayder finished sixth overall at 18:02.7. Lauren Green and Gillian Walter, a sophomore and freshman, finished 25th and 26th.
Junior Gloria Park finished in 31st, one spot off the medal podium.
Andrea Cell of Huron also made the podium, finishing in 23rd overall.
Last week at regionals, Saline completed a perfect meet, placing all seven of its runners in the top seven. But this week, the Hornets couldn't get their team on the podium to accept a trophy.
"Sometimes you've got to be good and you've got to be lucky," Smith said.
Shwayder was the top Washtenaw County female finisher in any race Saturday at MIS. She ran a personal best time in a race she dedicated to her grandfather, a former runner who has been an inspiration to her.
"It's a beautiful day, a great race to dedicate to him," Shwayder said.
All seven of the Saline runners finished in the top 51 overall, and within one minute of each other. It didn't take long for them to all find another another to walk side-by-side down the chute to meet their coaches, friends and family members.
"We're all really fast this year, and not only like time close but relationship close," Shwayder said.
The group wouldn't find out for another half an hour that they came in third, but that's something they'll bounce back from, Smith said. After all, six of the seven runners who competed Saturday will be back next year.
"We would be the favorite going into next year," Smith said. "Which is great, that's fine with us."
Division 2
(Full results)
Chelsea was the lone Washtenaw County team to qualify for the state finals, finishing in 19th overall. Sophomore Artemis Eyster was the Bulldogs' top finisher, at 70th overall. Maegan Hopkins also cracked the top 100 at 89th.
Milan's Lucia Alfaro qualified as an individual, finishing 94th.
Division 3
(Full results)
Father Gabriel Richard finished 20th overall, led by junior Andrea Bodary, who finished 36th at 19:28.7. Sophomore Nina Sapienza finished 78th in the race.
Alia Benedict of Manchester was the top area individual finisher, coming in 46th at 19:41.2.
Kyle Austin covers sports for AnnArbor.com. He can be reached at kyleaustin@annarbor.com or 734-623-2535. Follow him on Twitter @KAustin_AA.