Allie McAfee's monster game puts Milan girls basketball atop Huron League
Posted on Mon, Jan 25, 2010 : 11:22 p.m.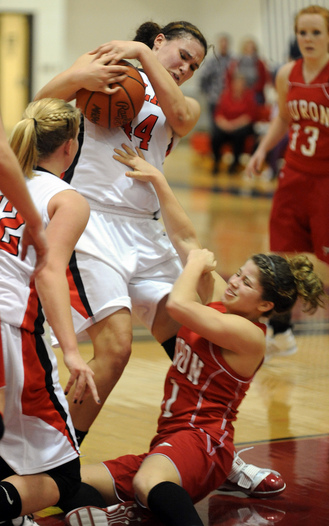 It was late in the third quarter when Milan High School senior Allie McAfee reached to deflect an entry pass intended for New Boston Huron's super senior McKenzie Kudron.

McAfee tipped the ball out of bounds and then her momentum knocked her to the floor. It was one of those key hustle plays that aren't reflected on the stat sheet but was every bit as impressive as the numbers next to her name.

The 6-foot, 2-inch center scored 14 points, grabbed 17 rebounds and made four steals in Milan's 40-39 victory over New Boston Huron in Monday night's showdown for sole possession of first place in the Huron League.

More impressively, she outplayed and frustrated the 6-3 Kudron -- who has signed to play college basketball at the University of Vermont -- to four points and six rebounds. Kudron did manage five blocked shots.

"She killed us," Huron coach Brent Podak said of McAfee. "That was an awesome game. She always has good games against McKenzie. She likes that challenge. She did a phenomenal job tonight."

Milan improved to 7-0 in the Huron League (9-2 overall) and leads Huron by a game as the league hit the halfway mark Monday night. The two teams will meet again on the last game of the Huron League season.
As the game ended with Huron's Alex Johnston hitting a meaningless 3-pointer at the buzzer the Milan student section of about 60 students, including several members of the varsity boys basketball team, stormed the floor and surrounded the team and joined them in a celebratory edition of the school fight song.
"I've never seen that happen before at a girls basketball game," said senior forward Lani Ernst, who finished with five points and 10 rebounds. "It's great to have all those guys come out and support us. It was awesome."