Posted on
Tue, Feb 21, 2012 : 11:59 p.m.
Huron sweeps Skyline in boys and girls basketball
By Matt Durr
Tuesday was a good night for the Huron High School boys and girls basketball teams as both defeated intra-city conference rivals by double-digit margins at Skyline High School.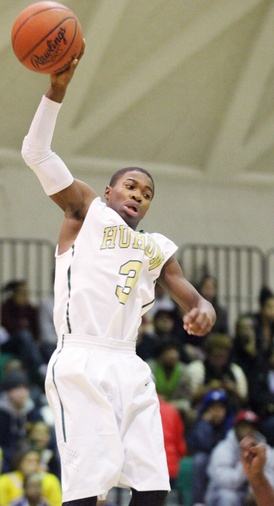 In the boys game, a lights-out first half shooting performance was the difference in a 78-54 victory. The River Rats drained six 3-pointers before halftime, including four from Kendall Thomas.
Thomas scored 18 of his game-high 23 points in the opening half, helping Huron build a 48-28 lead by halftime.
Related content: Boxscore at MLive.com | Pioneer loss to Bedford puts Huron in three-way tie for first in SEC Red and more Tuesday results
"I was feeling it. Nobody on my team is selfish, so if somebody is hot, you're gonna find 'em," said Thomas. "They were double teaming Mike (Lewis) and Andre (Bond) and leaving me wide open, so I just concentrated and knocked the shots down."
Both teams came out shooting the ball well early and combined to make seven shots from beyond the arc in the first quarter. Skyline's Theron Wilson made back-to-back triples early before Thomas responded with one of his own.
The teams traded baskets throughout the frame and after the first quarter, Huron held a 23-17 lead. The River Rats stayed hot, but Skyline cooled and couldn't get a stop on the defensive end.
"We worked on some things this week and almost none of it showed up in the first half," said Skyline coach Mike Lovelace. "It was like everything (Huron) ran was brand new to us."
A 17-4 run during the midway point of the second quarter stretched Huron's lead to 44-24. Sparked by Thomas and Bond (who had 19 points), the River Rats seized the momentum and never allowed Skyline to dig into the lead.
"It was a good half, the team was playing well, playing together," Bond said.
Although his team only surrendered 11 points in the second quarter, Huron coach Waleed Samaha thought his squad could have done better defensively.
"Obviously we played well offensively tonight, but we have to get better defensively," Samaha said. "We're pleased with the victory; we're pleased with our offensive output. We have to get better defensively."
For Skyline (9-8, 4-6 SEC Red), Wilson led the way scoring 17 points and grabbed eight rebounds, but was frustrated by his team's inability to get stops defensively.
"It's tough when you're playing defense for 30 seconds full speed and then they get one person wide open and they hit a shot," Wilson said. "It kind of messes with you, but it's what happens sometimes. You gotta keep playing through it."
Coming out of the break, Skyline played with much more energy and stayed with Huron (12-5, 8-2) on both ends of the floor, but never put together a run large enough to cut into the lead.
With the state tournament just two weeks away, Samaha said was excited to see Thomas help shoulder the load offensively.
"When Kendall gets it going, he can score in bunches," Samaha said. "To have a third scorer like that is great."
AnnArbor.com file photo
In the girls contest, Huron forced more turnovers than they gave up points in a 53-19 win. The River Rats (14-5) completed an undefeated SEC season, going 12-0 in conference play and winning the Red Division.
Related content: Boxscore at MLive.com | Chelsea girls win SEC White and more Tuesday results
"I'm proud of them. We did what we needed to do to win basketball games," said Huron coach Steve Vinson.
The River Rats opened the game with 11 unanswered points and Skyline did not score until there was less than a minute remaining in the first quarter.
Sixteen first half turnovers and numerous missed shots from underneath the basket hurt the Eagles' chances of closing the gap before halftime. Despite the mental errors, the Eagles played Huron tight in the second quarter and entered the half down just 19-8.
"Huron was very relentless with the pressure. Our guards didn't take care of the basketball tonight," said Skyline coach Keith Wade. "I think we had a little fear of Huron's pressure."
When the second half opened, Huron pulled away holding Skyline to just five points in the third quarter. The same continued into the fourth as Huron's pressure never let up and the Eagles managed only six points.
"Our defense the whole game was pretty good, but I thought we converted those turnovers better in the second half," Vinson said. "After you get the steal, you have to finish your hard work."
With the loss, Skyline (3-16) fell to 0-12 in league play and has yet to win an SEC game in the program's young history.
Devin Talley led the River Rats with 15 points and Bianca Williams pitched in with 10. Syrah Vereen led Skyline with six points.
Even though the team lost, it was a special night for the Eagles who honored their five seniors in the program's first ever senior night prior to the game.
Contact Matt Durr at mattdurr@annarbor.com.