Ann Arbor native and Olympic wrestling coach Zeke Jones keeping team away from London
Posted on Wed, Jul 25, 2012 : 2:25 p.m.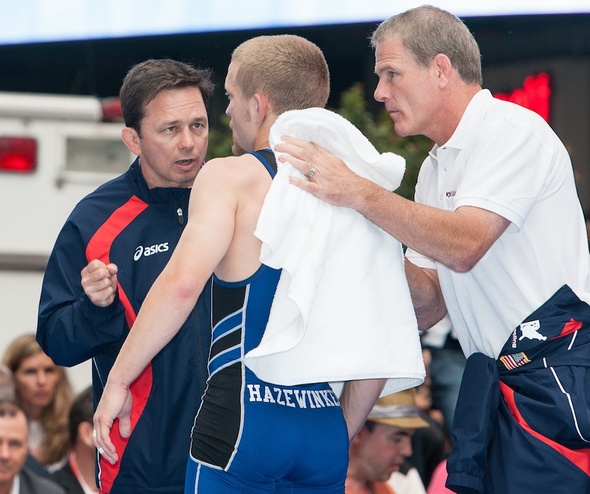 Photo by Larry Slater

Friday will be the fifth Olympic opening ceremony for Ann Arbor native Zeke Jones, but that doesn't mean he has grown used to it.

Jones, a state champion for Huron High School in 1985, is the head coach for the American freestyle wrestling team. He recalls fondly his experience as an athlete in the 1992 Barcelona Games, where he won a silver medal at 52 kilograms.

Jones said being at the ceremony as a member of the coaching staff in 1996, 2000 and 2004 was special as well, just as he anticipates Friday to be.

It's something special he wants his athletes to experience.

"It's just a great experience, as an athlete or coach, to carry the flag out there. You're representing your country, your sport and all the people are united," Jones said.
LOCAL OLYMPIANS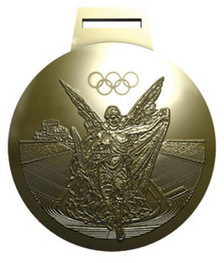 Visit the AnnArbor.com
Olympics page
for stories on Olympians with Ann Arbor-area ties. Follow along with Michigan athletes at
MLive.com/Olympics
.
But once the ceremony is through, you won't see any American wrestlers taking in the sights in London, attending other events, or read stories about them painting the town red or enjoying the Olympic village.
That's because the American wrestling team won't be in London after the opening ceremony. Jones is putting his team on a plane the next day for Belarus, where they'll train for more than a week with the Belarusian, Georgian and Indian national teams.
Friday night will be about enjoying the Olympic experience. After that, it's all business.
"It's just too much, too much of everything going on," Jones said. "We're going to get out of the hoopla and craziness. It's an event like no one's ever seen.
"Each wrestler wants to be an Olympic champion," Jones said. "I don't make any predictions. I just know that we want to wrestle well."
Jones wants his team well prepared for the Olympic tournament. After finishing third at the FILA Wrestling World Wrestling Championships in Turkey last year, expectations are high. And, since the freestyle wrestling portion of the competition doesn't start until Aug. 10, Jones couldn't afford to have his team distracted around the village.
But USA Wrestling can afford to send the team on a globetrotting training schedule.
"We didn't have the resources 20 years ago to run all over the place," Jones said, in reference to his days as an Olympian. "Now that we have generous donors, we can afford to go the extra mile to give our athletes optimal conditions. ... We've done this many times and find it's the best approach."
They'll return to London on Aug. 7 in order to get acclimated to the environment and timezone change.
When Jones won a state championship at Huron in, he was the sixth individual champion since 1972 for the River Rats. Ironically, the high school team of the man in charge of the country's wrestling infrastructure now struggles to fill half of a roster.
"Wrestling as a sport is growing at the high school level in general, which I'm encouraged by, even if it's not that popular at (Huron)," Jones said.
Jones does like the progress of wrestling in his hometown though, with the University of Michigan's Bahna Center and the Cliff Keen Wrestling Club becoming a destination for aspiring Olympians, like Jake Herbert, considered by many a medal contender at 84 kilograms.
"That Michigan group and Cliff Keen Wrestling Club has just done a super job. Sean Bormet, Joe McFarland, Andy Hrovat, they know what they're doing. There are several world class athletes there and there's just a really good system in place. ... There's no doubt that program is helping American wrestling no doubt about it."
Contact Pete Cunningham at petercunningham@annarbor.com or by phone at 734-623-2561. Follow him on Twitter @petcunningham.