Sports cuts delayed as Ann Arbor school board asks athletic directors for alternatives
Posted on Thu, Jun 30, 2011 : 10:22 a.m.
Proposed cuts to Ann Arbor school district freshman sports and the elimination of funding for some varsity sports are on hold because school board members want more information.
Announced Saturday in an email to school families, the proposed cuts came when athletics directors at Pioneer, Huron and Skyline high schools were charged to reduce spending by $475,000.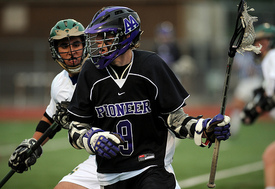 After more than an hour of public commentary Wednesday dominated by pleas against the proposed cuts at a standing-room-only Ann Arbor school board meeting, trustees directed Dottie Davis (Huron), Lorin Cartwright (Pioneer) and John Young (Skyline) to prepare alternatives.
The athletic directors will present their revised plans along with documents detailing the rationale behind their proposed cuts at a planning committee meeting on July 13.
"What they'll have to do is explain why they chose this over that. It's a little frustrating tonight because we have all those reasons and have all that information, but they want to take it back to committee," said district spokesperson Liz Margolis. "We need to engage the community, get it to the planning committee and get this done."
Many board members seemed blindsided by how far-reaching the proposed cuts would be and expressed concern that a proper process wasn't followed.
The proposed plan includes the elimination of school funding for all freshmen sports at Huron, Pioneer and Skyline, with the exception of football, and the elimination of funding for a number of varsity sports, including boys and girls lacrosse, at all three schools. The loss of funding would mean the elimination of the sports unless they could be reformed as club sports, which require district approval and outside funding.
"The directive to save $475,000 was given to them back when we started the budget process. However, we had thought that we would be able to make all that up through different means," board president Deb Mexicotte said.
The means by which Mexicotte referred were reducing transportation costs, outsourcing athletic trainers and shifting the payment of non-teacher coaches' salaries to a third-party management system. When those reductions totaled roughly $200,000, Davis, Cartwright and Young had to make up the difference.
"They were put in an impossible situation of hitting this target," Mexicotte said.
A group of parents, booster club members, coaches and former students asked for more transparency throughout the process and questioned the timing of the proposed cuts.
"It seems like these cuts were done with inequity, no parent input, and at the 11th hour," said Beth Anderson, vice president of the Pioneer athletic booster club and whose daughter plays lacrosse.
Anderson proposed a delaying of the cuts by one year in order to give teams ample time to prepare to be self-sustaining as club sports. She suggested using money from the district's equity fund in the meantime.
Trustee Christine Stead was strongly opposed to dipping into the district's $19 million equity fund, but agreed that the timing of the announcement was poor.
"Asking teams to convert to club status on June 28 may actually cause some to not exist," Stead said.
Much of the public commentary directed anger toward Davis, Cartwright and Young.
"Everybody thinks we wanted to do this. It's not fun for us," Young told the board. "This isn't something we did to have fun. It's a difficult decision."