Posted on
Thu, Nov 25, 2010 : 6:58 a.m.
Huron's Annie-Norah Beveridge is Washtenaw County Girls Cross Country Runner of the Year
By Pete Cunningham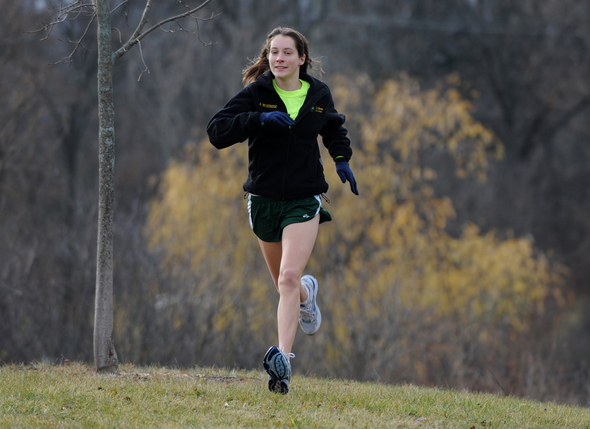 Lon Horwedel | AnnArbor.com
Annie-Norah Beveridge has never believed anyone she's run against was more talented than her. But don't mistake her for cocky. Beveridge doesn't think she's more talented than her competition, either.
The Huron High School senior doesn't believe in talent at all. A three-time Division 1 all-state cross country runner and the AnnAbor.com Runner of the Year, Beveridge not believing in talent is like Kris Kringle not believing in Santa Claus.
But to say she or anyone else is talented is to sell short the amount of work that goes into competing at the highest level, Beveridge says.
Huron coach Kevin Behmer does believe in talent, but believes it to be only a tiny bit of the equation that has led to Beveridge's success.
"She's worked hard from day one," Behmer says. "She's grown from a young runner with talent to a capable, powerful young woman. It's been fascinating to see the metamorphosis from telling (Beveridge) what to do to where you're working with her."
Behmer has seen a lot of girls set out to do the same things, but rarely does he see the same commitment.
"Talk is kinda cheap," Behmer says. "The difference between Annie-Norah and others who just say that they want to do something is she has been willing to put in the miles, and the work, to achieve those goals."
Though she may not believe she's talented, Beveridge will never deny that she is competitive. Her success in cross country this season - in which she won four invitationals, including the Southeastern Conference Red Division championship meet - has been fueled by a desire not to just beat a time on a clock, but the others on the course with her. Her freshman year she saw the attention that came with her peers' successes. She'd read the Ann Arbor News and see her name in the fine print, but wanted the headline.
"Seeing other girls getting the attention, it was sort of like jealousy," Beveridge says. "I've always looked at the overview, and last year one of my competitors, Alex Leptich, was (AnnArbor.com) runner of the year, and I wanted to do what she had."
Even with the accomplishment of several goals this past year, Beveridge points to where she fell short as motivation to continue pushing.
"I was kind of happy about my season, and am proud, but I know others have dropped more time, have done more" Beveridge says.
Beveridge had set a personal goal of a top 10 finish at states. She finished 29th, and refuses to let the knee tendinitis she was battling be an excuse for not doing better.
"Some people in her position would be thankful they got to the finals, would be happy that they made it," says Behmer. "But she was bound to not let any discomfort be any excuse for her."
"I think I did well considering circumstances, but want to have pushed harder," Beveridge says. "It gives me a lot of motivation to get in shape and do what I set out to do for the track season and make a name for myself because I feel like I've never done what I can do."
Pete Cunningham covers sports for AnnArbor.com. He can be reached at petercunningham@annarbor.com, or by phone at 734-623-2561. Follow him on Twitter @petcunningham.