Posted on
Sun, Oct 23, 2011 : 10:47 a.m.
Another home game? High school football playoff teams find out tonight
By Pete Cunningham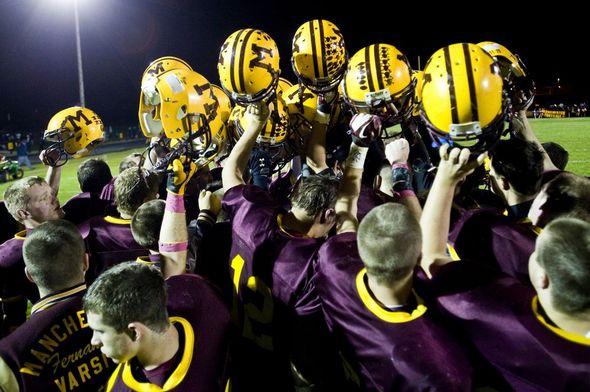 Joe Tobianski | AnnArbor.com
The Pioneer High School football team rang the victory bell at Hollway Field for the fourth time this season after a 20-0 win over Livonia Franklin on Friday night.
The Pioneers ring the bell after every home win, and after going 4-for-4 in the regular season, the team was hopeful in its post-game huddle that there might be another opportunity.
By improving to 7-2, players were optimistic a home playoff game is a possibility. Cornerback Dewan Olive said it didn't matter to him.
"It doesn't matter where we play, it's how we play," Olive said. "So we just have to keep getting better and better."
Playoff matchups will be announced on the MHSAA's Selection Sunday Show, which airs at 7 p.m. tonight on Fox Sports-Detroit. Playoff-qualifying teams in eight divisions will be split into four-team regions. The teams with the highest number of accumulated playoff points host first-round games.
Manchester coach Wes Gall is confident his team will get a home playoff game after improving to 8-1 with a 26-13 win over Hillsdale. With Hillsdale's 6-3 record, Gall thinks a first-round rematch is a possibility, which he is in favor of for more reasons than Friday's result.
"It would be a wonderful thing to make them drive all the way back here again," Gall said.
During a radio interview on WTKA 1050-AM earlier this week, Chelsea coach Brad Bush said he thought a win at Haslett would secure a home game for his team. After a 24-13 loss, that possibility is slimmer.
Bush thinks it's important because his team has become spoiled with the perfection of field turf. Because of the weather, that become a factor at his time of year. Chelsea played just three games on real grass all season.
At 6-2, Lincoln coach Chris Westfall thought his team might have an outside chance of playing a game a home had had they beat Hartland. It's part of the reason he decided to go for a two-point conversion and the win with 30 seconds left in a 14-13 loss at Hartland.
"We won't get a home game, but it won't matter," Westfall said. "The support we've had is so great they'll go with us wherever."
Father Gabriel Richard's 38-7 loss to Pontiac Notre Dame Prep in the Prep Bowl on Saturday cost the Fighting Irish some playoff points, but they could still be in position to host a playoff game with a 7-2 record.
In fact, one website projects that Gabriel Richard will host Capac in a Division 5 game.
Snooze2You.com updates its MHSAA "mapetology" playoff projections weekly throughout the season. Here are the first-round projections it has for Washtenaw County playoff teams:
D1: Pioneer at Canton
D2: Lincoln at Roosevelt
D3: Chelsea at Riverview
D5: Capac at Gabriel Richard
D6: Ecorse at Manchester

Check back with AnnArbor.com tonight to see the official draws.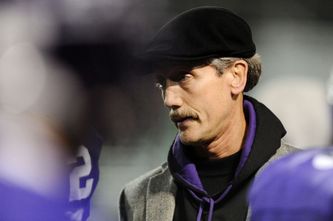 Melanie Maxwell | AnnArbor.com
A GUEST FOR TEST
Former Pioneer player Cedric Gordon addressed the team after its 20-0 win over Livonia Franklin on Friday.
Gordon was a wide receiver on the 1984 Pioneer state championship winning team, when Pioneer head coach Paul Test was a defensive coordinator on Chuck Lori's staff.
Gordon went on to play at Ferris State, was on the developmental squad of the Green Bay Packers and Houston Oilers and played for the Frankfurt Galaxy of the World League of American Football in Germany. He told the team how much he enjoyed his time at Pioneer.
"Out of all the (playing) experiences I ever had, this is the best one I ever had in my life," said Gordon who was in town for a wedding, but made sure to stop by see the football team and Test.
He said the purple of the uniforms and helmets brought back all the good memories, and noted that the always-dapper Test -- in a tweed jacket, pin-striped pants and Donegal tweed cap on Friday -- hadn't changed his sideline attire since he was playing.
"(Test) always wore his best duds, was always the sharp one," Gordon said.