Posted on
Thu, Feb 7, 2013 : 5:30 a.m.
Another rivalry week batch of games in this week's high school basketball picks contest
By Kyle Austin
Ever had your favorite team sink a deep, hand-in-the face 3-pointer to send a game in overtime, but then miss a bunny in the extra session and lose?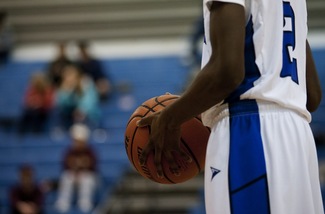 Daniel Brenner | AnnArbor.com file
That's essentially what happened to a pair of our readers this week, who made improbable upset picks and nearly 'Beat the Press', but got tripped up elsewhere in their ballots.
The upset pick in question is the Ypsilanti girls' 46-40 win at Chelsea last Friday. After the Bulldogs took the first matchup by 19, and Ypsilanti struggled in SEC play, it seemed like a fairly straightforward pick.
It wasn't, as Ypsilanti pulled off an unlikely six-point win.
Only five of the 61 people who entered last week's contest made the right call in that game. Two of them were able to guess four of the other five games correctly. But both got tripped up on one game, and settle for a tie.
Steve Blunk made the tough pick, but also picked the Huron boys to top Temperance Bedford. Julie Harkema picked the Pioneer girls to beat Saline.
Kudos to both for making a great upset pick, and for coming so close to beating the press. But just like at the blackjack table, there's no payout for a push.
So my press stays unbeaten. But you can't say I didn't give you an opening last week.
And I expect you'll get another one this week, as rivalry week returns to Washtenaw County, and we've got another seven games to choose from, a few of which present some pretty tough picks.
The area's biggest rivalry, Pioneer-Huron boys, might seem straightforward after a 17-point Pioneer win on Jan. 18.
But Huron's Antonio Henry returned from a month-long absence last week, and dropped 16 Tuesday night at Dexter. That and the River Rats' home-court advantage should make for a closer rematch.
But I'll take Pioneer again, as the senior-led group, particularly Jibreel Hussein (who hit three 3's in 126 seconds Tuesday to pull away from Ypsilanti), seems to know how to close out close games.
Beat the Press Winners
People who have "Beat the Press" so far: 65
Kyle's overall record: 19-5 (.792).
Kyle Austin covers sports for AnnArbor.com. He can be reached at kyleaustin@annarbor.com or 734-623-2535. Follow him on Twitter @KAustin_AA.