Posted on
Mon, Feb 11, 2013 : 5:35 a.m.
Arbor Prep girls look to continue strong second season in matchup vs. Greenhills
By Kyle Austin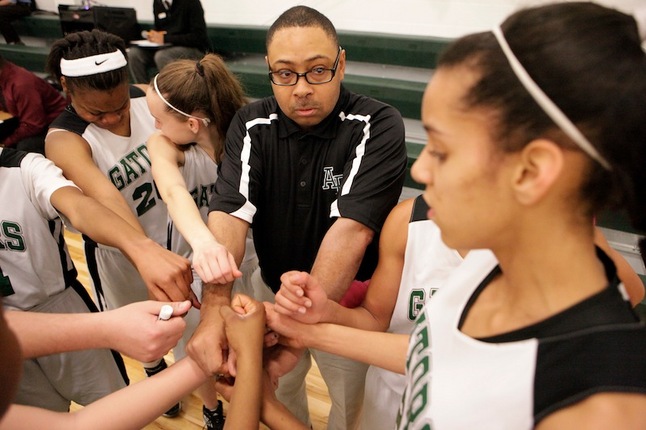 AnnArbor.com file
When talking to his team, Arbor Preparatory girls basketball coach Rod Wells likes to use the metaphor of climbing a mountain.
The bottom of that mountain was the beginning of last season, the program's first in existence.
The top of it is a state championship.
Now, after a 17-2 first season and a 13-4 record this year that includes several wins over class A and B schools, Wells said he considers his team about halfway up that climb.
And, after being ineligible for the state tournament last year as a first-year program, the Gators are ready to try to take another step in its first postseason.
"We're super excited, it's the experience of a lifetime, going to a tournament," Wells said. "With us not having a league, the tournament is really important to us."
But his team is still focused on the next game on the schedule, which is a Monday Game of the Week matchup at Greenhills School (a game rescheduled from Thursday).
The Gryphons have won three straight, and are led by forward Jackie Oestreich, Washtenaw County's leading scorer at 24.7 points per game.
At 6-foot-2, she's a difficult matchup for most opponents.
"She's strong, she's been lifting weights since she was a younger kid," Greenhills coach Rachel Cortis said earlier this season. "I'll play pickup with them, and I have a hard time pushing her around at times."
That presents a matchup problem for the smaller Gators, and Wells said his team will have to play a solid team defense to slow her down.
But he also hopes playing against her provides a good experience. If the Gators can advance to the finals of district play, its likely opponent is Manchester, a team led by forward McKenna Erkfritz, last year's AnnArbor.com Player of the Year who is averaging 15.2 points per game.
Arbor Prep, meanwhile, has been spreading out its scoring attack this year, after Zakiya Wells led the team last year at 17 points per game.
This year, four Arbor Prep players average double-digit scoring, led by Nastassja Chambers, "a phenomenal scorer," according to her coach, at 12.2 points per game, and Wells, who has been distributing the ball more this year and is scoring 12.2 points per game. Three-point specialist Amaka Chikwe and sophomore Jamie Rittenhouse, one of the school's top volleyball players, also average double figures.
"We're just very balanced," Wells said. "Any of those five can lead us from scoring from any game."
That lineup has helped the Gators to 13 wins in a challenging schedule, including a "signature win" last month over a Benton Harbor team that's receiving votes in Class B.
"They have two of the top players in the nation," Wells said, in reference to Division 1 recruits, sisters Kysre Gondrezick and Kalabrya Gondrezick "They got off to an early lead, and our girls had every opportunity to quit, they kept playing and playing, as the game went on we got stronger and stronger."
And it was another step in Arbor Prep's mountain.
"Each day we just kind of talk about trying to climb this mountain, so we kind of gauge ourselves," Wells said. "We're about halfway there."
Kyle Austin covers sports for AnnArbor.com. He can be reached at kyleaustin@annarbor.com or 734-623-2535. Follow him on Twitter @KAustin_AA.