Posted on
Thu, Mar 14, 2013 : 11:30 a.m.
Arbor Prep, Washtenaw County well represented on AP Class C All-State girls basketball team.
By Pete Cunningham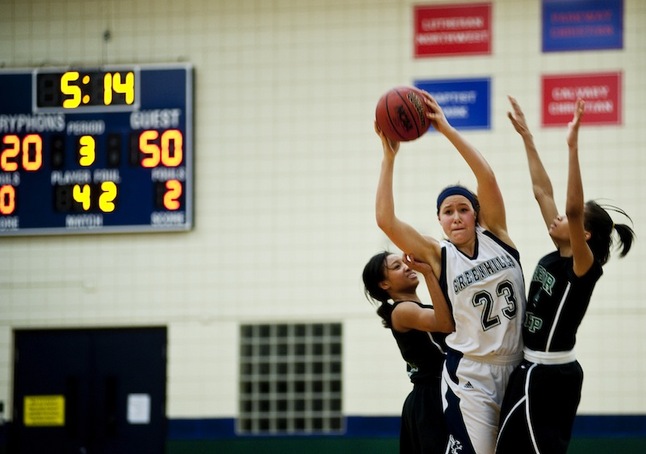 Daniel Brenner | AnnArbor.com
Arbor Preparatory Academy has only been around as a school for two years, and that's officially one less than the amount of members the school has on the Class C All-State girls basketball team.
The underclassmen backcourt of sophomore Zakiya Wells and freshman Nastassja Chambers were both named first team All-State while Gators coach Rod Wells (Zakiya's father) was named Class C coach of the year.
Zakiya Wells, a 5-foot-6 guard, averaged 13.3 points, 5 assists, 4 rebounds and 4 steals on the year. Her scoring totals were down from last year due to Chambers' addition to the team.
Chambers, a 5-9 guard, averaged 13 points, three assists, four rebounds and four steals per game. Chambers shot 52 percent on her two point field goals and had a 2:1 assist to turnover ratio.
AnnArbor.com file photo
Wells was named Class C coach of the year after leading Arbor Prep to a 16-4 record and a No. 10 state ranking. This despite the fact that Arbor Prep is devoid of seniors and only carried eight players on varsity so that the JV team could field a squad and help for scheduling purposes.
Arbor Prep was ousted from the playoffs by Manchester in the district finals. Manchester wich will play in the state semifinals on Thursday. While the Flying Dutch will be represented in the state semifinals, they are not in the first team All-State team, however, senior McKenna Erkfritz is special mention for the second year in a row. Erkfritz, a 6-1 senior forward, averaged 15 points, 6.6 rebounds, 1.4 assists, 3 steals while shooting 50 percent from the field. She will attend Northwood University in the fall.
A forward from Washtenaw County that did that did make the first team was Greenhills senior Jackie Oestreich. Oestreich averaged 24.9 points and 14.5 rebounds for 11-8 Greenhills. Oestreich scored 58 percent of her team's points.
The Class C player of the year is Grosse Pointe South's Haleigh Ristovski, younger sister of Michigan women's basketball team's freshman Madison Ristovski.
The Associated Press All-State team is voted on by a 10-person panel made up of sports writers from across the state from Associated Press membership publications. The top 10 players to receive votes from the panel are considered first team All-State, players who receive two votes or more are automatically special mention and those who receive one or no votes are honorable mention.
Associated Press Class D girls basketball All-State team
First Team:
Haleigh Ristovski, Grosse Pointe Woods University Liggett, 5-10, Sr., Player of the Year
Sydney Czurak, Shelby, 6-1, Sr.
Taylor Hengesbach, Saginaw Nouvel, 5-9, Sr.
Jenna Hirsch, Marlette, 5-7, Sr.
Jackie Oestreich, Ann Arbor Greenhills, 6-2, Sr.
Jacqueline Simpson, Burton Bendle, 6-0, Sr.
Karina Cole, Lincoln Alcona, 5-10, Jr.
Karli Herrington, Hemlock, 6-2, Jr.
Reyna Frost, Reese, 6-0, So.
Meredith Hamlet, McBain, 5-8, So.
Zakiya Wells, Ypsilanti Arbor Prep, 5-6, So.
Nastassja Chambers, Ypsilanti Arbor Prep, 5-9, Fr.
___
Coach of the Year:
Rod Wells, Ypsilanti Arbor Prep Academy
___
Special mention (nominees receiving two or more votes from the 10-member panel):
Mikayla Duflo, Carson City-Crystal; McKenna Erkfritz, Manchester; Claire Denecker, Blissfield; Sydnee McDonald, Flint Hamady; Elisa Jurmu, Houghton
___
COACHES:
Josh Hood, Niles Brandywine; Dennis Gruber, Reese
___
Honorable mention (nominees receiving one or no votes from the 10-member panel):
Becca Scherting, Saginaw Valley Lutheran; Nicole Winter, Watervliet; Scotlyn Brengman, Maple City Glen Lake; Jamie Justin, Leroy Pine River; Cambria Handy, Britton Deerfield; Gabrielle Herriman, Sand Creek; Rachel Bruinsma, Western Michigan Christian; Markela Snipes, Mount Clemens; Megan Redman, Concord; Jalisha Terry, Flint Hamady; Liza Erickson, Traverse City St. Francis; Jade Madison, New Buffalo; Kaitelyn Smith, Hartford; Michaela DeKilder, Gobles; Drew Findlay, Reese; Rachel McInerney, Saginaw Nouvel; Sam Shafer, Saginaw Valley Lutheran; Kayla Deering, Pigeon Laker; Taylor Smith, Edmore Montabella; Aleah Holcomb, Kent City
___
COACHES:
Kris Hengesbach, Saginaw Nouvel; Liane Steller, Burton Bendle; Larry Farmer, Carson City-Crystal; Omar Ahart, Grosse Pointe Woods University Liggett; Scott Carlson, Kent City
___
Voting panel:
Matthew B. Mowery, The Oakland Press (Pontiac); Dick Hoekstra, Lansing State Journal; David Goricki, The Detroit News; David Bossick, Ludington Daily News; Scott DeCamp, MLive-Kalamazoo; Fred Kelly, Midland Daily News; Jim Lahde, Morning Sun (Mount Pleasant); Ross Maghielse, MLive-Flint; Pete Cunningham, AnnArbor.com; Matt DeYoung, Grand Haven Tribune