with gallery:

Ashton Hundley's big day helps Father Gabriel Richard top previously unbeaten Macomb Lutheran North, 24-10

Posted on Sat, Sep 29, 2012 : 5:15 p.m.
Ashton Hundley only made one key mistake Saturday, and he atoned for it quickly.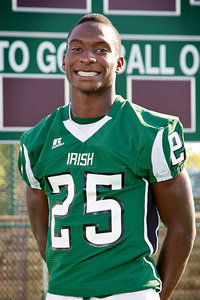 On the second play of the game, the Father Gabriel Richard running back missed a handoff and fumbled on his own 32-yard line, setting up a Macomb Lutheran North field goal four plays later. It was the senior's first fumble of the season.
"When I fumbled, it was like letting the team down," Hundley said. "So I had to regain my confidence again, so I just ran harder for my team."
Hundley got the first carry of the ensuing possession, and promptly scampered 80 yards for touchdown.
After getting to the opposing 40-yard line on the play, Hundley stopped, cut across the field and made it to the goal line with the help of some blockers.
"It was important after that fumble that we got the ball back in his hands and built his confidence back up," FGR coach Brian Lemons said. "I didn't expect him to go 90 yards of whatever it was, but we'll take it."
The run set the tone for a 153-yard first half for Hundley, and a 25 carry, 218-yard, three touchdown game -- the biggest offensive performance of his three-year FGR varsity career.
Hundley's performance keyed a 24-10 Gabriel Richard win over the previously undefeated Mustangs.
Saturday's win kept Gabriel Richard (5-1, 1-1 AA Catholic League) in the hunt for the league title. A win over Dearborn Divine Child next week would give Gabriel Richard a rematch against Pontiac Notre Dame Prep in the Prep Bowl, the league's Week 9 title game. Pontiac Notre Dame Prep topped FGR, 28-16, three weeks ago.
"They were a 5-0 team, they were really good," Hundley said of Macomb Lutheran North. "Today, we were more hungry, we wanted to win, because we want to get our redemption back from Notre Dame Prep.
Hundley did his part to make sure the Irish have that shot at redemption. After his 80-yard touchdown scamper, the Irish scored on a two-play drive, including a 24-yard Hundley touchdown run. His third touchdown came from seven yards out in the fourth quarter.
"Ashton's been a terrific runner for us all year, and I was expecting to see the same stuff on the field that you saw today," Lemons said. "We expect to see him explode."
Stevie Tracy hit a 30-yard field goal in the second quarter for the Irish's other score.
The Gabriel Richard defense took care of the rest, limiting the Mustangs to 68 first-half yards, and one touchdown with 1:24 remaining.
And although six Macomb Lutheran North drives advanced into FGR territory, the Irish gave up only the two scores.
"They did a good job of getting them off the field," Lemons said. "They gave up some yardage early in downs, but we got them off the field and that's a big deal."