Posted on
Tue, Dec 20, 2011 : 12:02 p.m.
Athletes to Know: Chelsea wrestler Michael Hovater and Pioneer hockey player Julia Franceschi
By Jason Idalski
Athletes to Know returns for the winter season and starts with Chelsea wrestler Michael Hovater and Pioneer hockey player Julia Franceschi.
MICHAEL HOVATER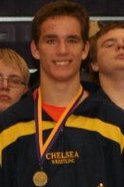 School: Chelsea.

Grade: Junior.

Sport: Wrestling.

Accomplishment: Took first place in the 189-pound weight class at the Ypsilanti High School Beatty-Lambros Wrestling Invitational, winning all four of his matches in less than three minutes combined. Hovater was one of seven individual champions for the Bulldogs, who took first place as a team.

On his iPod: "A lot of everything, actually. Mainly it's alternative but the genres vary," Hovater says.

Favorite subject: History.

Who he looks up to: His coaches, whose training program he credits for his performance, and his father, whom he called a great role model.

Favorite athletes: Pole vaulter Mark Hollis and wrestler Brent Metcalf.

After high school: Intends to attend the University of Michigan to become a psychiatrist. Plans to wrestle and pole vault. Hovater set the Chelsea school record holder in pole vault last year.

Coach Kerry Kargel says: "He's a very hard worker. Very determined."

JULIA FRANCESCHI
School: Pioneer.

Grade: Senior.

Sport: Ice hockey.

Accomplishment: Recorded 11 goals and eight assists while helping Pioneer get off to a 4-1 start to the season. She's scored five power play goals, two game-winners and has scored on 50-percent of her shots on goal.

On her iPod: Favorite artists are Adele, Coldplay and Mac Miller.

Favorite subject: Adaptive physical education with disabled children.

Who she looks up to: Older sister Amelia, a student at Michigan.

Favorite athlete: Softball pitcher Jennie Finch.

After high school: Playing softball and field hockey at a Division III school or club hockey at Michigan State.

Does your school have an "Athlete to Know" walking the halls? Tell us why by sending nominations to prepsports@annarbor.com.