Posted on
Wed, Feb 15, 2012 : 12:46 p.m.
Athletes to Know: Manchester's Austin Hamilton and Huron's Logan Sims
By Jason Idalski
This week's Athletes to Know features Manchester wrestler Austin Hamilton and Huron basketball player Logan Sims.
AUSTIN HAMILTON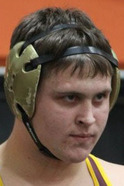 School:
Manchester.
Grade: Senior.
Sport: Wrestling.
Accomplishment: Has compiled a 39-3 record in the 215-pound weight class, including a runner-up finish in an individual district tournament last weekend, and will compete in an individual regional on Saturday at Manchester High School.
What's on his iPod: "Upbeat music, really. Anything I can walk around and be happy to."
Favorite subjects: Economics, history and government.
Who he looks up to: His brother, Jimmy Hamilton, who was a Division 4 state runner up in 2010 and wrestled for South Dakota State last year.
Favorite athlete: Ndamukong Suh.
Post-high school plans: Wants to play college football, but isn't sure where yet.
Coach Steve Vlcek says: (referring to co-captains Hamilton and Cody Render) "They're sort of our glue. They just sort of keep things together and they're leaders."
LOGAN SIMS
Photo courtesy of Simply Portraiture
School:
Huron.
Grade: Senior.
Sport: Basketball.
Accomplishment: Scored 12 points in a 50-31 win over Pioneer last Friday, helping the River Rats stay perfect in Southeastern Conference play. Sims is averaging 8.6 points for the 12-5 River Rats this season.
On her iPod: Drake, Lil' Wayne and Christian music.
Favorite subject: English.
Who she looks up to: Her mother and father, because of all their hard work.
Favorite athletes: Brittany Griner and Maya Moore.
Future plans: Playing basketball at the University of Missouri-St. Louis, a Division II school that gave her a full basketball scholarship, and majoring in biology with plans to go to medical school to be pediatrician.
Does your school have an "Athlete to Know" walking the halls? Tell us why by sending nominations to prepsports@annarbor.com.