Back on sideline, Steve Robb thrilled with Milan's success, plus Week 7 notes, rankings and leaders
Posted on Tue, Oct 9, 2012 : 5:54 a.m.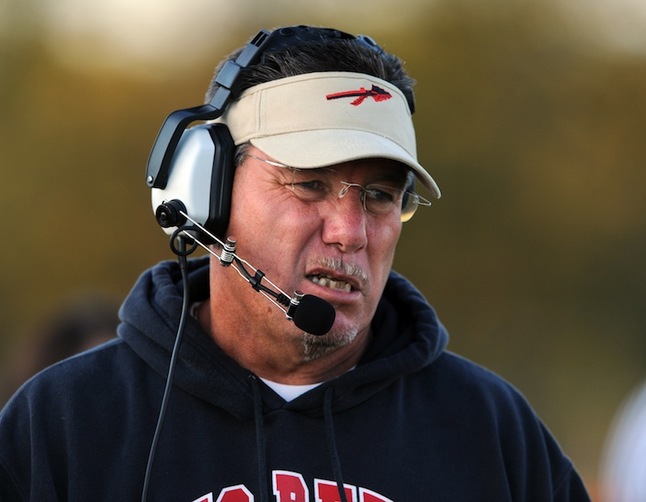 AnnArbor.com file
Steve Robb wasn't happy with how his Dearborn Divine Child team looked Saturday in a 34-7 loss to Father Gabriel Richard High School.
FOOTBALL TOP PERFORMERS, OCT. 5, 6
RUSHING YARDS
232 - Berkley Edwards, Chelsea (29 rushes, 2 TD)
206 - Arthur Dukes, Milan (15 rushes, 4 TD)
188 - Jim Kurasz, Manchester (10 rushes, 4 TD)
161 - Jaavaid Love, Ypsilanti (21 rushes, 1 TD)
160 - Nick Cozart, Manchester (13 rushes, 3 TD)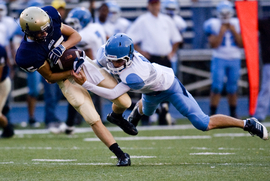 RECEIVING YARDS
52 - Kyle Koseck, Chelsea (1 reception, TD)
50 - Gage Hammond, Saline (3 receptions, 1 TD)
50 - Austin Hoover, Milan (1 reception, 0 TD)
49 - Nick Cozart, Manchester (3 receptions, 1 TD)
44 - Caleb Luckett, Saline (3 receptions, 0 TD)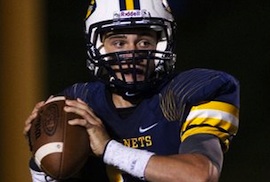 PASSING YARDS
159 - Tyler Palka, Saline (12-of-21, 1 TD, 0 INT)
95 - Mason Sarosi, Gabriel Richard (6-of-10, 1 TD, 0 INT)
95 - Justin Aceves, Milan (3-of-4, 0 TD, 0 INT)
81 - Aedan York, Pioneer (6-of-13, 1 TD, 0 INT)
61 - Askaree Crawford, Skyline (4-of-16, 0 TD, 0 INT)
*Huron, Lincoln, Whitmore Lake stats not available.
But he was happy to look to the bleachers and see and some former players there to support him. And he's been happy following their team's incredible turnaround season.
Robb, who coached at Milan for 25 years before retiring in 2010, is in his first year on the sideline as Divine Child's coach.
He made his first trip back to Washtenaw County Saturday as a head football coach. After a year as an assistant at Canton High School, Robb said he was "fired up" to return to the sidelines.
"They made me an offer I couldn't refuse," Robb said. "Then after after you have games like this, I question why the heck I made my way back to the sidelines this year."
While Robb's DDC team sits at a disappointing 2-5, he's been thrilled to follow from afar as the Big Reds have gone from 1-8 last year to 7-0 this year.
And Robb's fingerprints are still all over the program. Its head coach, Jesse Hoskins, was an All-State quarterback and three-year varsity assistant under Robb, and several of the players have played for both coaches.
"I'm so happy for those guys, to go from 1-8 to 7-0," Robb said. "We talk on the phone and we text back and forth and I'm really really proud of those guys."
Bad breaks
Gabriel Richard starting quarterback Joseph Kendzicky didn't exactly have the senior season he was planning on. Sure, the Fighting Irish are 6-1 and heading to the playoffs, but Kendzicky has watched most of the season from the sidelines and will likely watch the remainder there as well.
In the final minutes of Richard's Week 1 opener against Lake Fenton, Kendzicky suffered a fracture in his non-throwing arm. He returned in Week 4 and played with a cast on his arm against Pontiac Notre Dame Prep, but in the fourth quarter was tackled and came down hard on his throwing arm.
Kendzicky played in two games and now has two broken arms to show for it.
"You just feel for the kid because he worked so hard and now in his senior year he's got two casts up to his elbows, it just sucks," said Brian Lemons, who wouldn't rule out Kendzicky coming back in some capacity. "He's unbelievably tough. He's lobbying hard with the doctor to get back in and possibly play some safety.
League titles, playoffs races
The SEC title races remain close heading into the final week of league play and there won't likely be an outright champion in either division.
In the Red division, Pioneer, Monroe and Saline are all 4-1 in league play and none of the three play one another Friday. Saline plays 2-5 Skyline and Pioneer plays 0-7 Huron, likely wins for both teams. Monroe's road is a little tougher with 4-3 Bedford on the schedule.
In the White Division, Chelsea got into the title picture with a win over previously unbeaten Tecumseh on Friday. The two teams are both 4-1 in league play with Chelsea facing 0-7 Dexter and Tecumseh playing 3-4 Adrian on Friday.
Three other area teams are in the hunt for their respective league titles. Milan has wrapped up at least a share of the Huron League title, and can win it outright with a Friday win over Carleton Airport. Manchester will face Michigan Center Friday, with the winner taking home a guaranteed share of the Cascades Conference.
Father Gabriel Richard's Saturday win wrapped up its AA Catholic League slate, earning the Irish their fourth straight Prep Bowl appearance. FGR will take on Pontiac Notre Dame Prep the Oct. 19-20 week at Ford Field.
Saline and Gabriel Richard earned their sixth wins of the year over the weekend, making them the second and third Washtenaw County teams to earn automatic playoff bids, joining Milan. Manchester became playoff-eligible with five wins. Three more teams -- Chelsea, Lincoln and Pioneer -- can still become playoff eligible.
Milan fundraisers
Milan will be taking part in a pair of fundraisers in the coming weeks to raise money for its athletic department.
On Saturday, the Milan Booster Club will host a "Drive a Dodge" event, where Schultz Motors of Milan will bring new Dodge vehicles to the Milan High School parking lot from 9 a.m. to 12:30 p.m. Every test drive earns a $20 donation.
On Tuesday Oct. 16, Milan and Lincoln will take part in a fundraising challenge at Buffalo Wild Wings in Ypsilanti, on Huron St. just south of I-94. Twenty percent of sales generated that night will go toward each school's athletic department, and the school that generates more sales will get a share of the losing school's total.
Washtenaw County Power Rankings
What good are power rankings without a little controversy? When Saline and Pioneer met on the field back on Sept. 14, Pioneer won by a single point and has maintained a single point advantage in the AnnArbor.com Washtenaw County power rankings ever since.
But the Pioneers' stagnant offense bit them this week in a 19-12 loss to Monroe, the same Monroe team that Saline beat the week before, 20-13. If Pioneer does its part and wins its next two games the two may get a chance to settle it on the field again in the postseason.
Rank, School (Record), Latest result (last week's rank)
Saline (6-1), def. Huron, 41-0 (2)
Pioneer (4-3), lost to Monroe, 19-12 (1)
Chelsea (4-3), def. Tecumseh, 31-28 (4)
Milan (7-0), def. Riverview, 38-13 (3)
Gabriel Richard (6-1), def. Dearborn Divine Child, 34-7 (5)
Lincoln (4-3), lost to Adrian, 26-25 (6)
Skyline (2-5), lost to Bedford, 34-12 (7)
Huron (0-7), lot to Skyline, 41-34 (8)
Manchester (5-2), def. East Jackson, 51-24 (9)
Ypsilanti (1-6), def. Dexter, 13-7 (10)
Dexter (0-7), lost to Ypsilanti, 13-7 (12)
Willow Run (2-5), lost River Rouge, 60-0 (11)
Whitmore Lake (1-6), lost to Ottawa Lake-Whiteford, 37-8 (13)
Game of the Week
Fans have about 24 hours left to vote in our Game of the Week poll for Week 8, and Milan vs. Carleton Airport leads Pioneer vs. Huron.
-- Pete Cunningham and Matt Durr contributed to this story