Posted on
Sun, Oct 14, 2012 : 5:30 a.m.
Blindness can't stop Austin Shepherd from his passion as a sports announcer
By Pete Cunningham
Thursday night was senior night at Huron High School for the boys soccer team. As part of the festivities every senior on the team had a small write-up prepared that the team announcer read to the crowd.
Senior goalkeeper Drew Shepherd paid homage to his younger brother, Austin. Austin is legally blind and the way he's handled his visual impairment has inspired Drew. Drew wasn't shy about expressing his admiration.
The announcer read Drew's statement smoothly and enthusiastically just as he had called the game that night. The announcer knew the story well. It was about him.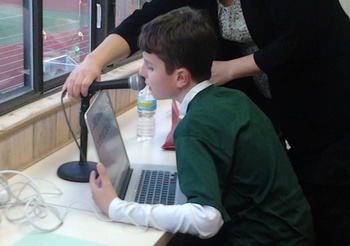 Pete Cunningham | AnnArbor.com
Austin Shepherd, 12, is a seventh-grader at
Tappan Middle School,
where he is a member of the cross country team. He is a huge Huron sports fan and his older brother's soccer team - for whom he has been the announcer for the past two years - is, naturally, his favorite of all them all.
"We're always talking about the game (at home)," Drew said. "And every time there's an Ann Arbor Huron goal scored, that kid's jumping upstairs going nuts because he loves our program and we love him. It's amazing."
Austin hopes to one day work in sports and may have stumbled upon his passion when he stepped behind the microphone at Riverbank Stadium last year.
He's written sports stories before - including one about the Huron basketball team featured on AnnArbor.com - but when he gets that microphone in his hands…the words come to life.
"I like announcing a little more (than writing), I get to add a little more…" said Austin and momentarily is at a loss for words. It's a pure fluke.
But it's quickly evident exactly what he adds: Fire. Enthusiasm. And volume.
On script or ad lib, the words flow from Austin's mouth. He got his mix of both on Thursday when Huron capped its undefeated season with a 1-0 win.
Minutes before kickoff, some roster changes came in from the Skyline sideline, which sent Austin into a temporary panic as he rushed to type new names into his computer, which has a large screen and large enough font so he can read it from up close.
But for all the scrambling, by the time the microphone turned on, Austin was cool as the other side of the pillow. He announced one of the newly added names "Akeme Okonkwo" just as easily as Huron regular "Eahab Abu-Shattayah."
You'll have to ask Austin for a pronouncement guide on those names.
And when Huron scores the game's only goal, Austin really got the crowd going, rumbling his voice low and rolling the Rs for effect.
"Goal for the HuRRRon RRRRiver RRRats! Scored by Daniel Lee!!!" he shouts as the celebration on the field is still going on.
Yelling the name of the player who scored a goal right as it happens might not seem like that big of a deal, but consider this: Austin's mother Amy has to narrate the game for him because he himself can't see the game. As luck would have it, Lee's jersey number wasn't on the roster.
As Amy desperately rushed to find the name to match the jersey number, Austin wondered what all the fuss was about and simply asked for the jersey number.
"Twenty five? That's Daniel Lee! Come on mom," he said off mic before rolling into his post-goal announcement to huge cheers.
That quick recall is no accident. It's the product of hard work. Drew said Austin hones his craft every day at home.
"He sits up in his room daily just studying. He doesn't need that roster. It's all at the top of his head," Drew said. "All he needs to know is (the number) of who scored and who assisted and he can say it right off the top of his head."
That seriousness was evident throughout the game. Austin was cordial to everyone in the press box, but took exception when discussions momentarily distracted Amy from the game.
"You like to socialize, it makes me wonder if you're the right person for this job," Austin said to Amy.
Their dynamic before and after the game is as loving mother and son, but during the game, it's all business.
"He gets pretty intense in here," Amy said with a smile.
Drew will move on to Western Michigan University next year, but much to the excitement of Huron coach Max Hepburn, Austin's not going anywhere.
"I was informed before the game that we will have Austin still announcing our games (next year)," Hepburn said. "It's just awesome to have him do it. He does such a great job.
"There's no one that could do a better job; he just has no fear when he's up there,"
Pete Cunningham covers sports for AnnArbor.com. He can be reached at petercunningham@annarbor.com. Follow him on Twitter @petcunningham.