Posted on
Fri, Feb 22, 2013 : 10:05 p.m.
Milan tops Monroe Jefferson and more Friday boys basketball results
By Pete Cunningham
This file will be updated throughout the night.
AnnArbor.com Washtenaw County Scoreboard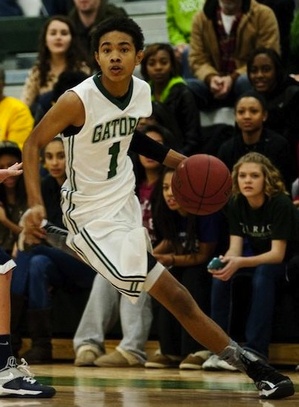 Daniel Brenner | AnnArbor.com file photo
Milan 74, Monroe Jefferson 27
Story | Boxscore
Milan's C.J. Turnage scored a career-high 28 points as the Big Red led 43-19 at halftime to complete the Huron League season undefeated.
Turnage made nine field goals, his first two 3-pointers in his career, and shot 4 for 7 from the free-throw line, Latin Davis added 15 for Milan (18-1, 14-0).
Turnage became the fourth player in Milan history to score 1,000 points in a career.
Nick Chinavare led Monroe Jefferson with 13.
Milan has won back-to-back league title for the first time since the 1975-76 season, and over the span of two season have won 37 of their last 42 games.
"It was a night where we raised a lot of money for a girl from Jefferson who has leukemia, and it was just a great night for high school basketball," Milan coach Josh Tropea said. "The kids wanted to win back-to-back league championships, but to do it undefeated makes it really special for this group of kids. It was a great night to celebrate our seniors and the contributions that have made to this program."
Willow Run 55, Detroit Edison Public School Academy 48
Story | Boxscore
Daquanta Brown led Ypsilanti Willow Run (10-8, 5-1 Michigan Metro Athletic) with 19 points, and Eric Tunstall added 10, to help the Flyers outscore Detroit Edison Public School Academy in every quarter but the fourth.
Kevon Moore led DEPSA with 12 points, and Mike Jacobs added 10.
DEPSA reached the free-throw line 20 times before Willow Run made it once.
"It was a good win on the road," Willow Run coach Tim Cain said. "There are just some things that we have to overcome."
Whitmore Lake 63, Petersburg Summerfield 58
Boxscore
Rory Judge and Gunner McGibbon each scored 15 points to lead Whitmore Lake (6-13) in the Tri-County Conference victory. Whitmore Lake is now 5-9 in the league.
Addison 84, Manchester 52
Story | Boxscore
Ryan Stiles led Manchester (1-18, 1-12 Cascades) with 18 points, 12 of them from four 3-pointers.
"Manchester plays a real aggressive, unconventional style," Addison coach Andrew Kubish said. "Our point guard (Mitchell Dempsey) did a great job of breaking their press and finding open players for easy buckets. I thought we did a great job of playing basketball the way we wanted to play in the first half, and not letting them force us into playing the way they wanted us to play."
Arbor Prep 54, Saline Washtenaw Christian 38br> Boxscore
Michael Donatelli led Arbor Prep (7-9) with 13 points, while Adrian Harrison scored 10.
Calvary Christian 35, Warren Macomb Christian 32
Story | Boxscore
Ypsilanti Calvary Christian trailed 29-20 entering the fourth quarter, but they went on to outscore Warren Macomb Christian 15-3 in the fourth quarter to pick-up the come from behind victory.
Johnny Bryant scored 16 points to lead Ypsilanti Calvary, and James Bergler added 12.
Romero Hardy led Warren Macomb Christian with 10 points.
Pete Cunningham covers sports for AnnArbor.com. He can be reached at petercunningham@annarbor.com. Follow him on Twitter @petcunningham.