Posted on
Tue, Dec 20, 2011 : 8:33 p.m.
Saline bench comes through in win over Chelsea and more Tuesday results
By AnnArbor.com Staff
Saline got 20 points from its bench, led by Max Recknagel's 11, in its 49-36 win over Chelsea in Southeastern Conference crossover action on Tuesday night.
"I think this is the best team we've played so far, so definitely our best game so far," Saline coach Matt Seidl said. "Our bench really saved us."
More coverage at MLive.com: Boxscore
With center Michael Smutny held to two points because of foul trouble, sophomore Michael Hendrickson stepped in, scoring 13 points for Saline (4-0, 2-0 SEC Red).
"He came out and set the tone right away," Seidl said.
Jake Steinhauer led Chelsea (2-2, 0-1 SEC White) with nine points.

GABRIEL RICHARD 57, REDFORD THURSTON 50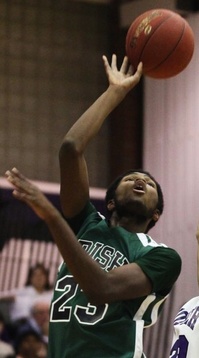 AnnArbor.com file photo
Kamari Davis
had 14 points and
Jason Houle
and
Evan Fosha
each scored 13 to lead Gabriel Richard (1-3) to its first win of the year.
More coverage at MLive.com: Boxscore
"It was nice to see the kids move the basketball and play with intensity," Richard coach Pete Schoch said. "We still got a ways to go, Redford is a good team, it's nice to get a win."
Early shooting struggles have plagued the Fighting Irish this season, and even though they scored 57 tonight, shooting was a problem. Schoch said he was pleased that his team worked to get the high-percentage shot even though they struggled from outside.

MILAN 53, HARTLAND 41
Jiles Neely and C.J Turnage led the Big Reds with 12 points apiece as Milan improved to 3-0.
With an 18-13 lead heading into the second quarter, Milan outscored the Eagles (0-4) 12-4 to take a double-digit lead into the half. Jeremy Maas had seven of his eight points in the quarter, but it was the other end of the court that stood out to head coach Josh Tropea.
More coverage at MLive.com: Boxscore
"Defensively we were really sound in the second," Tropea said.
Hartland wouldn't go away easy though, starting the second half on a 7-0 run to narrow Milan's lead to 30-24. The theme prevailed as Hartland gave Milan a fight to the final whistle.
"Fourth quarter they were pesky, wouldn't go away," Tropea said. "You just got to withstand the run and make one of your own."

SOUTH LYON 50, DEXTER 43 (OT)
On a night where both teams struggled to score, South Lyon's ability to make free throws in overtime, coupled some untimely mistakes by Dexter on the offensive end, proved to be the difference.
More coverage at MLive.com: Boxscore
The Dreadnaughts were outscored 9-2 in the extra frame, with South Lyon converting on 5 of 6 free throws. Dexter meanwhile missed on both of its trips to the line in overtime, along with other mistakes. Dexter finished the night 9 of 17 from the free-throw line. South Lyon was 13 of 20.
"In the overtime, we had a couple fast break opportunities and we mishandled the ball," said Dexter coach Randy Swoverland.
According to Swoverland, it was a mistake-plagued game for Dexter (2-2).
"We turned the ball over trying to make great plays instead of smart, simple, fundamental plays," Swoverland said.
Jay Lewis led Dexter with 11 points. South Lyon's Luke Short led all scorers with 17 points.

CALVARY CHRISTIAN 53, WARREN MACOMB CHRISTIAN 25
Maleek Getchell scored 10 of his game-high 12 points in the first quarter, many of which came off turnovers, to lead Calvary Christian (2-3, 1-0) to its second win of the season.
More coverage at MLive.com: Boxscore
Macomb Christian reminded Calvary Christian coach Steve Thurmond a lot of his team in past seasons, so he told his players to pressure the ball handlers as his team had been vulnerable to in the past.
The strategy helped the Cougars jump out to a 21-7 lead after the first quarter, but didn't build on its lead at all in the second quarter and took a 28-14 lead into the half.
"When we pressured them, they turned the ball over," said Thurmond. "Once we got the lead, I'm not a run the score up guy."
Romero Hardy had 10 points for Warren Macomb in the losing effort.

BELLEVILLE 77, LINCOLN 59
Lincoln coach Mike Foley went to Belleville High School and reminded his team of that before the game in his pre-game speech.
He worries he might have confused them, as he thinks they might've heard "I want you to play for Belleville."
More coverage at MLive.com: Boxscore
The Railsplitters (1-3) were behind 47-11 at halftime.
"In the first half, it seemed like everybody on my team played for Belleville," Foley said. "In my entire eight years of coaching, I've never been a part of what I experienced that first half."
Brendan Griffin led Lincoln with 17 points.
"We did not play defense for the entire first half," Foley said.

WILLOW RUN 79, HENRY FORD ASCS 40
Willow Run took its starters out early in the third quarter, but that didn't stop Jamal Poplar from putting up an impressive line.
Poplar had 15 points, five rebounds and four blocks as the Flyers improved to 2-2.
More coverage at MLive.com: Boxscore
"They definitely came to the game today ready to play," Willow Run coach George Woods said. "This game was an opportunity to play a lot of my guys I don't normally get to play."
Ten players scored for the Flyers, with nine having at least four points.

ERIE-MASON 70, CENTRAL ACADEMY 69 (OT)
Despite 28 points from Omar Hasan, Central Academy couldn't hold on to a late lead, falling in overtime to Erie-Mason Tuesday night.
More coverage at MLive.com: Boxscore
"He had great, great leadership," said coach Rushdi Issa. "It was disappointing because the kids played a great game. They were amazing."
With a one-point lead and 29 seconds left on the clock in overtime, Issa tried to call for a timeout, but the officials did not give him one and Central Academy turned the ball over. With 3.7 seconds left Central Academy fouled Erie-Mason, which then made both shots, giving Mason the lead.
Hasan Attar also had a big night for Central Academy, scoring 23 points.

MONDAY RESULTS
Manchester 84, Whitmore Lake 71: Coach Dave Arnold get's 200th career win against former team as Flying Dutchmen get first win of season. (Jackson Citizen Patriot story | Boxscore)

-- Compiled by Matt Durr, Jason Idalski and Pete Cunningham