Posted on
Sat, Jun 2, 2012 : 8:11 p.m.
Bryce Bradley wins 3,200 state title, leads Chelsea to 3rd place at D2 track final
By AnnArbor.com Staff
Chelsea High School senior Bryce Bradley won the 3,200-meter run and was second in the 1,600 run to lead the Bulldogs to a third-place finish at the Division 2 state track and field championships Saturday at Houseman Field in Grand Rapids.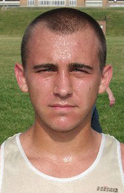 Bradley, the reigning Division 2 cross state country champion, won the 3,200 in 9 minutes, 24.41 seconds. His time of 4:15.28 in the 1,600 was less than two seconds off the pace of winner Connor Mora from Cedar Springs.
Chelsea also scored well in the pole vault event on their way to 38 team points. Auburn Hills Avondale finished first with 47 points. (Complete results | Statewide coverage)
Marine City's Jaime Salisbury set a new D2 meet record with a 16-foot, 1-inch effort in the pole vault, but two Bulldogs finished right behind him. Michael Hovater took second with a vault of 14-4 and Travis Weiss was third at 14-1.
Berkley Edwards (fifth in 100 dash) and Luke Oliver (seventh in 400 dash) also earned All-State medals for Chelsea.
Milan's Ike Fink finished eighth in the 1,600, accounting for the Big Reds' lone point.

DIVISION 2 GIRLS
at Houseman Track, Grand Rapids

Chelsea medaled in all four relays, including a third-place finish in the 800 meter relay. The Bulldogs were also fifth in the 1,600, sixth in the 3,200 and seventh in the 400 to finish with 15 points. Dearborn Divine Child and Detroit Country Day shared the team title with 60 points. Grace Sauers and Rachel Yordanich were each on three of the Bulldogs' relay teams. (Complete results | Coverage)

DIVISION 3-4

No Washtenaw County schools scored at the Division 3 or Division 4 state finals. Follow the links for coverage from our partners at MLive.com:
Division 3 boys: Results | Coverage
Division 3 girls: Results | Coverage
Division 4 boys: Results | Coverage
Division 4 girls: Results | Coverage