beat pete:

Can you 'Beat Pete' and pick a winners for Week 6 of the high school football season?

Posted on Thu, Sep 27, 2012 : 5:55 a.m.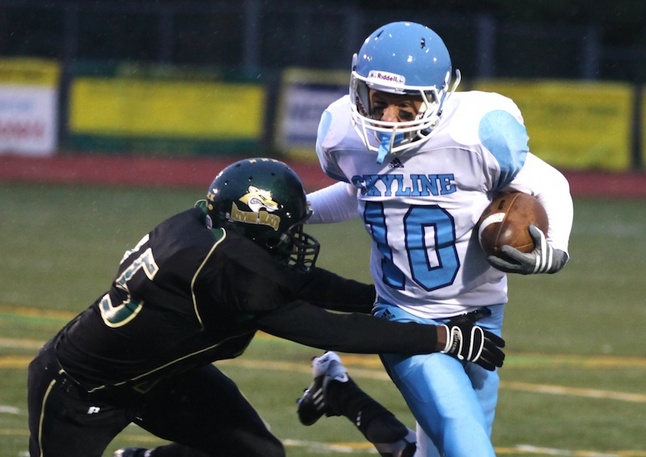 AnnArbor.com file photo
I've been embarrassed before. I've been beat before. But never has it been this bad.

A humiliating 143 people beat me with their picks last week. No, that's not a typo, and yes, I should probably resign in shame.

The list of people that beat me is so long that there's not enough room to print it.

Seriously, the people responsible for laying out our Thursday print edition contacted me and said there was no room in the paper. It was literally too large to fit in the high school sports section.
WEEK 6 "BEAT PETE" WINNERS
Ben Freed
Angie Psychas
Mike Korzuck
Bill Chrysan
Dave Rodriguez
Bill MavInnes
Mike Cramer
Dave Rodriguez
Scott Platt
Jeff Armbrustmacher
Anne Solari
Steve Vinson
Frank Rozsa
Joe Heath
Jeff Lawton
Paul Bogi
Willy Baker
Larry Hieber
John Czyrka
Ken Kowalski
Darrel Littleworth
Chuck Maynard
Josh Mccaman
Lori Kintz
Beth Starkey
Katherine Weathers
Glenn Vanneste
Mark Musolf
Jeff Waltz
Richard Love
Jason Anderson
Bob Keezer
Michael Walsh
Benjamin Swayze
Terry Etchison
Bob Needham
Joe Carr
Matt Hession
Brent Elliott
Darren Schumacher
Todd Newman
Brad Gerbe
Jeff Thomas
Shane Derossett
Geoffrey Crosbie
Stephen Glenn
Jason Stidham
Dave Neilly
Jason Idalski
Paul Aceves
Bobby Valdez
Tony Love
Kristine Dreffs
Stuart Smith
Shelby Hawk
Hal Dotson
Todd Blackburn
Mike McCarthy
Josh Tropea
Lorie Kitchen
Julie Harkema
Joshua Belisle
David Smith
Tim Breen
Carlton Ethington
Josh Knapp
Gary Dosey
Rick Anderson
Katie Cunningham
Brian Sprau
Gregg Burg
Damon Williams
Craig Hoeft
Luai Alzoubi
Brian Woodruff
John Boone
Chris Tilton
Ryan Baese
Jon Straub
Gabe Burdette
Richard Ernst
Robert Pacheco
Raymond Howland
Darrol Mackay
Joe Tobianski
Tom Boivin
Larry Fielder
Ed Michowski
Sami Shalabi
Shrikar Thodla
Les Sharon
Tim Giard
Steve Pontoni
Jay Miles
Fred Anstead
Denise Rinesmith
Brent Hoover
Bobby Tull
Donald Shipley
Nels Schmidt
Austin Hoover
Julia Sawicki
Aaron Ward
Craig Stephens
Christopher Kuhn
Bill Wilson
Steve Karr
Mitchell Watson
Lee Petropoulos
Everett Spencer
J Shawn Letwin
Jenica Abinojar
Tony Bertoia
Matt Durr
Peter Ten Broeck
Joe Bonar
Al Fellhauer
David Atwood
Brian Guo
Taylor Morgan
Brad Kokmeyer
Mike Mioduszewski
Rob White
Robert Cain
Mike Kurcz
Drew Cunningham
George Lesko
Tom Skittenhelm
Jarred Scheese
Tim Mammel
Arthur Denys
Nic Greenwood
Matt Seidl
Kathy Coles
Frederick Hall
Sean Porter
Mark Strehle
John Hubbard
Jamonte Love
Chinney McGee
Josh Zincke


That's embarrassing.
A special congratulations goes to Les Sharon of Dexter who was the only contest participant to go 11-0 and may soon take over my job.
Onto the actual football. Believe it or not, we are more than halfway done with the season. Where does the time go?
This week is the second round of the unofficial Ann Arbor city championship with Huron visiting Skyline in a Southeastern Conference Red Division matchup. The first round was no contest with Pioneer destroying Skyline 50-0 last week in a game that simply was not entertaining to watch in the slightest. Pioneer was that much better.
Looking at the records of these two teams, who have just one win between them (and that win was over 0-5 Dexter) might turn off the casual fan, but to that fan I say come back. This game should be a good one.
These two teams haven't even been competitive in the games they've lost. Skyline has lost by 27, 22, 32, and 50 points for an average margin of defeat of 32.75 points. Huron hasn't been much better with losses of 24, 21, 27, 28 and 17 for an average margin of defeat of 23.4 points.
While these programs may not be on the cusp of state championships, or even an unofficial city championship with Pioneer head-and-shoulders above the two, what they seemingly are right now is equal, and that's what makes for a good game.
In sophomore Askaree Crawford, Skyline has a dynamic dual-threat quarterback who is only scratching the surface in terms of his ability. Yes, against Pioneer he lost 94 yards after being tackled behind the line of scrimmage a whopping 19 times, but against a defense like Huron's he should be able to utilize his weapons on the outside and wow fans with scrambling ability as well.
That's not a dig on Huron's defense. The River Rats have given up on average 41.7 points in their first three league contests. Pioneer has yet to allow a touchdown in SEC play. Saying Crawford will thrive more offensively against Huron than he did against Pioneer isn't an insult to Huron's defense, it's simply a reality.
Skyline's defense has not been a strength either, which should provide Huron's freshman quarterback, Josh Jackson, a chance to shine after getting beat up in the season's early goings.
Huron coach Cory Gildersleeve raves about Jackson's toughness, but there's no doubt he is getting sick of having to see just how tough Jackson is week-in and week-out as defenses tee off on him.
We know he's tough, now let's see that arm.
So while the second round of the three-round bout between Ann Arbor's biggest schools might be a battle for second place between two far from elite teams, it is also a game between equal teams eager to break out of their respective offensive shells.
Against overmatched opponents these teams aren't very entertaining to watch, but against each other it's well worth the price of admission.
The game leads off this week's picks.
Beat Pete Winners
People who have "Beat Pete" so far: This week: 143; Overall: 216.
Pete's overall picks record: 43-11 (.796); Last week: 7-4 (.636).