Posted on
Thu, Oct 4, 2012 : 5:20 a.m.
Can you 'Beat Pete' and pick winners for Week 7 of high school football
By Pete Cunningham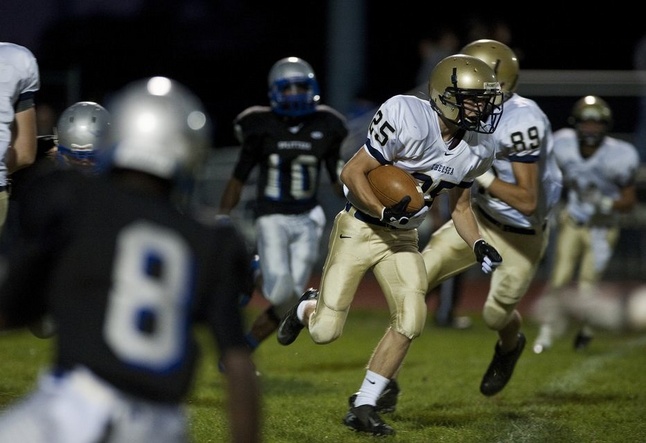 Daniel Brenner | AnnArbor.com
The embarrassment of 143 people beating me in last week's "Beat Pete" contest has, for the most part, subsided.
I think the experience may actually help me moving forward. Take this week for example. Normally an 8-3 picks record with 37 people beating me would be upsetting, but after last week's debacle, I'm strangely comfortable.
So the moral of the story: don't worry about failing tremendously, it will make the next failure seem not so bad.
Actually, that's probably the worst lesson ever. Let's just move on to this week's games. Bury the dead and move on.
Speaking of moving on, the Chelsea football team has moved on nicely from its 0-3 start to the season. Last week's 41-20 win over Lincoln not only put the Bulldogs at .500, it kept the them alive in the state playoff and SEC White picture.
Though a crossover loss to Bedford in Week 3 puts Chelsea behind Tecumseh in the standings, Chelsea could win a share of the title if it hands the Indians their first loss of the season Friday.
Though Chelsea has three losses on the year and Tecumseh has none, Chelsea coach Brad Bush said he found out a lot about his team in those early season losses.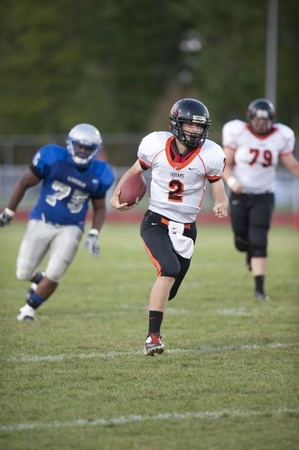 Courtney Sacco | AnnArbor.com
"I think they banded together a little bit and made a decision that they were going to get better," Bush said. "We could play the schedule that some other people play and not know the truth, but when you play good people you find out the…. when you play against good people you find out where you're at."
After a tough start to the season, the goals are still the same as they always are for Chelsea: Win the league, make the playoffs. A win on Friday would all but guarantee both.
"With our schedule our backs were really against the wall and now we could still win the league and that could be a great accomplishment for our guys," Bush said.
Tecumseh hasn't really been tested in its road to 6-0. With an average margin of victory of 30.8 points it's hard to tell if we know the "truth" about the Indians. Tecumseh's closest game was a 35-13 win over Ypsilanti and that result was never in doubt.
Senior quarterback Ben Dreslinski has been phenomenal for the Indians, but he has yet to prove if he can prove lead the Indians in a tight game down the stretch, by no fault of his own. The Indians haven't been in a competitive game in the fourth quarter.
Four of six of Chelsea's game have been close late, and over the past two weeks Chelsea has been able to buckle down and win late.
That experience could prove valuable against the Indians because no matter which team is better on Friday, neither will be better by much.
The game leads off this week's picks.
Beat Pete Winners
People who have "Beat Pete" so far: This week: 37; Overall: 253.
Pete's overall picks record: 51-14 (.785); Last week: 8-3 (.727).
The following people "Beat Pete" last week:
Bill MacInnes
Jack byrne
J Shawn Letwin
Gary Dosey
Josh McCaman
Beth Starkey
Fred Anstead
Jason Stidham
Lillie Rob
John Phillips
Chuck Fuller
Darren Schumacher
Brian Woodruff
Ken Kowalski
Bob Needham
Matt Durr
Maurice Thompson
Gabe Burdette
Brenda Darwin
Joe Tobianski
Bobby Tull
Jarred Scheese
Everett Spencer
Laura Stubbe
Brad Gerbe
Sami Shalabi
Josh Tropea
Brad Kokmeyer
Arvin Gammo
Stephen Glenn
Willy Clark
Tim Mammel
Vada Mcgowan
Tim Breen
Chris Ash
Al Felhauer
Scott Platt

Pete Cunningham covers sports for AnnArbor.com. He can be reached at petercunningham@annarbor.com. Follow him on Twitter @petcunningham.