Posted on
Thu, Aug 29, 2013 : 5:59 a.m.
Canadians invade America for first week of Beat Pete football picks
By Pete Cunningham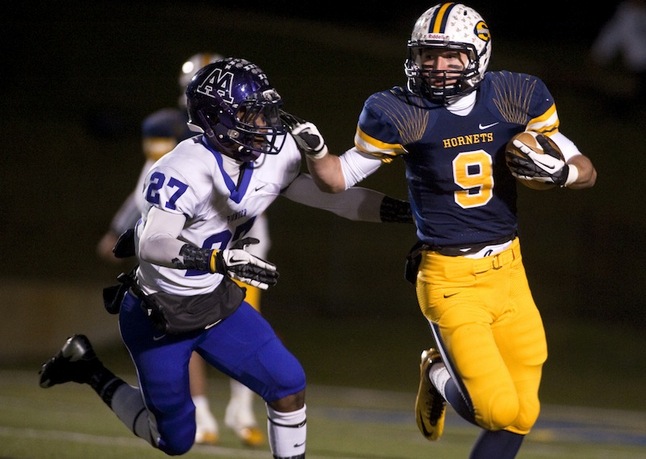 Someone please help me out here. Last time I checked, this was the United States of America, correct? Hot dogs, baseball, county fair tractor pulls -- we pretty much have set the gold standard on these things, am I wrong?
And when it comes to high school football, it's an outright monopoly, right?
Then what in the name of Wayne Gretzky are two of Washtenaw County's 12 high school football teams doing playing Canadian teams in their Week 1 openers? Saline is hosting A.B. Lucas Secondary School, a team from London, Ontario, and Huron is hosting Vincent Massey Secondary School, a team from just across the tunnel in Windsor.
We'll get to year three of the "Beat Pete" picks in a minute, first let me try and wrap my head around this Canadian invasion.
I went to college…er University in Canada, so it is with a certain amount of shame that I admit to being very familiar with the rules of Canadian football. There are 12 players to a side, which actually isn't that ridiculous considering the field is roughly a kilometer long and wide with an end zone the size of Newfoundland. Said end zone has the uprights in the front.
That's not a typo. A 20-meter post route in which the goalpost is used for a basketball-style pick is feasible GOAL LINE play in Canadian football.
Cue the Yackety Sax.
Like arena football, receivers are allowed running starts before the snap, and like the third circle of hell, there are only three downs.
There's also a peculiar way to score a single point, known as a "rouge" in the Great White North. If the ball is kicked out of the end zone - be it on a punt, field goal attempt or kickoff - a team is awarded a rouge. This means no touchbacks.
Here is a brief rouge tutorial:
In 2003, Adrian played a Canadian team in its opener and a player - apparently very excited at the prospect of a touchback - ran backwards into the end zone and downed the ball thinking he would be awarded with a free trip to the 20-yard line.
Here is the Adrian Daily Telegram's description of that ridiculous series of events from the August 30, 2003 edition. Thank you to our friends at the Telegram for passing this along and thank you to my younger brother for remembering reading this article like it was yesterday:
"The Lions' unfamiliarity with American football came into play on the ensuing kickoff as their return man fielded the ball at the two, but went back into the end zone and downed the ball for a safety."
Accidental safeties and third down punts aside, Saline coach Joe Palka explained that A.B. Lucas is somewhat of an Ontario powerhouse - Stanford tight end Alex Frkovic is a notable alumnus. Just as teams in weak conferences seek out challenges for their nonconference schedule here on the correct side of the Detroit River, Lucas tries to play an American squad every year.
"They won't play good teams during the regular season, so their coach tries to prepare them for the playoffs by playing an American team early," said Palka, whose Toledo Whitmer team played Lucas in 2011.
"In 2011, I thought they would have been in the upper half of our conference," Palka said.
While Palka said he's entertained the thought of making a trip to Ontario for a scrimmage under Canadian rules, both sides would rather the actual games be played in the good ole U-S of-A. This is because Canadian high schools often play their games right after school in broad daylight with little to no fan fare.
Just how Benedict Arnold would have envisioned it.
"We try to get as many home games as we can, and they want to get that Friday night experience," said Palka.
Now that we know exactly why all these Canadians will be in our midst this weekend, let's get started with this week's "Beat Pete" picks.
Remember to visit AnnArbor.com where you can make your own predictions and try to "Beat Pete." Those who actually "Beat Pete" will be recognized in next week's edition. One winner will be selected at random to receive a prize. Still working on what that prize will be, but trust me…it will be sweet.
Be sure to get your picks in early this week as there are several Thursday night games on the schedule.
Pete Cunningham covers sports for AnnArbor.com. He can be reached at petercunningham@annarbor.com. Follow him on Twitter @petcunningham.