Basketball Notebook:

Charlie Wolford is a high school hoops fanatic

Posted on Thu, Feb 18, 2010 : 7 a.m.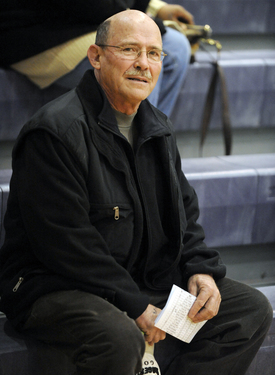 If there's a big high school basketball game being played in the state of Michigan, expect Saline resident Charlie Wolford to be there.

The 70-year-old Ford Motor Company retiree keeps a travel itinerary that makes college recruiters look like homebodies, hitting more than 100 games in each of the past six seasons.

"I've always loved high school basketball, but I worked for so many years I didn't have a chance to follow it," says Wolford, who retired from Ford in 1999. That year, he attended the MHSAA state finals and caught the bug.

Ever since, Wolford will pick up a high school basketball preview magazine and create a checklist of the top teams and players he wants to see. Attempting to keep drive times to three hours or less, he starts compiling his season's schedule.

Holiday tournaments help him knock off four or five games in one day. The upcoming postseason tournament will be another busy stretch for him.

He regularly makes trips to the state's basketball hotbeds like Muskegon, Kalamazoo, Saginaw and Detroit. And he's headed south of the border to catch games in Dayton and Toledo.

Wolford set a personal record by attending 128 games last year, but is on pace to shatter that mark this season. He's sitting on 93 currently and, as of Wednesday afternoon, was still deciding where he'd drive to tonight and Friday night.

Also a frequent visitor to University of Michigan women's basketball home games, Wolford says he watches very few college games on television.

"I can't stand all the commercials," he says. "In high school, they run it and you go home."

It's clear Wolford doesn't much care for waiting. He works out daily at the Saline Recreation Complex and has made multiple trips to hike the Himalayas.

The truth about his addiction to high school basketball might be that it fills his days until the snow melts. He's an avid golfer and well-respected caddie.

"It's my outlet in the wintertime when I can't play golf," he says. "If I could play golf, that's what I'd be doing."

Wolford recently sat down for a discussion about high school basketball in the state of Michigan. His bagel and cup of black coffee were cold before he stopped to taste either.

Here are some of his insights from that conversation:

Favorite place to watch a game: Calihan Hall in Detroit.

Best game this season: Class B Muskegon Heights' 69-66 upset of unbeaten and nationally-ranked Chicago Whitney Young in front of 2,000 rabid fans in Muskegon.

Best player in state: Maurice Jones, a 5-foot-6 point guard from Saginaw Arthur Hill headed to USC. He says Trey Ziegler of Mount Pleasant, Ray McCallum Jr. of Detroit Country Day and Keith Appling of Detroit Pershing are also in contention.

Best team in state: Predicting a Class A final four of Saginaw Arthur Hill vs. Kalamazoo Central in one semifinal and Detroit Pershing vs. Romulus in the other. Romulus beats K'zoo Central for the title, he says.

TONIGHT'S TITLE GAME The Milan girls basketball team already celebrated what's believed to be the program's first conference championship - dousing coach Jeff Scott with a Gatorade shower after Monday night's win over Carleton Airport.

Tonight, the Big Reds (15-2, 13-0) will try to avoid having to share the Huron League crown when they travel to New Boston Huron. Milan handed Huron its lone league loss earlier this season.

Scott knows what he thinks of the scenario. "I'm the oldest of three brothers and sisters and I never like to share," he said.

AnnArbor.com will be covering the game. Stop back tonight for a recap.

A LITTLE DOUBLE-DOUBLE Huron's Devonyae Johnson's 15 points and 10 steals during Tuesday's win over Ypsilanti put the senior guard in elite company.

According to coach Steve Vinson, the last River Rat to combine steals with points for a double-double was two-time Big Ten Defensive Player of the Year Shavelle Little. The 2006 Huron graduate is a senior guard for No. 7-ranked Ohio State.

BEYOND THE STAT SHEET An overlooked aspect of Huron's fourth-quarter play in a boys basketball win over Ypsilanti on Tuesday was the contribution junior Jeff Hugan made … way back in the second quarter.

The River Rats started the fourth quarter on a 16-0 run to blow open a back-and-forth game, and leading scorer A.J. Mathew was at the center of the effort. But Huron coach Waleed Samaha said Hugan's extended minutes in relief of Mathew in the second quarter helped make it happen

"Where we get in trouble is when A.J. is in the game all night and he runs out of steam in the fourth quarter," Samaha said. "In these types of games, we have to get A.J. extra rest earlier in the game. (Hugan) played an outstanding game and allowed A.J. to get the rest that he needed to play the majority of the second half."

-- Compiled by Rich Rezler and Pete Cunningham.