Posted on
Tue, Dec 20, 2011 : 8:14 p.m.
Pre-game study session leads to game-winner for Pioneer and more Tuesday results
By AnnArbor.com Staff
Pioneer High School senior Janese Honeycutt spent the afternoon before Tuesday night's game watching video on her free throw technique, looking to improve on her struggles from the line.
In the fourth quarter with just seven seconds left on the clock in a 36-36 tie with Holt, it was Honeycutt who came to the line with a chance to win it for her team. The senior knocked down both shots to give her team a 38-36 win.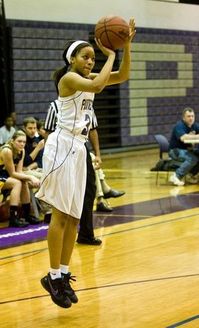 More coverage at MLive.com:
Boxscore
Honeycutt had a team high 14 points and 12 rebounds, and Pioneer coach Crystal Westfield said the pre-game study session was an example of how committed Honeycutt is to becoming a well-rounded player.
"She's a versatile player, she helps us bring the ball up the floor, but she is supposed to be a forward and a post player," Westfield said.
The win was the third consecutive victory for Pioneer (3-4), which Westfield credits to improvements made on the offensive end.
"We've been talking about slowing it down and finishing our offense, the shot will come," said Westfield. "We've actually taken our time. They played really smart basketball tonight."

CHELSEA 42, SALINE 27
Chelsea outscored Saline 26-9 in the middle two quarters and it proved the difference in the Bulldogs' sixth straight win to start the season.
More coverage at MLive.com: Boxscore
"We were able to have our defense create some easy opportunities," Chelsea coach Todd Blomquist said. "We really struggled in the half-court. They played zone primarily in the first half and we had a tough time cracking it."
The game was tied at 4-4 after the first quarter.
"We kind of pride ourselves on playing good D," Blomquist said. "Saline struggled putting the ball in the hole, but we were challenging most of their shots."
Saline coach Jeff Waltz estimated that his team was 3-for-26 from the field in the first half.
"Sometimes it's a simple game. And the reason we got so far behind is that we couldn't make a shot," he said. "I give Chelsea a lot of credit. They play solid fundamental man-to-man defense that obviously gave us problems tonight."
Mackenzie Cole had 12 points and Megan Hall six points and 11 rebounds for Chelsea (6-0, 2-0 SEC White). Alli Cope led Saline (2-3, 1-1 SEC Red) with seven points.

MANCHESTER 79, LESLIE 33
McKenna Erkfritz scored 30 points to break her own single-game scoring record and help keep Manchester unbeaten on the year.
More coverage at MLive.com: Boxscore
"Her presence is really known underneath. She got a lot of offensive boards tonight," said Manchester coach Cori Kastle. "She's playing the floor well. With her size, she can get up and down the court just as well as the guards can."
Erkfritz had 23 points in the first half and her team entered the break with a 52-21 lead. However, she had no idea her total until Kastle informed her of it.
While Kastle applauded the offensive effort of her team, she continues to be impressed with their defense. No team has scored more than 40 points against Manchester (6-0) this season.
"They play hard and they're very athletic," said Kastle. "We're still not where we should be with communication."
Erkfritz had 12 rebounds to go along with her 30 points. Taylor Manders chipped in with 12 points, seven rebounds and five assists. Becca Gould had eight points to lead the way for Leslie.

SKYLINE 56, HAZEL PARK 35
A 10-0 run to start the game sparked Skyline to its second win in three games. The early run started thanks to defensive pressure, a startegy that coach Keith Wade said the team has been working on in practice.
"We wanted to jump out early and attack the basketball," Wade said. "They play a lot better when we're applying pressure."
More coverage at MLive.com: Boxscore
Anita Vandermeulen led the Eagles with 14 points, while Zena Shunnar had 12 points and five rebounds on the night.
After going winless last season, the Eagles (3-3) are starting to believe in their ability and expect good things.
"In the locker room before the games, they are expecting to be in and win games instead of hoping to be close," said Wade.

BELLEVILLE 56, LINCOLN 50
The Railsplitters started the night undefeated, and after three quarters of basketball, it looked as though that's how they would stay, leading Belleville 42-36. But a 20-8 fourth quarter run by Belleville resulted in the first loss of Lincoln's young season.
"When they made a run on us, we kind of hung our heads a little bit," Lincoln coach Mike Hotchkiss said. "The bottom line is they wanted it more than we did."
More coverage at MLive.com: Boxscore
Lincoln led 20-13 after the first quarter and 29-25 at half. Late in the game, Lincoln had to rely more on its guards as Katelyn Morris and Jaslynn Rollins sat out with foul trouble. Morris finished with 16 points and 13 rebounds. Rollins had one point and 10 rebounds
"When they came out of the game it changed the dynamics," Hotchkiss said. "We had to rely more on our guards."
And Lincoln (5-1) did not get its usual production out of its best guard, Arielle Cargor, who had seven points on the night, 10 less than her average through the first five games.
"It hurt a lot today. You could feel it in our locker room after the game," Hotchkiss said. "I told my girls that's important. When it hurts like that after a loss, you know they care."

WHITMORE LAKE 36, ERIE-MASON 30
When Abby Salata missed practice Monday afternoon, Whitmore Lake coach Jen Taylor decided to bench Salata for the first half of Tuesday's game, which was no doubt a factor in the Trojans' 15-10 halftime deficit.
Her time served, Salata returned in the second half and led her team with 12 points, including eight in the fourth quarter in the come-from-behind victory.
More coverage at MLive.com: Boxscore
"(Salata) was really the difference maker for us tonight," said Taylor. "It was ugly tonight. We played a great game defensively...that was one of our worst shooting nights ever."
The Trojans had 24 steals on the night, but failed to convert numerous chances from underneath the basket. That is until Salata got in the game and sparked the offense.
After getting their first win in nearly three years last week, Whitmore Lake (2-5) has now won two of three and continues to improve each game according to Taylor.
"The girls are really starting to feel confident," said Taylor. "You can see it in the girls, we're playing differently."

ARBOR PREP 70, ANN ARBOR CENTRAL ACADEMY 12
When the season started in late November, Arbor Prep coach Rod Wells just wondered if his team would compete in its first season as a varsity sport. Three weeks later his team is clearing the bench during blowout wins.
"They're seeing the fruits of their labor right now and they're having fun," Wells said.
More coverage at MLive.com: Boxscore
After a dominating performance Tuesday night over Central Academy (0-1), Wells said his team has overcome the early questions and now knows they can play with anybody.
"They are feeling a lot more confident, but the good thing is they want to work harder. At practice they want me to push them more."
Karlee Morris led the way for the Arbor Prep (5-0) with 15 points and five rebounds. She was one of four Gators players to reach double digits in scoring along with Zakiya Wells (13), Jamie Rittenhouse (12) and Sapphira Jones (10).
For all its scoring prowess, It was his team's defense that stood out to Wells. Central Academy scored only three points in the second half, including being shutout in the third quarter.
"They were moving their feet well on defense, they contested all the shots," said Wells.
With such a large lead, Arbor Prep started emptying the bench, but the subs did not let up on defense.
"The bench players are fighting for time, they know the way to get on the floor is to play good defense," said Wells. "Even with the lead, they are told to play defense as if it's 0-0."

WILLOW RUN 33, DETROIT HENRY FORD 30
Last week, Willow Run coach Kevin Van Riper made the decision to shorten up his bench. On Tuesday, two of those bench players, Tatiana Cooper and Juleah Bailey-Horton, were key factors in the Flyers (2-3, 1-0 MMAC) second consecutive win.
"I don't know if we would have pulled that game out without those two girls," Van Riper said.
More coverage at MLive.com: Boxscore
Bailey-Horton scored six points and Cooper failed to score, but it was their effort on defense and rebounding that made the difference according to Van Riper.
Although his team pulled out the win, Van Riper thought his players lacked the energy and focus they showed in last week's win over Melvindale ABT.
"I didn't see the bounce in the step. I wasn't please with the way we attacked," said Van Riper. "We turned the ball over way too many times. Even though it was a win, I think we took a step back, and I told the girls that."
Keya Lawson led Willow Run with 11 points, while Brandi Withers scored a game-high 12 for Henry Ford.

MONDAY RESULTS

Pioneer 61, Pinckney 39: Desiree Cougill scores 19 in Pioneer victory (Boxscore)
New Boston Huron 43, Milan 28: (Full statistics not available)
-- Compiled by Matt Durr, Jason Idalski and Pete Cunningham.