Posted on
Sat, May 18, 2013 : 6:56 a.m.
Chelsea boys track notches first regional win since 1969
By MLive Media Group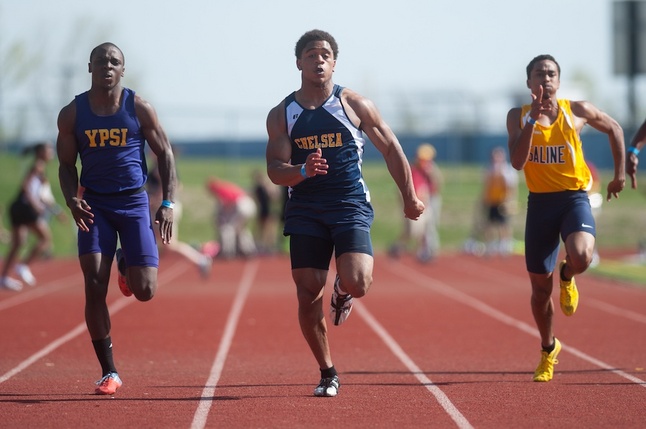 Courtney Sacco | AnnArbor.com file photo
The Chelsea boys track team captured its first regional championship since 1969, recording victories in 10 events Friday at Livonia Ladywood.
"We've come close to winning a couple of times since I took over and we found a way to screw it up," Chelsea coach Eric Swager said. "This year, we came in with the goal of doing what we could across the board. There were no downsides from our boys today."
Chelsea finished with 189 points in the boys events, followed by Robichaud with a distant 58 and Adrian with 57.
Divine Child scored 193 points for the girls win, followed by Chelsea in second place with 82 and Milan coming in third with 69.
The Division 2 state championships will be held June 1 at Ada Forest Hills Eastern.
Berkley Edwards raced out to a pair of victories for Chelsea in the boys events, sprinting to the finish line in 10.77 seconds in the 100-meter dash and 22.14 seconds in the 200-meter dash.
"We have a lot of potential," Edwards said. "These are great athletes in every event and we have the potential to win so long as we don't make any mistakes."
Michael Smith scored a pair of field victories for the Bulldogs in the shot put (47 feet, 11.5 inches) and the discus throw (146 feet, 11 inches).
Chelsea also notched two meet records, taking the 3200-meter relay in 8:09.77 and Michael Hovater clearing a mark of 14 feet, 4 inches in the pole vault.
Other Chelsea wins came from Austin Horn (4:29.43 in the 1600-meter run), Shane McGrath (39.63 seconds in the 300-meter intermediate hurdles) and Zach Rabbitt (1:59.75 in the 800-meter run)
Milan's Kalit Kelsey won the long jump by going 21 feet, 7.75 inches in the long jump.
On the girls side, Tess Odegard won on the track and in the field for Milan, pulling off a victory in the 800-meter run (2:23.56) and in the high jump (5 feet, 2 inches).
Chelsea finished with a pair of wins as Laura McGrath captured the 100-meter dash (12.86 seconds) and Talia Dyerly won the pole vault (8 feet, 2 inches).