Chelsea defense comes up big in second half for third consecutive week
Posted on Sat, Sep 29, 2012 : 12:25 a.m.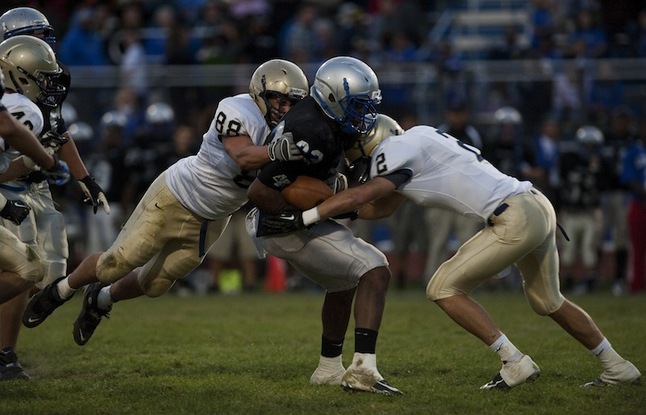 Daniel Brenner | AnnArbor.com
It's not how you start, but how you finish. And for the Chelsea High School football team, that cliche has become a necessary train of thought, especially on defense.
After starting the season with three straight losses, the Bulldogs have responded with three consecutive victories to keep their playoff hopes alive. In those three wins, the Chelsea defense has given up just six points per game in the second half.
"Everyone was definitely down after those three losses, but it happens," senior defensive tackle Michael Steinhauer. "We came back strong and we fought and this is what happens."
The defense was considerably tough in the Bulldog's 41-20 victory over Ypsilanti Lincoln Friday night. Through three quarters the defense allowed 146 total yards, including just 22 in the third quarter. In that third quarter Chelsea took a 27-14 lead and never looked back.
"We struggled with the big nose guard and couldn't get the same push (in the second half)," Lincoln head coach Chris Westfall said. "Their physicality wore us out."
According to Chelsea head coach Brad Bush, conditioning has sparked the defense.
"I felt like the last two weeks, we've wore them down a little bit," Bush said. "We were still fresh in the fourth quarter and I felt like their guys were a little gassed."
The win over Lincoln marked the second week in a row where the Bulldogs pulled ahead in the second half as the defense tightened up. Trailing Adrian 12-9 at the half, the Bulldogs gave up only six points in the second half, keeping the game close. Chelsea won 24-18.
Steinhauer was quick to give credit to some of the behind-the-scenes members of the team for the defensive turnaround.
"Basically its all in practice, our scout team has really picked it up over the last couple weeks," said Steinhauer. "The intensity on both sides of the ball in practice has been great.
"Everyone is running to the ball, chasing down the ball and tackling hard and that's been a big key," Steinhauer said.
While the turnaround isn't complete, the Bulldogs are still alive in the hunt to make the playoffs and Bush is pleased with his team's determination to get back on track.
"We weren't happy with how we played," Bush said. "After the Bedford game, our guys clearly made a commitment to get better and we have. I don't think anyone on our team panicked."