Posted on
Sat, Mar 9, 2013 : 6:44 p.m.
Chelsea, Milan swimmers claim individual titles at D3 finals
By MLive Media Group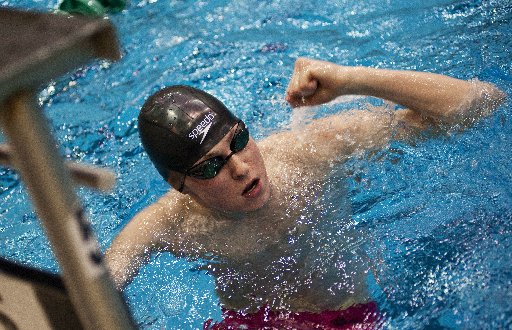 Daniel Brenner I AnnArbor.com
Tim Wing | For AnnArbor.com
Chelsea High School junior David Alday won both the 200-yard individual medley and the 100 freestyle races at the Division 3 state finals in two very similar situations.
Alday trailed Bloomfield-Hills Cranbrook-Kingswood's Matthew Liu going into the final 50 yards in the 200 IM at Eastern Michigan University on Saturday, but shot out and dominated the final leg to finish in 1 minute, 52.88 seconds, a full two seconds ahead of Liu.
"That entire race was exciting, and I didn't breathe at all in the last 25 yards," Alday said.
Four races later, Alday turned on the afterburners and edged Grand Rapids Christian's Ryan Beezhold in the 100 freestyle, finishing in 46.85 seconds.
"To be as multi-talented as David really shows you how great of a swimmer he is," Chelsea coach Dave Jolly said.
Chelsea finished the meet in fifth place with 177 points.
More coverage: Results | Statewide coverage
"That finish is kind of bittersweet for as good as we were," Jolly said, "but that just really shows how wonderful everyone at the state meet is."
Nick Burris, Sam Almhiemid, Jacob Hartman and Alday finished fourth in the 400 freestyle relay (3:13.32), and Burris, Max Lonnemo, Jonny Mangner and Nick Deppner finished fifth in the 200 freestyle relay (1:28.58). Almhiemid, Alday, Burris, and Deppner were fifth in the 200 medley relay (1:38.45).
Burris was eighth in the 100 butterfly (54.17) and Deppner was eighth in the 100 backstroke (55.53). Joe Smith was ninth in diving (374.20).
Milan junior Ollie Smith followed up his record-setting 20.92-second 50 freestyle time from Friday's preliminaries by winning the event in 21.04.
"I was so excited (Friday) and that pumped me up and got me focused for today," Smith said. "I'll come back stronger next year."
Smith also finished fifth in the 100 freestyle (48.00) and Milan finished seventh overall (128).
"We did as best as we could, and we are fortunate that we a losing only a couple guys from this year," Milan coach Dan Heikka said. "A lot of guys who weren't here today can step up and fill in spots for next season."
Smith, David Brown, Tyler Kimbrell and Colin Schettenhelm finished seventh in the 200 freestyle relay (1:29.28), and eighth in the 400 freestyle relay (3:21.70).