Posted on
Wed, Feb 6, 2013 : 12:09 p.m.
Chelsea's Berkley Edwards signs with Minnesota as Washtenaw County's highest-rated football signee
By Kyle Austin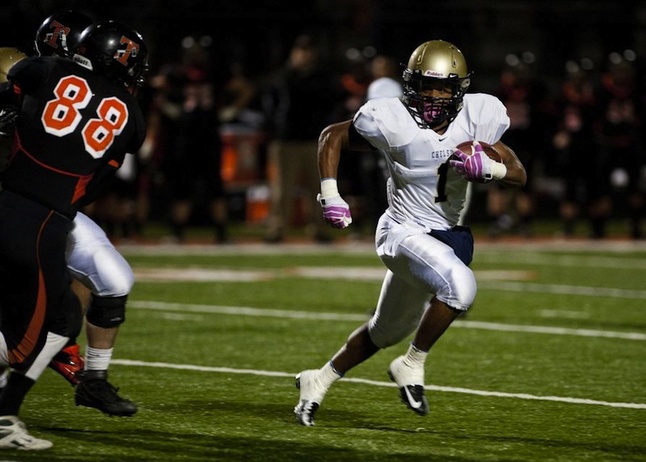 Daniel Brenner | AnnArbor.com
There were plenty of reasons Berkley Edwards became a high-profile football recruit.
His breakout speed, with a 4.4 40-yard dash and a 10.6 100-meter dash.
His 1,394 rushing yards last fall as the focus of the Chelsea High School football team's offense.
His pedigree, with a dad and brother who both played for Michigan and in the NFL.
But according to his coach, being a big time recruit didn't particularly interest the senior running back.
"He doesn't ever really get caught up in the spotlight or any of the individual stuff. He's really a team guy," Chelsea coach Brad Bush said.
"I think that's one of the things that's made him a great player and what people like about him is that he's a high-character guy. I don't think that the fact that his last name is Edwards and his dad and his brother, I just don't think that made a big impact on him."
According to the University of Minnesota athletic department, Edwards sent in his National Letter of Intent to Minnesota at 7:22 a.m., becoming the highest-rated of the 17 Washtenaw County football players who are expected to sign their NLI Wednesday on National Signing Day. Edwards, a three-star recruit according to Scout and Rivals, is the only one to sign with a BCS conference school.
According to Bush, the Gophers will be getting a big-play back.
"He's got big-time acceleration and speed," Bush said. "That's the first thing when you watch him on film that you see. He can really run. I think everybody's looking for someone that can be a big-play or a breakaway threat."
While Edwards ultimately landed on Minnesota, he was also connected to two other Big Ten schools during his recruitment.
Last spring, his brother Braylon Edwards famously took to his Twitter account and criticized Michigan for not recruiting his brother. The Wolverines never offered Edwards a scholarship.
Edwards also held a scholarship offer to Iowa that the Hawkeyes later rescinded when Edwards wouldn't make an early decision.
The Gophers play Iowa and Michigan in back-to-back weeks, Sept. 28 and Oct. 5, this fall, and Edwards admits those games will hold more meaning for him.
"Those will be two big games," Edwards told the St. Paul Pioneer Press this week. "I want to definitely prove to (the Wolverines) that at least they should have offered me. But things happen, and it is what it is. (With Iowa,) I waited. But for me, I had to make sure the decision I made."
At Minnesota, Edwards is listed at 5-foot-9, 160 pounds, and has answered more than a few questions about his being a small back in big-time college football. But according to his coach, he's already bigger than that, and will add even more size in college.
"He's 185 pounds, I think before he's done playing college football he'll be a 200 pound back, and that's plenty big," Bush said. "He was always in the last few years, in many ways a marked man, and he got the ball a lot and he was very durable, never missed a practice, never missed a game."
And once Edwards is at Minnesota next fall, his focus will be what's going on on the field, not off of it.
"I would talk to him about what was going on with recruiting, but 95 percent of our conversation was about what was going on with our team," Bush said. "He's not the kind of guy that talks about stats or is worried about stats."
More football commitments
Caleb Ashby, Saline: According to "The D Zone" a Michigan high school football recruiting website, and later confirmed by Saline, Ashby will continue his playing career at Wheaton College. The senior linebacker missed his entire junior year with an injury, but made up for lost time in his final season. Through ten games, Ashby had 23 solo tackles during the regular season, 35 assists, 18 tackles for loss, three pass deflections, two forced fumbles, an interception, three fumble recoveries, two sacks and two blocked kicks.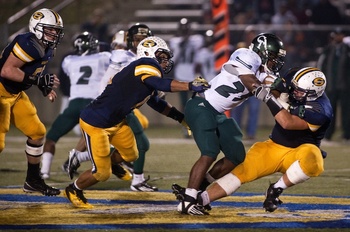 Joseph Tobianski | AnnArbor.com file photo
Nate Bossory, Chelsea:
Bossory will continue his playing career at the Air Force Academy. Bossory was starting quarterback at Manchester for two years before transferring to Chelsea where he was a backup quarterback and started at tight end.
Tyler Brooks, Willow Run: Brooks will continue his playing career at Minnesota West Community College.
Eric Davis, Manchester: According to "The D Zone" Davis will continue his playing career at Heidelberg University.
Drew Diedrich, Father Gabriel Richard: Diedrich will continue his playing career at Cornell University. A two-way lineman, Diedrich was a solid run and pass blocker on offense and on defense had 49 solo tackles, 18 assists, 16 tackles for loss and seven sacks.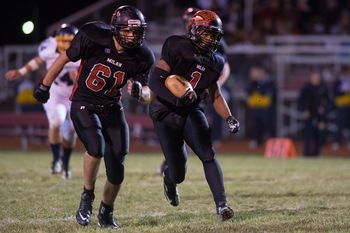 Arthur Dukes III, Milan:
Dukes will continue his playing career at Morgan State University. Dukes rushed 172 times for a Washtenaw County-leading 1,473 yards and 17 touchdowns during the regular season as Milan finished a perfect 9-0. Including playoff totals, the senior running back finished his career with 2,455 yards and 24 touchdowns.
Kendric Fowler, Father Gabriel Richard: According to "The D Zone", Fowler will continue his career at Siena Heights University. Fowler was an offensive lineman for the Fighting Irish.
Daniel Hugan, Huron: Hugan will continue his playing career at Northern Michigan University. A versatile player, Hugan had 46 receptions 460 yards and two touchdowns, 34 rushes for 125 yards and a touchdown, had 19 punt/kick returns for 450 yards and a touchdown and on defense had 15 solo tackles, four assists and three pass breakups.
Tyler Palka, Saline: Palka will continue his playing career at Saginaw Valley State University. A quarterback, Palka completed 131-of-191 passes (68.6 percent) for 1,719 yards and 15 touchdowns and also led Saline in rushing with 90 carries for 650 yards and six touchdowns. Combined with his Ohio statistics (Palka transferred from Toledo Whitmer this year) Palka threw for 3,007 yards and 32 touchdowns in his two years as a starter and rushed for 1,115 yards and 11 touchdowns in the regular season.
Ty Peterson, Milan: Peterson will continue his playing career at Concordia University. Peterson, a linebacker, had 58 tackles, an interception, two forced fumbles and two fumble recoveries for Milan in 2012.
Devere Pipkins, Willow Run: Pipkins will continue his playing career at Siena Heights University. Pipkins had 39 receptions for 894 yards. He also rushed for 360 yards and four touchdowns and on defense was the team's leading tackler.
Casey Schukow, Saline:
Schukow will continue his playing career at Hillsdale College. A defensive lineman, through ten games (statistics not available for Week 11), Schukow had seven solo tackles, 31 assists, 14 tackles for loss, a forced fumble, two fumble recoveries and four sacks for Saline. Was also an all-conference offensive lineman earlier in his high school career.
Kendrick St. Amieis, Willow Run: St. Amieis will continue his playing career at Minnesota West Community College.
Michael Steinhauer, Chelsea: Steinhauer will continue his playing career at Central Michigan University. The senior defensive tackle was second on Chelsea's team with 34 solo tackles despite constant double teams. He also had nine assists, 11.5 tackles for loss, three sacks and an interception.
Tyree Waller, Lincoln: Waller will continue his playing career at Central Michigan University. Waller was dangerous all over the field, but did the most damage at receiver with 36 receptions for 861 yards and nine touchdowns in eight games (statistics not available for Week 8). The senior also rushed 25 times for 212 yards and three touchdowns and had 22 solo tackles, two assists, two interceptions (one returned for a score) and a fumble recovery on defense (defensive stats through six games).
Joey Zakrajsek, Saline: According to "The D Zone", Zakrajsek will continue his career at Olivet Nazarene.
Did we miss someone? Email sports director Pete Cunningham at petercunningham@annarbor.com to have someone added to the list.
Pete Cunningham contributed to this report.
Kyle Austin covers sports for AnnArbor.com. He can be reached at kyleaustin@annarbor.com or 734-623-2535. Follow him on Twitter @KAustin_AA.