Posted on
Thu, May 24, 2012 : 8:31 p.m.
Chelsea, Saline boys track teams win SEC titles as state finals approach
By Matt Durr
ADRIAN -- Redemption was the name of the game for the Chelsea High School boys track team at the Southeastern Conference championships Thursday.
After a disappointing performance at the regional championship last weekend, Bulldogs coach Eric Swager made it clear what the goal was for his team.
"I told the guys, 'Hey, if you want to win a league title, you have to perform well as a team,'" said Swager.
His team responded. The Bulldogs ran away with the White Division championship, scoring 174 points to nearly double second-place Adrian (97).
In the Red Division, Saline claimed a title with 188.5 points. Monroe was second with 119 points.
Swager looked at the SEC championships as a good warm-up for states next weekend.
"Especially when you came off a regional, as a team, that they weren't real happy about, to come off of that and have a positive going into states is a good thing," he said. "This is how it's supposed to be at the end of the year."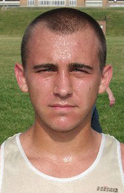 Bryce Bradley had a dominant day for the Bulldogs. The defending Division 2 cross country state champion won the 800-, 1,600- and 3,200-meter runs and was part of Chelsea's winning 3,200 relay team.
The highlights of the day were the 100 and 200-meter dashes that featured two of the state's fastest sprinters in Ypsilanti's Austin Sanders and Chelsea's Berkley Edwards.
Sanders won both races by the slightest of margins, winning the 200 with a time of 23.25 seconds to Edwards' 23.42 and the 100 with a time of 11.03 to Edwards' 11.06.
"Every time I see him, I know it's somebody I have to run hard against," said Sanders. "I don't want to lose to him, and he doesn't want to lose to me. So it's just something that pushes me real hard to run."
The two have competed against each other for years in AAU races and look forward to the chances to race each other.
"It's fun, I've known Austin for a long time and we've always raced," said Edwards. "We always mess around before the race, but we know when it's time to run to turn it on and stop playing around. It's too bad we won't see each other at states."
Because Ypsilanti is a Division 1 school and Chelsea is Division 2, the pair won't face each other at the state finals next week.
Sanders' wins helped Ypsilanti finish third in the SEC White standings with 83 points. Lincoln was fourth and Dexter fifth.

Complete results: Red Division | White Division

Saline's Red Division win was sparked by Steven Bastien, who won both the long jump and pole vault events.
Coming off the high of winning a Division 1 regional championship last week, Saline coach Allan Leslie said it can be difficult to get his guys amped up again for another important meet.
"It makes it a little more difficult, it's kind of anti-climatic," Leslie said. "It's hard to keep that emotional edge all the time."
Leslie said for him the league title is still very important, but it's hard as a coach to ask his athletes to peak for a meet every weekend. With the state championships next weekend, Leslie focused on getting his team prepared for the tough competition ahead.
"We definitely think that we have an opportunity if we do the things we've done all year and we run what we're supposed to. This will really be the chance to measure ourselves against the East Kentwood's and the Grand Blanc's and those types of schools," said Leslie.
Pioneer's Drake Johnson continued his dominance in the hurdles by winning both the 110 and 300-meter events.
The Pioneers finished third in the SEC Red standings with 93 points, followed by Skyline (67), Temperance Bedford (43.5) and Huron (9).