high school roundup:

Chelsea shut out for the first time since 1997 and more football results

Posted on Thu, Aug 30, 2012 : 11 p.m.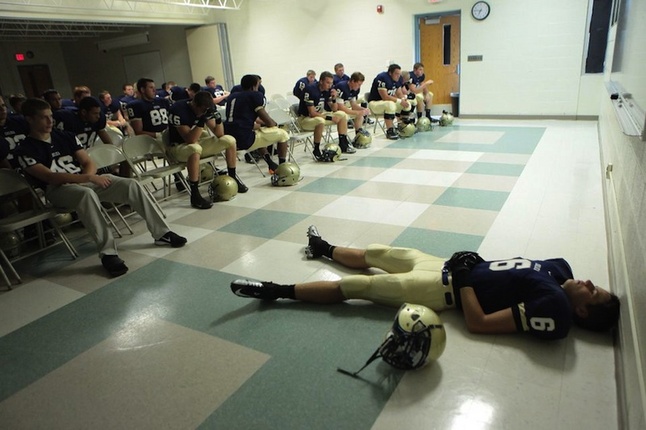 Chris Asadian for AnnArbor.com
Updated at 11:50 p.m.
AnnArbor.com Washtenaw County scoreboard
East Lansing 27, Chelsea 0
Story | Boxscore
Chelsea lost to East Lansing 27-0 on Thursday night, marking the first time since 1997 the Bulldogs have been shutout and just the second times since 1998 they've started a season 0-2.
Defense reigned supreme in the first half of this matchup between the East Lansing Trojans (2-0) and the Chelsea Bulldogs, with neither team finding the scoreboard in the first quarter.
East Lansing's defensive line turned in an outstanding performance. Early in the game this unit forced a turnover inside their own five yard line, stopping Chelsea (0-2) from getting onto the board and setting a tone for the rest of the game. Routinely, Chelsea ball carriers were stopped for no gain or even lost yards, and Bulldog quarterbacks often found themselves under pressure in the pocket.
Chelsea head coach Brad Bush said this loss came down to mistakes in ball security by the Chelsea offense and losing the battle in the trenches.
Berkley Edwards had just 44 yards on 17 carries for Chelsea and Logan Brown was 9-of-19 and threw for 72 yards.
Father Gabriel Richard 24, Whitmore Lake 8
Story | Boxscore
Backup quarterback Mason Sarosi threw was 9-of-18 for 150 yards and Ashton Hundley led Father Gabriel Richard with 14 carries for 74 yards as the Fighting Irish (2-0) beat Whitmore Lake 24-8 on Thursday.
Dylan St. Charles was 11-of-21 passing with 161 yards and a touchdown in a losing effort for Whitmore Lake (0-2).
St. Charles connected with Josh Redlinger in the third quarter for a touchdown, but it wasn't enough. Redlinger finished with three catches for 32 yards. He was one of three Whitmore Lake receivers with at least three receptions.
Sam Panicacci caught five passes for 58 yards. Jacob Zagor had a team-high 64 receiving yards on four receptions.
Manchester 38, Napoleon 6
Story | Boxscore
Jim Kurasz ran for 142 yards and a touchdown, while Nick Cozart added two more running scores as Manchester cruised to a 38-6 win over Napoleon to open up Cascades Conference play.
The Flying Ducthmen (1-1, 1-0 Cascades) took a 24-0 lead into halftime over the Pirates (0-2, 0-1 Cascades) behind a 17-point second quarter highlighted by Austin Wilson's 43-yard interception return for a touchdown with 19 seconds left in the half.
Highland Park 20, Willow Run 13
Story | Boxscore
Despite 264 yards passing from freshman quarterback Marquis Smith, Willow Run fell to Highland Park, 20-13 in the two teams' Michigan Metro Athletic Conference opener.
Smith connected with receiver Amadou Cisse for touchdowns of 32 and 52 yards. Smith also ran for 51 yards. Cisse finished with 121 yards receiving on four catches.
The Flyers led 14-13 entering the fourth quarter but Highland Park (1-1, 1-0 MMAC) was able to take the lead in the final frame and hold off Willow Run (1-1, 0-1 MMAC).
AnnArbor.com coverage
Skyline 41, Dexter 14
Story | Boxscore | Photo Gallery
Birmingham Brother Rice 28, Pioneer 7
Story | Boxscore | Photo Gallery