Posted on
Tue, Mar 5, 2013 : 9:42 p.m.
Chelsea tops Jackson Northwest, advances to play Goodrich in Class B regional final
By MLive Media Group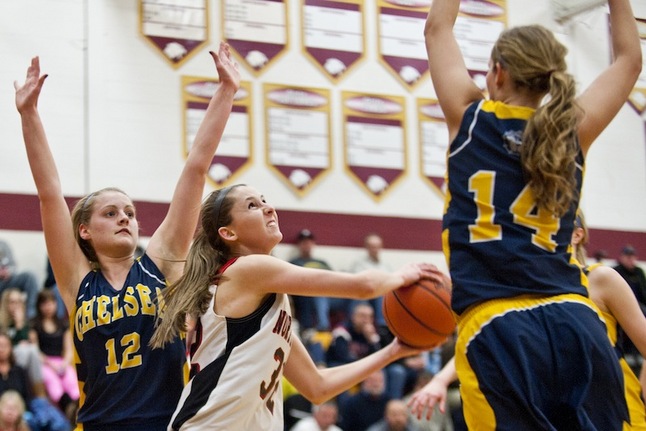 Mike Mulholland | Mlive.com
By Rich McGowan
PARMA, MI—The Class B girls basketball regional semifinals held at Parma Western High School could not have been decided by more different scenarios.
The opener saw the Chelsea Bulldogs hold Jackson Northwest without a field goal for more than 16 minutes en route to a 31-24 victory.
The nightcap was an overtime thriller, in which Goodrich caught fire down the stretch, coming back from a six-point fourth-quarter deficit to win, 49-42 over Haslett.
Chelsea (17-6 overall) will face Goodrich (21-3) Thursday at 7 p.m. at Parma Western High School for the regional championship and a berth in the state quarterfinal.
More Coverage: Boxscore | Bracket
"You're always pleased to be moving on, especially at this time of year," said Chelsea coach Todd Blomquist.
Chelsea entered Tuesday night wanting to close off the lanes to the basket and force Jackson Northwest (17-7) to beat it from the perimeter.
The gameplan couldn't have been better.
Not only did the Bulldogs force the Mounties to shoot from the outside, but Northwest suffered from an ice-cold night shooting from the field.
Northwest went 16 minutes and 40 seconds without a field goal, spanning the halfway mark of the first quarter into the first minute of the fourth. During the span, Chelsea outscored Northwest 24-4.
Northwest finished the night just 7-of-44 (13 percent) shooting.
"We knew they wanted to penetrate and who they wanted to penetrate with so we did a good job of knowing who our helpers were," Blomquist said. "We played man (defense) with help and we tried to keep the ball out and when they kicked (out) we wanted to make sure we closed with high hands and made it a tough shot."
As the shots continued to land off the mark, Northwest coach Ryan Carroll said the problem became as much mental as physical.
"It was just frustrating. We are just better than that," Carroll said. "I mean that in the sense of we are good shooters and we take care of the ball and we communicate on defense and we weren't doing those things. We were letting it affect how we played the game."
While Northwest struggled from the field, Chelsea was able to get to the rebounds. The Bulldogs outrebounded the Mounties 31-25 and enjoyed a heavy advantage through three quarters, 20-11.
"I am very happy with how we executed our gameplan defensively," Blomquist said. "I know they didn't hit a lot of shots but I think that was because of our defense."
Chelsea was led in scoring by Riley Singleton, with 11 points and nine rebounds. Melissa Robards added eight points while Bailey Darwin grabbed a game-high 11 rebounds.
Northwest was led in scoring by Ashley Bunker's eight points, including the fourth-quarter jump shot that ended the Northwest shooting brought.
"We talked about appreciating what we accomplished and coming out of the locker room with heads high and a smile on the face," Carroll said. "We have a ton of people out here who appreciate what they accomplished."