Posted on
Fri, Nov 4, 2011 : 11:02 p.m.
Five turnovers doom Chelsea football team in 34-14 loss to Adrian
By Rich Rezler
Add another entertaining chapter to the growing story of the Chelsea vs. Adrian high school football rivalry.
This one was set in front of thousands on a perfect autumn night at Jerry Niehaus Field in Chelsea on Friday night and features the underdog Maples rolling to a 34-14 MHSAA Division 3 district championship win.
"I think Adrian outplayed us in every phase of the game, there's no question about that. And I think we're disappointed in how we played, too. That's not indicative of how we played this season," Chelsea coach Brad Bush said.
"You get one shot in the playoffs. They came to play and they beat us."
More coverage: Boxscore at MLive.com | Photo gallery
Adrian, which slipped into the MHSAA Division 3 playoffs as an at-large team with a 5-4 record, suffered its most lopsided loss of the season, 37-13, in Chelsea just six weeks ago. Now they're headed to a regional title game against Battle Creek Harper Creek.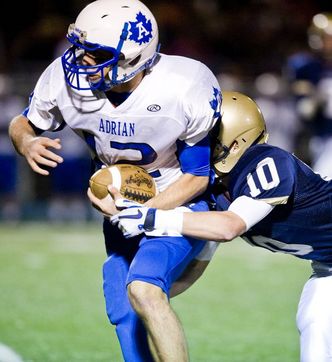 Joseph Tobianski I AnnArbor.com
How did they Maples essentially reverse that regular season score?
Well, the Bulldogs handed them a few points with five turnovers.
And Adrian simply took some more - like on Chelsea's first offensive possession, when Adrian senior defensive back Tyler Frank ripped the ball from a Chelsea ballcarrier and ran 23 yards the other way for the first score of the game.
That play was a sign of things to come.
Adrian (7-4) also had touchdown-scoring drives of 16-, 7- and 1-yard following Chelsea (8-3) turnovers.
The one Adrian touchdown that didn't follow a Chelsea turnover was a quick-strike drive after a punt when Maples quarterback Sebastian Johnson hit Gage Lolley for a 71-yard touchdown pass midway through the first quarter.
Chelsea's only two scores came on Berkley Edwards runs. The junior broke free on a 22-yard score - on a 4th-and-2 play - late in the first quarter, then pulled the Bulldogs within 21-14 at halftime with a 47-yard burst. Zach Rabbitt kicked both PATs.
Edwards' two touchdown runs accounted for 40 percent o the Bulldogs' 171 yards of total offense.
"We were going to try to take away Edwards, that was our No. 1 goal," Adrian coach Phil Jacobs said. "The two big plays he pops on us, we just didn't get set up. That's a credit to them. They came out in a quick formation and hit us for two big ones."
Johnson was clearly the focus of Adrian's offense, perhaps even moreso than Bush and his staff expected. The senior quarterback hadn't shown much scrambling since he returned from an injury in the final game of the regular season.
On Friday night, Johnson ran 16 times for 58 yards -- including a 10-yard touchdown -- and completed 21-of-28 passes for 284 yards and two more scores. In all, Johnson accounted for all but 34 of the Maples' 364 total yards.
"We felt like watching on film that since he'd been hurt, that maybe he wasn't running the ball as much," Bush said. "Obviously in this game, they did."
Adrian has now eliminated their Southeastern Conference White Division rival from the playoffs twice in the past three seasons. Chelsea, which beat Adrian in a 2007 playoff game, leads the teams' regular season series by a 7-5 count.
"Any time you beat the Chelsea program, it's an accomplishment," Jacobs said. "And I hope they feel the same way."
Rich Rezler is a sports producer for AnnArbor.com. Contact him at richrezler@annarbor.com or 734-623-2553.